Cause of by-election
The Lord Mayor of Newcastle, Jeff McCloy, resigned as Lord Mayor on 17 August 2014 after being implicated at the NSW Independent Commission Against Corruption (ICAC). The vacancy in the lord mayoralty will require a by-election, with all voters in the City of Newcastle voting for a new Lord Mayor. McCloy is a property developer who was elected Lord Mayor in 2012. The ICAC revealed that a number of then-Liberal MPs had received prohibited donations from McCloy prior to his election to the lord mayoralty, in 2011.
Two of those Liberal MPs, Tim Owen and Andrew Cornwell, first resigned from the Liberal Party and then resigned from Parliament in August 2014, triggering by-elections on October 25 in their state electorates of Newcastle and Charlestown. The state electorate of Newcastle is entirely contained within the City of Newcastle, as well as a small part of the electorate of Charlestown. More information about the overlapping boundaries of the three by-elections.
Geography
The City of Newcastle covers the Newcastle city centre, and suburbs including Adamstown, Black Hill, Carrington, Cooks Hill, Islington, Kotara, Lambton, Merewether, Newcastle, New Lambton, Stockton, Tighes Hill, Wallsend and Waratah.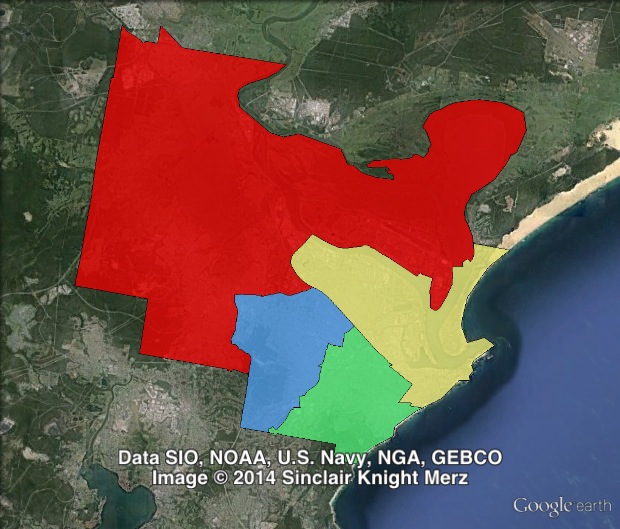 Wards
The City of Newcastle is divided into four wards for the purpose of electing councillors:
First – Newcastle, Carrington, Stockton, Maryville, Tighes Hill, Mayfield and Warabrook.
Second – Adamstown, Broadmeadow, Hamilton and Merewether.
Third – Callaghan, Jesmond, Lambton, New Lambton and Waratah.
Fourth – Maryland, Sandgate, Shortland and Wallsend.
History
The City of Newcastle was created in its current form in 1938, when the City of Newcastle was merged with Adamstown, Carrington, Hamilton, Lambton, Merewether, New Lambton, Plattsburg, Stockton, Wallsend and Waratah councils.
Throughout the middle part of the 20th century, Newcastle council elections were primarily contested by Labor and the Citizens Group, a local right-wing grouping that largely existed to run for Newcastle municipal elections.
The Mayor of Newcastle's title was changed to Lord Mayor in 1948, and was the first mayor of a city that was not a state capital to be given the title. For most of Newcastle's history, the mayoralty was elected annually.
In the 1950s, the mayoralty was handed back and forth between Labor and the Citizens Group. Frank Purdue, seemingly linked to the Citizens Group, was elected Mayor in 1951, and for three successive years from 1953 to 1955. He was interrupted in 1952 by Labor mayor Tom Armstrong.
Armstrong was elected as an independent Labor candidate in Kahibah at a by-election in 1953, and was re-elected in 1956 before dying in 1957. Purdue was elected as an independent candidate in Waratah at the 1956 election, in part due to the split between Labor and the Democratic Labor Party. Purdue held Waratah for two terms until 1962.
When Purdue was elected in Waratah, the Citizens Group's Douglas McDougall succeeded to the lord mayoralty, and he was elected Mayor in 1956 and again in 1958. In between, in 1957 the lord mayoralty went to Labor alderman Charles Jones. Jones held the mayoralty for one year, and stepped down in 1958 when he was elected to the federal seat of Newcastle. Jones held the seat from 1958 to 1983, and served as a minister in the Whitlam government from 1972 to 1975.
In 1959, the mayoralty shifted to Ernest Dunkley, who had previously held the mayoralty from 1943 to 1944. I haven't been able to identify Dunkley's political affiliation.
After Newcastle's mayoralty changed hands almost every year throughout the 1950s, the role was held by only two people from 1960 to 1974, both affiliated with the Citizens Group, and having previously served as Mayor.
Frank Purdue returned to the lord mayoralty in 1960, while still serving as the state Member for Waratah. Purdue lost his seat in 1962, but was returned to Parliament when his successor died in 1964. He held the seat for one more year until 1965, when he stepped down both as Lord Mayor and as Member for Waratah.
Douglas McDougall, who had previously held the lord mayoralty for two non-consecutive annual terms, returned to the role in 1965. He held the mayoralty for the next eight years, stepping down in 1974. At the time, this made him the longest-serving Mayor of Newcastle in the City's history.
McDougall was replaced in 1974 by Gordon Anderson, another Lord Mayor whose political affiliation was not clear. Anderson was mayor for one year, and then in 1975 was succeeded for two years by Labor's Joy Cummings, who was Newcastle's first female Lord Mayor.
Anderson was again elected Lord Mayor for one more year in 1977.
Somewhere around this time, Newcastle's lord mayoralty became directly-elected once every three years by the voters of the City, rather than being elected annually by the aldermen of the Council. It appears that Cummings was the first Lord Mayor to be directly elected in 1978, when she returned to the mayoralty.
Joy Cummings' second term as Lord Mayor lasted for six years from 1978 to 1984, and she was elected directly as the Lord Mayor in 1978, 1981 and 1984. Shortly after being elected to a third term, Cummings suffered a stroke and stepped down from the mayoralty.
In 1984, the Citizens Group was in a stronger position, and Deputy Lord Mayor Don Geddes, leader of the centre-right grouping, was considered to be in a strong position to win a Lord Mayoral election. That year, the state Labor government sacked Newcastle City Council, and the council was run by administrators until 1986.
Prior to the council sacking, the City Council was elected by a majoritarian electoral system using small wards. After the council was restored, the council was elected by proportional representation, with all councillors elected to represent the entire council.
John McNaughton, a member of the ALP's right faction, was elected Lord Mayor in 1986. McNaughton led the council for a decade, and was re-elected twice.
In 1991, the voters of Newcastle approved a referendum that shifted the city to a ward-based electoral system. The council of the time consisted of eleven councillors elected by proportional representation as a single ward, as well as a directly-elected Lord Mayor. The new system, used for the first time in 1995, saw Newcastle split up into four wards, each of which electing three councillors, for a total of thirteen including the Lord Mayor. This system has remained in place ever since.
That 1991 council included the first Greens councillor on Newcastle City Council (and one of the first two in the country) as well as two Liberals. Three independent councillors also sat on the council, some of whom were former members of the Citizens Group, which had by then disbanded.
Prior to the 1995 election, McNaughton was defeated for Labor preselection by Greg Heys, a left-wing rival on the council. Heys was elected Lord Mayor, and served one term.
In 1999, Heys was defeated by independent councillor John Tate. Tate had served on the council since 1980, first as a member of the Citizens Group, and then as a broadly centre-right independent.
John Tate was elected to a record three terms as a directly-elected Lord Mayor, and is the longest-serving Mayor in Newcastle's municipal history. When he was re-elected in 2004, the council included four Labor councillors, four Greens councillors and only four independents.
In 2007, Tate had come close to winning the state seat of Newcastle, with the Labor vote split between Labor candidate Jodi McKay, and sitting MP Bryce Gaudry, who had been elected to four terms as the Labor MP before being disendorsed and running as an independent.
In 2008, Tate was elected to a third term as Lord Mayor in a widely-dispersed field. Right-wing independent Aaron Buman, originally elected on Tate's ticket, narrowly came second ahead of the Labor candidate, both on 18%, in an election where Labor did poorly across the state. Tate was elected with only 32% of the primary vote. The Greens' council representation dropped from four to one, while Labor maintained their four seats. The number of independents increased from four to six, and one Liberal councillor was elected.
In 2012, John Tate did not run for re-election as Lord Mayor.
Independent candidate Jeff McCloy ran with the tacit backing of the Liberal Party. McCloy's supporters handed out how-to-vote cards advising voters to vote for the Liberal candidates in three ward (and a conservative independent in the fourth) and vice versa. While Buman ran again, he did much less well. McCloy was elected, with Labor improving their vote to come second, and the Greens candidate coming third. Buman came in fourth place.
The 2012 council consists of four Labor councillors, four Liberal councillors, two Greens councillors, and two independent councillors (not including McCloy). In practice this has meant that a governing majority has been formed consisting of the four Liberals and the three independents, sometimes nicknamed the 'McCloyals'.
In 2014 Jeff McCloy was accused of having given donations despite his status as a property developer. Property developers are not permitted to give donations under New South Wales state law, and the ICAC accused McCloy of having donated to a number of Hunter-based Liberal candidates in the lead-up to the 2011 state election. In August 2014, McCloy resigned as Lord Mayor.
Candidates
Aaron Buman (Independent)
David Chapman (Independent)
Rod Holding (Independent)
Brad Luke (Independent), Newcastle City Councillor.
Nuatali Nelmes (Labor), Newcastle City Councillor, 2012 Labor candidate for Lord Mayor.
Joe Ferguson (Australia First)
Therese Doyle (Greens), Newcastle City Councillor.
Assessment
A Lord Mayoral by-election is very unpredictable, but in current circumstances the Labor Party will be favourites to win the office.
The current make-up of the council consists of six centre-left councillors (4 Labor and 2 Greens) who have effectively been opposition to an alliance of four Liberal councillors and three conservative independent councillors. If a centre-left candidate is elected Lord Mayor, it will effectively shift the balance of power and counld result in significant changes to the direction of the council.
In the context of McCloy's resignation, and the departure of a number of Liberal MPs representing the area in the state Parliament, it is hard to see how a Liberal or centre-right candidate could be elected.
2012 result – primary votes
| | | | | |
| --- | --- | --- | --- | --- |
| Candidate | Party | Votes | % | Swing |
| Jeff McCloy | Independent | 36,663 | 43.12 | +43.12 |
| Nuatali Nelmes | Labor | 24,128 | 28.38 | +10.51 |
| John Sutton | Greens | 10,021 | 11.79 | -2.17 |
| Aaron Buman | Independent | 6,226 | 7.32 | -10.90 |
| Jacqueline Haines | Independent | 4,186 | 4.92 | +4.92 |
| Bryan Havenhand | Independent | 2,298 | 2.70 | +2.70 |
| Col Peebles | Independent | 1,497 | 1.76 | +1.76 |
2012 result – after distribution of preferences
| | | | | |
| --- | --- | --- | --- | --- |
| Candidate | Party | Votes | % | Swing |
| Jeff McCloy | Independent | 38,321 | 50.95 | |
| Nuatali Nelmes | Labor | 26,009 | 34.58 | |
| John Sutton | Greens | 10,883 | 14.47 | |
| | Exhausted votes | 9,806 | | |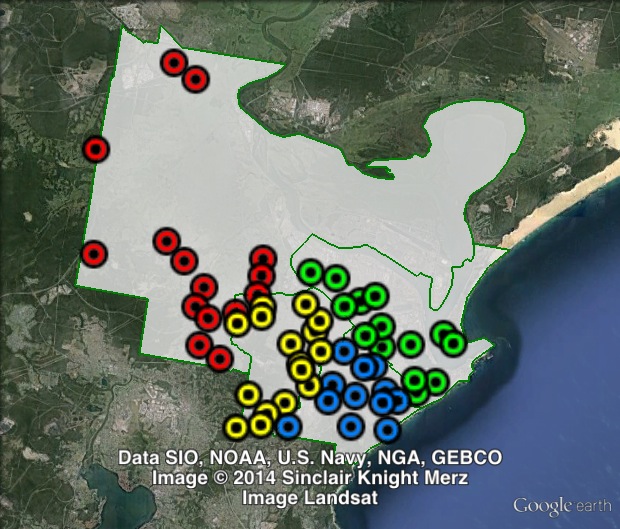 Ward breakdown
Booths in Newcastle have been divided along ward boundaries. While Lord Mayoral elections are conducted across the whole City, the wards are a useful way to divide the city into four equal-sized areas.
First – Newcastle, Carrington, Stockton, Maryville, Tighes Hill, Mayfield and Warabrook.
Second – Adamstown, Broadmeadow, Hamilton and Merewether.
Third – Callaghan, Jesmond, Lambton, New Lambton and Waratah.
Fourth – Maryland, Sandgate, Shortland and Wallsend.
Jeff McCloy topped the poll in all four areas on primary votes, ranging from 36.6% in First Ward to 51% in Second Ward. The Labor primary vote was around 30% in First, Third and Fourth wards, and lower on 23.5% in Second Ward.
The Greens candidate John Sutton came third, with a vote ranging from 9.3% in Fourth Ward to 16.8% in First Ward.
| | | | | | |
| --- | --- | --- | --- | --- | --- |
| Voter group | McCloy % | ALP % | GRN % | Total votes | % of votes |
| Fourth | 42.00 | 30.43 | 9.30 | 19107 | 22.47 |
| Third | 43.43 | 29.89 | 10.43 | 18156 | 21.36 |
| Second | 50.98 | 23.47 | 11.81 | 17922 | 21.08 |
| First | 36.58 | 29.87 | 16.79 | 16292 | 19.16 |
| Other votes | 41.77 | 28.16 | 11.05 | 13542 | 15.93 |
The following maps are zoomed in on the part of the City of Newcastle which includes most of the population. The maps do not include four small booths in Fourth Ward: Beresfield, Black Hill, Minmi and Tarro.