The Lord Mayor of Newcastle, Jeff McCloy, resigned his position this morning, after recent ICAC revelations that he had donated money to a number of Hunter-based Liberal MPs despite being a property developer and thus not being permitted to donate money. Two of the beneficiaries of his money have already resigned from Parliament, triggering by-elections in the NSW state seats of Newcastle and Charlestown for October 25.
McCloy's resignation will trigger yet another by-election for the City of Newcastle.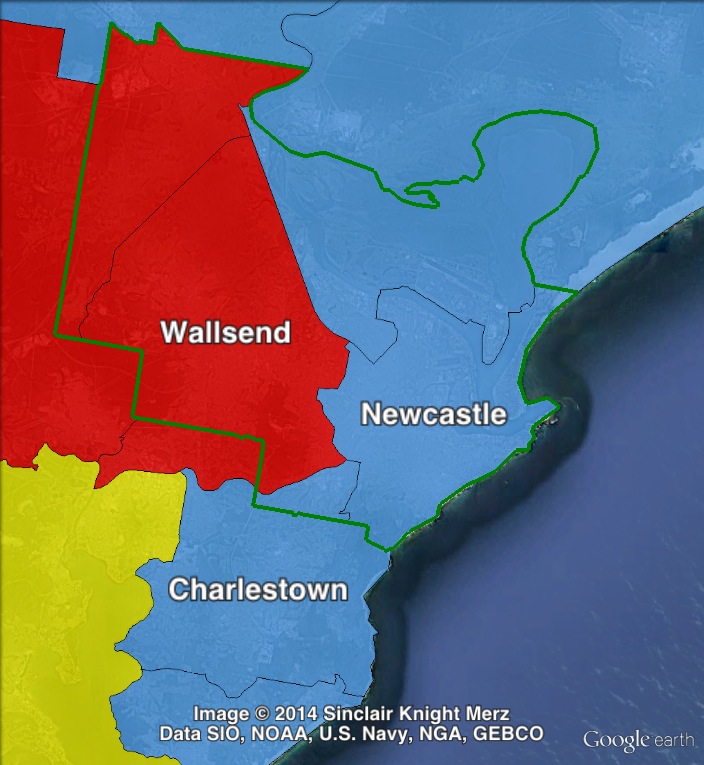 To give you a sense of the geography, the following map shows the existing NSW state electorates (which will be used for the two state by-elections) with the boundaries of the City of Newcastle overlaid as a green line.
The electorate of Newcastle lies entirely within the City of Newcastle. The electorate of Charlestown is mostly in the neighbouring City of Lake Macquarie, but the suburb of Kotara is contained within the City of Newcastle and the electorate of Charlestown.
In addition, most of the Labor electorate of Wallsend, and parts of the Labor electorate of Cessnock and the Liberal electorate of Port Stephens are contained within the City of Newcastle.
It's appealing to consider the possibility of rolling together the lord mayoral by-election with the two state by-elections, but it does have the potential to cause confusion.
If that was to happen, some Charlestown voters would be voting for the lord mayor, while most weren't, and there would be a large number of Newcastle residents voting for a new mayor but not for a local member.
In terms of precedent, I can't think of a recent example of a directly-elected mayor of a major Australian city resigning mid-term and triggering a by-election during the term.
Frank Sartor resigned as Lord Mayor of Sydney in 2003 when he was elected as a Labor state MP, but Lucy Turnbull filled the role until the coming election after being elected by the council. I'm not sure if that was due to the fact that the by-election would have been held so close to the coming council election. In the case of Newcastle, McCloy has resigned not even halfway through his four-year term.
In terms of scale, the Newcastle lord mayoral by-election is about the same size as a federal by-election. 85,000 formal votes were cast for Lord Mayor of Newcastle in 2012, which is about the same as the number of votes in federal electorates in 2013. For this reason, I'm considering doing a profile for that race, as well as for the two state by-elections. They will be my first priorities once I finish my guide to New Zealand 2014 this week.