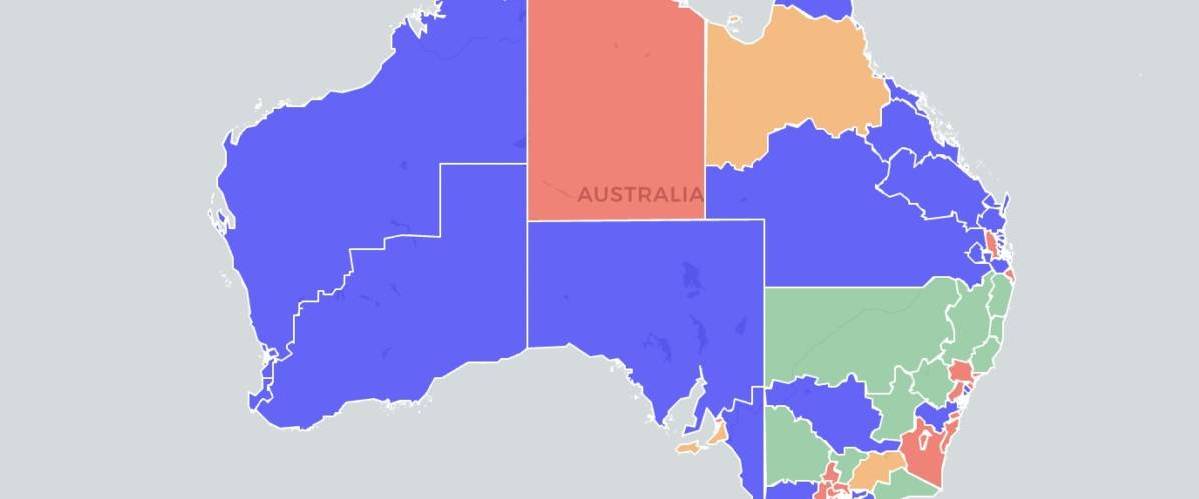 I have now finished all of the remaining profiles for the guide to the next Australian federal election. I published the 97 seats unaffected by redistribution back in June, but I've now also published the 54 seats in Western Australia and Victoria, as well as profiles of the eight Senate races.
Most of the guide is still behind a paywall, and you can access it by signing up for $5 per month via Patreon.
I have released another three guides for free access, in addition to the eight guides I've already released. I'm planning to release a few more over the next few months, and then release the whole guide for free access in early 2022 (assuming a May 2022 election date).
The three guides I've chosen are Casey, Higgins and the Queensland Senate race.
I've also started posting candidate names but there just aren't that many who have been announced. I currently have 71 candidates on my list, with almost two thirds of seats without any announced candidates.
Part of the problem is confirming that sitting MPs are running again. They often don't have a big announcement, they just don't retire, then eventually nominate. So far I've confirmed that 7 MPs are running for re-election, and a further 8 have retired. Most of the other 136 probably will run, but I don't know yet.
So if you have a candidate to add, please comment on the relevant seat guide. I read every comment and flag candidate announcements, and I'll come back and do an update.
I chose Casey as an example of a number of marginal Liberal seats in outer Melbourne, but also because it's become more interesting due to the retirement of Tony Smith, the Speaker of the House and the Liberal MP since 2001. If Labor is doing well in Victoria they could win a series of marginals in outer Melbourne.
Higgins has a long history as a blue ribbon Liberal seat, but has been trending more marginal over time, to the point that the margin is now just 3.7%.
The Queensland Senate race will see three prominent conservatives possibly competing over one seat. Labor only won one seat in 2019, along with one Green, but they will be hoping that Labor will be able to retain both their seats alongside a Greens senator, which would shift the balance of power in the Senate to the left. Meanwhile the LNP is defending three seats alongside Pauline Hanson. Hanson will likely be competing with third LNP candidate Amanda Stoker for one of the final seats, with former Queensland premier Campbell Newman, running for the Liberal Democrats, as a dark horse contender.
Thanks to everyone who has signed up to support the Tally Room – I couldn't do this without you.