October 18, 2014
Cause of by-election
Troy Buswell, a former leader of the Opposition, served as a minister in the Liberal government from 2008 to April 2010, and again from December 2010 until March 2014, serving as Treasurer for a majority of this time. Buswell resigned from the ministry in March 2014 after suffering a mental health breakdown. Buswell revealed that he was suffering from bipolar disorder, and on 3 September 2014 he resigned from Parliament, citing the incompatibility of his mental health with his public career.
Margin – LIB 21.2%
Geography
South-western Western Australia. Vasse covers the town of Busselton and surrounding areas. Vasse covers the entirety of the Busselton council area, and northern parts of the Augusta-Margaret River council area. The electorate's southern border runs close to the town of Margaret River but does not actually cover the town.
History
The electorate of Vasse has existed since 1950, and has been won by the Liberal Party at every election in its history. The seat was first won in 1950 by the Liberal and Country League's William Bovell in 1950. The LCL was the state branch of the Liberal Party, and was renamed as the 'Liberal Party' in 1968.
Bovell retired in 1971, and was succeeded by Barry Blaikie. Blaikie held Vasse as a Liberal MP from 1971 to 1996.
Bernie Masters won Vasse in 1996, and was re-elected in 2001. After the Liberal Party lost power in 2001, Masters joined the opposition frontbench.
In 2004, Masters was defeated for Liberal preselection by Busselton Shire President Troy Buswell. Masters resigned from the Liberal Party and served his final year as an independent. In 2005, Buswell defeated Masters, running as an independent.
Buswell was elected deputy leader of the Liberal Party in October 2005, after only eight months in Parliament.
Buswell was elected Leader of the Liberal Party in January 2008, after challenging then-leader Paul Omodei.
Buswell's short tenure as Opposition Leader was marred by controversy, with a number of examples of embarrassing behaviour emerging. He resigned as Liberal leader in August 2008, and was replaced by former leader Colin Barnett. An early election was called by Labor Premier Alan Carpenter shortly after Barnett resumed the Liberal leadership, and in September 2008 the Liberal Party and National Party won the election.
Buswell served as Treasurer in the new government until early 2010. At that time, Adele Carles, who had been elected as a Greens MP at the 2009 Fremantle by-election, revealed that she had conducted an affair with Buswell, and Buswell confessed to using a ministerial car and a government credit card to pay for accomodation for himself and Carles. Barnett demanded Buswell's resignation from the ministry, and Buswell moved to the backbenh in April 2010.
In December 2010, Buswell returned to the cabinet, and was reappointed Treasurer in July 2012.
He was re-elected to a third term in Vasse in March 2013. In March 2014, Buswell resigned as Treasurer after revealing that he suffers from bipolar disorder, and had suffered a breakdown. In September 2014 he resigned from Parliament.
Candidates

Wayne Barnett (Australian Christians)
Peter Gordon (Nationals)
Peter Johnson (Independent)
Libby Mettam (Liberal)
Michael Baldock (Greens)
Teresa Van Lieshout (Independent)
Assessment
Vasse on paper is a very safe Liberal seat. The last time there was no incumbent MP running, in 1996, the National Party performed quite strongly. In the absence of a Labor candidate, the Nationals will be hoping to do well, but the Liberal Party will probably hold on.
2013 result
| | | | | |
| --- | --- | --- | --- | --- |
| Candidate | Party | Votes | % | Swing |
| Troy Buswell | Liberal | 11,593 | 57.3 | -4.1 |
| Lee Edmundson | Labor | 2,501 | 12.4 | -8.3 |
| Michael Baldock | Greens | 2,206 | 10.0 | -5.6 |
| Bernie Masters | Independent | 1,624 | 8.0 | +8.0 |
| James Wishart | Nationals | 1,474 | 7.3 | +7.3 |
| Gary Norden | Independent | 601 | 3.0 | +3.0 |
| Julie Westbrook | Family First | 412 | 2.0 | +2.0 |
2013 two-candidate-preferred result
| | | | | |
| --- | --- | --- | --- | --- |
| Candidate | Party | Votes | % | Swing |
| Troy Buswell | Liberal | 14,396 | 71.2 | +3.4 |
| Lee Edmundson | Labor | 5,822 | 28.8 | -3.4 |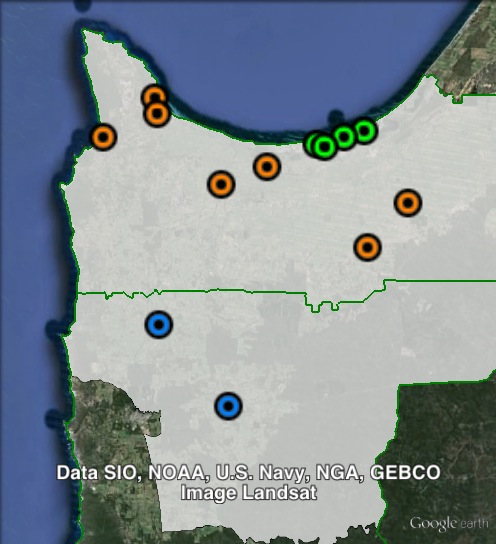 Booth breakdown
Booths in Vasse have been divided into three parts. A majority of votes were cast in the town of Busselton. The remainder of the seat was split into "north" (rural parts of the Shire of Busselton) and "south" (those polling places in the Augusta-Margaret River Shire).
The Liberal Party won a large majority of the two-party-preferred vote in all three areas, ranging from 65.2% in the south to 71.9% in Busselton. The ALP came a very distant second, not that far ahead of the Greens. The Labor primary vote ranged from 10.2% in the north to 13.1% in Busselton.
The Greens vote ranged from 6.7% in Busselton to 21.3% in the South. The Greens polled over 20% in three small rural polling places, including both of those closest to Margaret River. The Greens outpolled Labor in the rural parts of the electorate, but polled much less in the town of Busselton.
| | | | | | |
| --- | --- | --- | --- | --- | --- |
| Voter group | GRN % | ALP % | LIB 2PP | Total votes | % of votes |
| Busselton | 6.69 | 13.07 | 71.85 | 8529 | 42.16 |
| North | 13.12 | 10.15 | 70.74 | 5929 | 29.31 |
| South | 21.28 | 13.01 | 65.15 | 1076 | 5.32 |
| Other votes | 9.54 | 13.71 | 71.81 | 4697 | 23.22 |