NAT 41.87% vs LAB
Incumbent MP
Maggie Barry, since 2011.
Other local MPs
Andrew Williams (New Zealand First), list MP since 2011.
Geography
Northern suburbs of Auckland, stretching from Auckland Harbour north along the coast. Suburbs include Campbells Bay, Devonport, Hauraki, Mairangi Bay, Milford, Sunnynook, Takapuna and Westlake.
Redistribution
No change.
History
North Shore has existed since the 1946 election, and has been held by the National Party since 1949.
North Shore was held by two successive National MPs from 1949 to 1990.
In 1990, the National Party's Bruce Cliffe won North Shore. He was re-elected in 1993, and joined the National government's ministry in late 1993. Cliffe resigned from the ministry and the National Party, and joined the newly-founded United New Zealand party. Cliffe did not run again in 1996.
Wayne Mapp won North Shore in 1996, and was re-elected four times in 1999, 2002, 2005 and 2008. Mapp served as a minister in the National government from 2008 to 2011, and retired at the 2011 election.
A number of list MPs have been elected after running in North Shore.
In 1996, New Zealand First's Ann Batten and ACT's Derek Quigley were both elected as list MPs after running in North Shore. Quigley was a former National MP from 1975 to 1984, and retired after one term. Batten joined Mauri Pacific in 1998, and was not re-elected in 1999.
Labour list MP Helen Duncan was re-elected in 1999 after running in North Shore. She had been unsuccessful running in 1996 but had filled a casual vacancy on Labour's list in 1998. She was re-elected in 2002, and retired at the 2005 election.
ACT candidate Deborah Coddington and New Zealand First candidate Barbara Stewart were both elected on the list at the 2002 election. Coddington was not re-elected in 2005. Stewart was re-elected after running in a different electorate. She lost her seat in 2008, but returned to Parliament in 2011.
ACT candidate John Boscawen was elected as a list MP in 2008, and lost his seat in 2011.
Labour candidate Phil Twyford was elected on the Labour list in 2008 after running in North Shore. In 2011 he was elected in the western Auckland electorate of Te Atatū.
In 2011, North Shore was won by National candidate Maggie Barry, and New Zealand First's Andrew Williams was elected as a list MP.
Candidates
Assessment
North Shore is a very safe National seat.
2011 election results
Electorate Votes
Party Votes
Candidate
Party
Votes
%
Swing
Votes
%
Swing
Margaret Barry

National

22,709
62.44
+0.59
23,113
62.16
+4.10
Benjamin Clark

Labour

7,481
20.57
-3.44
6,036
16.23
-5.17
Pieter Watson

Green

2,802
7.70
+1.50
4,035
10.85
+4.24
Donald Brash
ACT
1,293
3.56
-0.41
714
1.92
-5.55
Craig Jensen
Conservative
904
2.49
+2.49
829
2.23
+2.23
Andrew Williams
New Zealand First
900
2.47
+0.89
1,806
4.86
+1.92
Damian Light
United Future
173
0.48
-0.20
179
0.48
-0.46
Michael Murphy
Libertarianz
108
0.30
+0.05
41
0.11
+0.03
Māori
223
0.60
0.00
Legalise Cannabis
123
0.33
+0.07
Mana
62
0.17
+0.17
Democrats
12
0.03
+0.01
Alliance
8
0.02
-0.04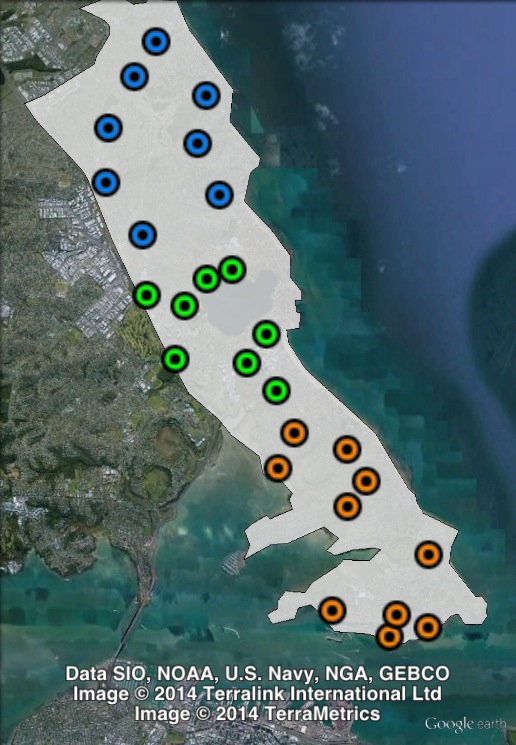 Booth breakdown
Booths in North Shore have been divided into three parts: North, South and Central.
The National Party won a majority in all three areas. The National Party won a smaller majority of just under 55% in the south, and 64-67% in North and Central.
The Labour Party's party vote ranged from 14.7% in the centre to 18% in the south. Labour polled similarly on the electorate vote in North and Central, but polled better with 26% of the electorate vote in the south.
The Green Party came third, with a substantially higher vote in the south than in the other parts of the seat.
Voter group
Electorate votes
Party votes
Total
% of votes
NAT
LAB
GRN
NAT
LAB
GRN
North
65.39
18.91
5.61
64.94
16.19
7.82
10,222
28.11
South
54.55
25.87
11.00
54.73
18.11
15.95
9,557
26.28
Central
67.31
17.77
5.77
67.08
14.56
7.81
7,822
21.51
Other votes
63.26
19.23
8.29
62.60
15.75
11.54
8,769
24.11