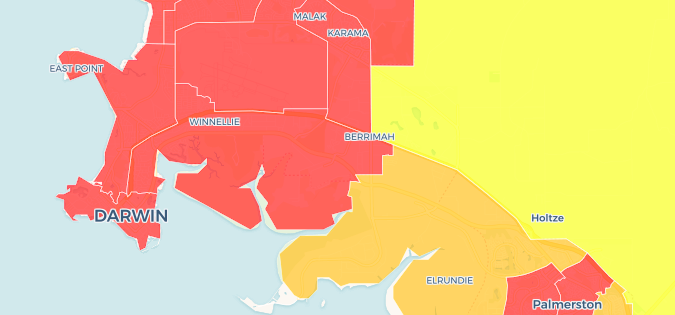 Welcome to the Tally Room's guide to the 2020 Northern Territory election. This guide includes comprehensive coverage of each seat's history, geography, political situation and results of the 2016 election.
Electorate profiles
Seat profiles have been produced all 25 Legislative Assembly electorates. You can use the following navigation to click through to each seat's profile.
You can also use this map to find an electorate and view the seat guide.
Recent events in Northern Territory politics
The Labor Party, led by Michael Gunner, won the 2016 election in a landslide, winning 18 out of 25 seats. The Country Liberal Party was swept out of power, only retaining two seats. Another five seats were won by independents.
Three members of the Labor government were removed from the party's caucus in late 2018 after criticising the Gunner government: Jeff Collins, Scott McConnell and Ken Vowles. All three went on to serve as independents.
In early 2020, independent MP Terry Mills, a former chief minister, formed the Territory Alliance. He was joined by fellow independents Robyn Lambley and Jeff Collins.
Vowles resigned from parliament and a by-election was held in his seat of Johnston in February 2020. Labor narrowly retained the seat, with the newly-formed Territory Alliance coming second.
Changes to the electoral system
The previous Country Liberal government had changed the Northern Territory's voting system from compulsory preferential voting to optional preferential voting in early 2016.
Following the 2016 election, the new Labor government switched the voting system back. This means that voters are required to number preferences for all candidates.
Redistribution
A redistribution of electoral boundaries is conducted before every election.
The last redistribution saw a general southward shift in outback electorates, with a shrinking of the size of Alice Springs electorates.
The seat of Namatjira, which covers the southern end of the Territory, took in more of the Alice Springs urban area and is now a majority-urban district. The neighbouring Alice Springs electorates of Braitling and Araluen both shrunk in size.
The outback seats of Stuart (renamed Gwoja), Daly, Arnhem and Barkly all shifted in a general southward direction.
Changes were not as dramatic in the Darwin area, although Spillett has become more of a Palmerston-based seat and lost the Darwin parts of the electorate.
The seat of Nhulunbuy in the north-east of the Territory has been renamed "Mulka" without any change to its boundaries.
New boundaries in blue, old boundaries in red.