March 28, 2015
Cause of by-election
Mike Sabin, National MP for Northland since 2011, resigned from Parliament in January 2015 due to "personal issues".
Margin – NAT 26.85% vs LAB
Sitting MP
Mike Sabin, since 2011.
Other local MPs
David Clendon (Green), list MP since 2009.
Geography
Northern end of New Zealand. Northland covers the northernmost part of North Island, with the exception of the area around Whangarei. The electorate includes all of Far North and Kaipara council areas, and small parts of Auckland and Whangarei council area.
History
Northland has existed since the 1996 election, and has always been won by the National Party candidate. The seat was preceded by Bay of Islands from 1978 to 1993, and by Far North from 1993 to 1996.
Bay of Islands was restored in 1978 after being abolished in 1946. The seat covered the northern tip of the North Island. Neill Austin won the seat for the National Party, after previously winning Hobson in 1975. Austin retired in 1987.
John Carter won Bay of Islands in 1987. He was re-elected representing a seat in the area in 1990, 1993, 1996, 1999, 2002, 2005 and 2008. The seat was renamed 'Far North' in 1993 and 'Northland' in 1996.
Carter resigned from Parliament in early 2011 to take up the position of High Commissioner to the Cook Islands.
At the 2011 election, Northland was won by the National Party's Mike Sabin. Sabin was re-elected in 2014. He stepped down in January 2015.
At every election from 1996 to 2008, another candidate in Northland was elected as a list MP. In 1996, the Alliance's Frank Grover won a seat. In 1999, the Green Party's Sue Bradford was elected after running in Northland. She was re-elected three more times, retiring in 2009. She only ran in Northland in 1999.
In 2002, New Zealand First candidate Jim Peters was elected on the party list. He lost his seat in 2005.
Labour candidate Shane Jones was elected as a list MP at the 2005 and 2008 elections after running in Northland. In 2011, he ran in a different seat, and retired in 2014.
Greens list MP David Clendon ran in Northland in 2014, and was re-elected. He has held a seat in the Parliament since 2009.
Candidates
Adrian Bonner (Independent)
Joe Carr (Focus New Zealand)
Robin Grieve (ACT New Zealand)
Maki Herbert (Legalise Cannabis)
Adam Holland (Independent)
Mark Osborne (National)
Rob Painting (Climate Party)
Winston Peters (New Zealand First)
Rueben Porter (Mana)
Willow-Jean Prime (

Labour

)
Bruce Rogan (Independent)
Assessment
Northland is traditionally considered a safe National seat, but they are being challenged by longstanding New Zealand First leader Winston Peters. His party polled a solid 12.8% of the party vote in Northland in 2014.
Two polls in the seat have previously suggested that Peters has a serious chance of winning the seat. A 3 News poll had Peters on 35%, leading the National candidate by 5%. A Q+A poll had Peters and Osborne tied on 36%. The latest 3 News poll has Peters leading comfortably – 54% to 34%.
Considering these circumstances, the seat could go either way, to National or New Zealand First.
2014 election results
Electorate Votes
Party Votes
Candidate
Party
Votes
%
Swing
Votes
%
Swing
Mike Sabin

National

18,269
52.74
-4.81
17,412
48.97
-1.17
Willow-Jean Prime

Labour

8,969
25.89
+4.30
5,913
16.63
-0.97
David Clendon

Green

3,639
10.51
-1.59
3,855
10.84
-0.94
Ken Rintoul
Focus
1,661
4.80
+4.80
216
0.61
+0.61
Melanie Taylor
Conservative
1,555
4.49
-0.59
2,243
6.31
+1.06
Craig Nelson
ACT
200
0.58
-0.25
162
0.46
-1.19
David Wilson
Democrats
173
0.50
+0.50
64
0.18
+0.07
Murray Robertson
Independent
96
0.28
+0.28
Jordan Osmaston
Money Free
75
0.22
+0.22
New Zealand First
4,546
12.79
+2.59
Internet Mana
601
1.69
+0.40
Māori
210
0.59
-0.20
Legalise Cannabis
193
0.54
-0.11
United Future
71
0.20
-0.26
Ban 1080
51
0.14
+0.14
Independent Coalition
9
0.03
+0.03
Civilian
7
0.02
+0.02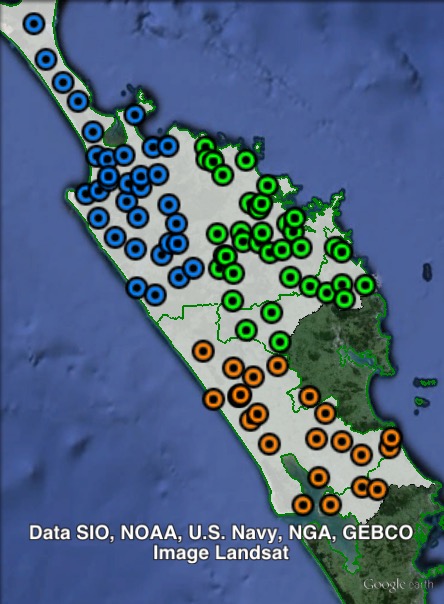 Booth breakdown
Booths in Northland have been divided into three areas. Polling places in the Auckland and Kaipara council areas, and southern parts of Whangarei, have been grouped as 'South'. Polling places in Far North council area, and northern parts of Whangarei, have been split into North-East and North-West.
The National Party won a majority of both the party vote and the electorate vote in the north-east and the south, with a smaller vote in the north-west. The National party vote ranged from 43.9% in the north-west to 51.3% in the other two areas. The National candidate vote ranged from 46% in the north-west to 59% in the south.
The Labour Party came second on both votes, but a long way behind National. Labour's vote was higher in the north than in the south, with an electorate vote ranging from 19.4% in the south to 31.3% in the north-west.
New Zealand First didn't run a candidate in the seat, but came third on the primary vote, ranging from 11.2% in the north-east to 14.6% in the south.
The Greens candidate vote was 9.8% in the north-east and south and 10.8% in the north-west, while their party vote ranged from 8.9% in the south to 11.6% in the north-west.
Voter group
Electorate votes
Party votes
Total
% of votes
NAT
LAB
GRN
NAT
LAB
NZF
GRN
North-East
51.73
28.21
9.79
51.31
17.22
11.16
11.10
8,954
25.85
South
58.95
19.41
9.80
51.27
13.83
14.61
8.91
6,972
20.13
North-West
46.00
31.25
10.78
43.87
19.24
13.22
11.61
5,465
15.78
Other votes
52.94
25.53
11.25
48.33
16.63
12.75
11.35
13,246
38.24