ALP 0.9%
Incumbent MP
Darren Cheeseman, since 2007.
Geography
Corangamite covers the fringe of Victoria's urban area and rural areas on the coast to the west of Melbourne and Geelong. The seat covers Colac Otway, Golden Plains and Surf Coast local government areas, but a majority of the population lives in Greater Geelong local government area. The seat covers the suburbs of the Geelong urban area on the southwestern shore of the Barwon River (Belmont, Oberon, Grovedale and Highton) as well as most of Bellarine Peninsula, including Queenscliff.
Other major centres, outside of southern parts of Geelong, are the towns of Ocean Grove, Torquay, Colac and Bannockburn.
History
Corangamite was an original federation division, and a seat which changed hands often in early years, before becoming a solid conservative seat in the latter half of the 20th century.
It's first member was Chester Manifold of the Protectionists, but he retired due to ill-health at the 1903 election and the seat was won by Grafton Wilson for the Free Traders. Wilson was defeated in 1910 by the ALP's James Scullin, who held the seat for one term before being defeated by former member Manifold, who returned to contest the seat for the Liberals. Manifold, whose son, Sir Chester, was a state MP and a famed horse-breeder and racing administrator, held the seat until he died at sea in 1918.
The December 1918 by-election saw the first use of preferential voting for the federal parliament. Scullin returned to contest the seat for the ALP, and topped the primary vote, but was comfortably defeated on preferences by the Victorian Farmers Union's William Gibson. Scullin would subsequently win the seat of Yarra in 1922 and serve as Prime Minister from 1929-32.
Gibson held the seat for the Country Party, serving as Postmaster-General and Minister for Works and Railways until his defeat in 1929 by Labor's Richard Crouch, who had previously been a Protectionist/Liberal MP for Corio from 1901-1910. Crouch then lost to Gibson in 1931, who served one more term before winning election to the Senate in 1934.
Geoffrey Street of the UAP, who would serve as Defence Minister in Menzies' first government, won Corangamite in 1934 and held it until his death, along with two other ministers, in a plane crash in 1940.
Allan McDonald, a former state MP, won the seat for the UAP in 1940, and quickly became a minister in the Menzies government. He unsuccessfully contested the UAP leadership in 1941 and 1943, and remained on the backbench when the Liberals returned to power in 1949. He died in 1953, and was succeeded by Daniel Mackinnon, who had previously been MP for Wannon.
Mackinnon retired in 1966, and was succeeded by Tony Street, son of the former member Geoffrey, who served as a minister in various portfolios in the Fraser government and subsequently retired in early 1984.
Stewart McArthur won the seat in 1984, and held it until defeated by the ALP's Darren Cheeseman in 2007. A seat significantly impacted by changing demographics, McArthur's 44.70% was the lowest primary vote for the conservative major party in the seat since 1934.
Candidates
Political situation
Changing demographics have made this seat far more favourable for Labor in recent years. It was one of only three seats in Victoria in 2004 that recorded a swing to Labor (Kooyong and Melbourne being the other two), and Labor's 2007 swing was also above the state average.
This trend would seem to favour Labor's chances of retaining the seat, but on the other hand the Liberals' choice of a high profile candidate should make this very interesting.
2007 result
| | | | | |
| --- | --- | --- | --- | --- |
| Candidate | Party | Votes | % | Swing |
| Stewart McArthur | LIB | 40,408 | 44.70 | -7.35 |
| Darren Cheeseman | ALP | 37,886 | 41.91 | +5.16 |
| Fiona Nelson | GRN | 7,202 | 7.97 | +0.46 |
| Jan Edwards | FF | 3,217 | 3.56 | +0.82 |
| Gabrielle Killeen | DEM | 1,512 | 1.67 | +1.67 |
| Sukri Sabhlok | LDP | 169 | 0.19 | +0.19 |
2007 two-candidate-preferred result
| | | | | |
| --- | --- | --- | --- | --- |
| Candidate | Party | Votes | % | Swing |
| Darren Cheeseman | ALP | 45,968 | 50.85 | +6.17 |
| Stewart McArthur | LIB | 44,426 | 49.15 | -6.17 |
Booth breakdown
Four main local government areas make up this electorate. I have grouped the small population of Queenscliff together with Greater Geelong. Within the rural LGAs, a large proportion of the population lives in a few large towns with very few votes being cast in remote booths. A very large part of the electorate lives near Geelong.
The ALP won two-party-preferred majorities of a relatively small margin in Greater Geelong, Surf Coast and Golden Plains, while the Liberals polled almost 54% in Colac Otway. In this case, two thirds of Colac Otway's votes were cast in four large booths in the immediate vicinity of the town of Colac, all of which the Liberal Party won with a margin of 51-57%. The Liberals also won 52.5% amongst other votes.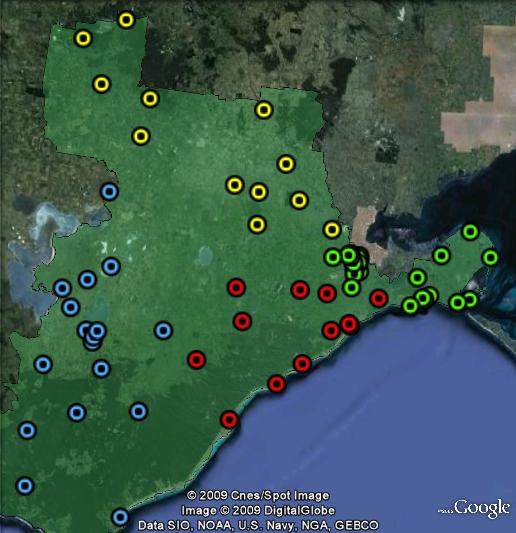 | | | | | |
| --- | --- | --- | --- | --- |
| Voter group | GRN % | ALP 2CP % | Total votes | % of votes |
| Greater Geelong | 7.09 | 52.06 | 40,876 | 45.22 |
| Surf Coast | 11.30 | 54.50 | 11,694 | 12.94 |
| Colac Otway | 6.66 | 45.88 | 10,844 | 12.00 |
| Golden Plains | 6.07 | 54.58 | 6,510 | 7.20 |
| Other votes | 9.11 | 47.81 | 20,470 | 22.65 |