LIB 18.2%
Incumbent MP
Paul Fletcher, since 2009.
Geography
Northern Sydney. Bradfield mainly covers the Ku-ring-gai council area, as well as parts of Hornsby.
History
The seat was created for the 1949 election, and has always been held by the Liberal Party.
It was first won by former Prime Minister Billy Hughes in 1949. Hughes had been an MP since he won election to the NSW colonial parliament in 1894, and had then held the federal seats of West Sydney, Bendigo and North Sydney. He had originally served as a Labor prime minister before leaving the party over the issue of conscription and leading the new Nationalist party. He eventually ended up in Robert Menzies' Liberal Party and was the last remaining member of the first federal Parliameent to hold a seat.
Hughes died in office in 1952, and the ensuing by-election was won by state Liberal MP Harry Turner.
Turner held the seat for the next twenty-two years, and never rose to a ministerial role during twenty years of Coalition government. He retired at the 1974 election, and was succeeded by David Connolly.
Connolly also held Bradfield for twenty-two years, and was expected to take on a ministerial role after the 1996 election, but lost preselection to Brendan Nelson, former president of the Australian Medical Association.
Nelson won Bradfield in 1996 and quickly rose through the ranks of the Liberal government, joining the cabinet following the 2001 election and serving first as Minister for Education and then Minister for Defence.
Following the defeat of the Howard government in 2007, Brendan Nelson was elected Leader of the Opposition, narrowly defeating Malcolm Turnbull in the party room. His leadership was troubled by low poll ratings and being undermined by Turnbull and his supporters, and Nelson lost a leadership spill in September 2008. Nelson resigned from Parliament in 2009, triggering a by-election in Bradfield.
The 2009 Bradfield by-election was held in December, and was a contest between the Liberal Party and the Greens, with the ALP declining to stand a candidate, along with a field of twenty other candidates, including nine candidates for the Christian Democratic Party. While the Greens substantially increased their vote, Liberal candidate Paul Fletcher comfortably retained the seat. Fletcher was re-elected in 2010.
Candidates
Blake Buchanan (Palmer United Party)
Paul Harrold (Democratic Labour Party)
John Archer (Christian Democratic Party)
Chris Haviland

(Labor)

Paul Fletcher 

(Liberal)

Pippa McInnes

(Greens)
Assessment
Bradfield is a very safe Liberal seat.
2010 result
| | | | | |
| --- | --- | --- | --- | --- |
| Candidate | Party | Votes | % | Swing |
| Paul Fletcher | LIB | 56,143 | 64.45 | +5.06 |
| Sarah Gallard | ALP | 16,742 | 19.22 | -6.95 |
| Susie Gemmell | GRN | 14,231 | 16.34 | +5.28 |
2010 two-candidate-preferred result
| | | | | |
| --- | --- | --- | --- | --- |
| Candidate | Party | Votes | % | Swing |
| Paul Fletcher | LIB | 59,397 | 68.18 | +4.32 |
| Sarah Gallard | ALP | 27,719 | 31.82 | -4.32 |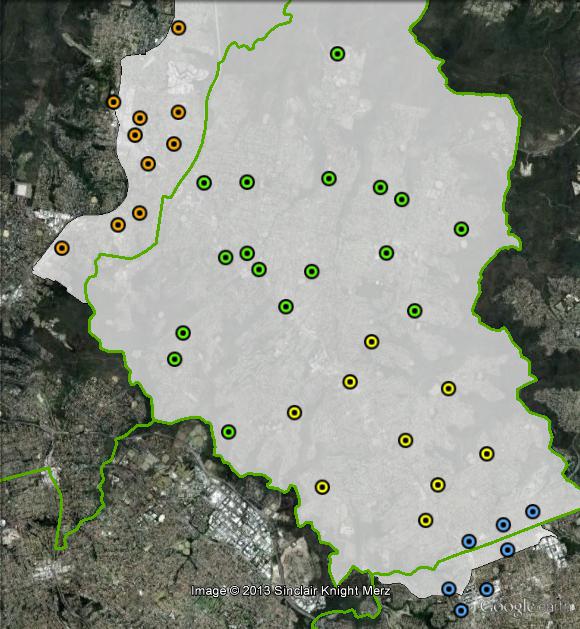 Booth breakdown
Booths have been split into four areas. Those polling places in Hornsby Shire have been grouped together. Those in Willoughby and Ku-ring-gai council areas have been grouped together as Chatswood, and the remainder of the Ku-ring-gai council area has been split into North Ku-ring-gai and South Ku-ring-gai.
The Liberal Party won a majority in all four areas, ranging from 57.6% in Hornsby to 72.4% in North Ku-ring-gai.
The Greens came third, with a vote ranging from 15% in North Ku-ring-gai to 17.8% in Chatswood.
| | | | | |
| --- | --- | --- | --- | --- |
| Voter group | GRN % | LIB 2PP % | Total votes | % of votes |
| North Ku-ring-gai | 15.02 | 72.44 | 31,904 | 36.62 |
| South Ku-ring-gai | 16.90 | 68.29 | 18,785 | 21.56 |
| Hornsby | 17.43 | 57.64 | 11,074 | 12.71 |
| Chatswood | 17.77 | 64.48 | 5,684 | 6.52 |
| Other votes | 16.89 | 68.17 | 19,669 | 22.58 |