ALP 11.7%
Incumbent MP
Catherine King, since 2001.
Geography
Western Victoria. The seat of Ballarat covers the urban Ballarat area, the Ballarat council area, the neighbouring Hepburn and Moorabool council areas and parts of Golden Plains council area.
Redistribution
No change.
History
Ballarat is an original federation electorate, having existed since 1901. Throughout it's entire history it has changed hands between the ALP and the Liberal Party (and its predecessors). The seat was officially named 'Ballaarat' until 1977.
Ballaarat was first won in 1901 by Alfred Deakin. Deakin had been a member of the Victorian colonial parliament since 1879, and was a prominent leader of the federation movement.
Deakin first served Attorney-General in Edmund Barton's Protectionist government, and in 1903 became Prime Minister.
Deakin led the Protectionist party for the remainder of the decade, and served as Prime Minister from 1903 to 1904, and again at the head of a Protectionist minority government from 1905 to 1908. In 1908, the ALP (with a larger number of seats than the Protectionists) withdrew their support from Deakin's government, and formed government themselves.
In 1909, Deakin's protectionists merged with the Anti-Socialist Party to form the Commonwealth Liberal Party, with Deakin as the party's leader. He became Prime Minister for a third time when Parliament returned in 1909.
Deakin's Liberals lost power at the 1910 election. Deakin retired as Liberal leader before the 1913 election, and retired from Ballaarat that same year.
Ballaarat was won in 1913 by state Labor MP Charles McGrath. McGrath was re-elected in 1914 and 1917, but at the 1919 election he lost Ballaarat to Nationalist candidate Edwin Kerby by one vote. The result was declared void, and McGrath won back the seat at a 1920 by-election.
McGrath continued to serve as a Labor MP throughout the 1920s. In 1931 he was one of a number of Labor MPs to walk out and join Joseph Lyons' new United Australia Party, and was re-elected that year as a UAP member.
McGrath retired in 1934, and the United Australia Party's Archibald Fisken won the seat. Fisken held the seat for one term, and retired in 1937.
In 1937, Ballaarat was won by the ALP's Reg Pollard. Pollard was a former state MP and state minister. He served as a minister in the Chifley government from 1946 to 1949, when the Chifley government was defeated. In 1949, Pollard moved to the new seat of Lalor, which he held until 1966.
Ballaarat was won in 1949 by Liberal candidate Alan Pittard. Pittard only held the seat for one term, losing in 1951 to the ALP's Robert Joshua. Joshua was a fierce anti-communist, and left the ALP in 1955 as part of the split that led to the creation of the Democratic Labor Party.
Joshua came third in Ballaarat in 1955 with 23%, with both the Liberal and Labor candidates polling 38%. With the assistance of Joshua's preferences, the seat was won by Liberal candidate Dudley Erwin.
Erwin held the seat for the next two decades, often coming second on primary votes and winning with preferences from the Democratic Labor Party who regularly polled strongly in Ballaarat.
Erwin retired in 1975, and was succeeded by Liberal candidate Jim Short. Short was re-elected to the renamed 'Ballarat' in 1977, but lost in 1980 to the ALP's John Mildren. Short was elected to the Senate in 1984. He served as Assistant Treasurer at the beginning of the Howard government in 1996, but was forced to resign in late 1996 due to a conflict of interest, and he resigned from the Senate in 1997.
Mildren held Ballarat for the ALP for a decade, winning re-election in 1983, 1984 and 1987, before losing in 1990 to the Liberal Party's Michael Ronaldson.
Ronaldson served as a shadow minister from 1993 to 1996, and as a Parliamentary Secretary then a whip in the Howard government. He retired from Ballarat in 2001, reportedly due to ill health. He later was preselected as the lead Senate candidate for the Liberal Party in Victoria in 2004, and was elected to the Senate at that year's election. He has served as a shadow minister since the 2007 federal election.
After Ronaldson's retirement in 2001, Ballarat was won by ALP candidate Catherine King. She was re-elected at the 2004, 2007 and 2010 elections.
Candidates
Anne Foster (Australian Christians)
Ana Rojas (Palmer United Party)
Shane Dunne (Katter's Australian Party)
Joshua Mathieson (Sex Party)
Stephanie Hodgins-May

(Greens)

John Fitzgibbon 

(Liberal)

Stephen Vereker (Democratic Labour Party)
Gerard Murphy (Palmer United Party)
Shane Clark (Family First)
Catherine King 

(Labor)
Assessment
Ballarat is a safe Labor seat.
2010 result
| | | | | |
| --- | --- | --- | --- | --- |
| Candidate | Party | Votes | % | Swing |
| Catherine King | ALP | 46,289 | 51.75 | +1.42 |
| Mark Banwell | LIB | 30,364 | 33.95 | -4.09 |
| Belinda Coates | GRN | 10,140 | 11.34 | +3.36 |
| Jim Rainey | FF | 2,646 | 2.96 | -0.69 |
2010 two-candidate-preferred result
| | | | | |
| --- | --- | --- | --- | --- |
| Candidate | Party | Votes | % | Swing |
| Catherine King | ALP | 55,188 | 61.70 | +3.55 |
| Mark Banwell | LIB | 34,251 | 38.30 | -3.55 |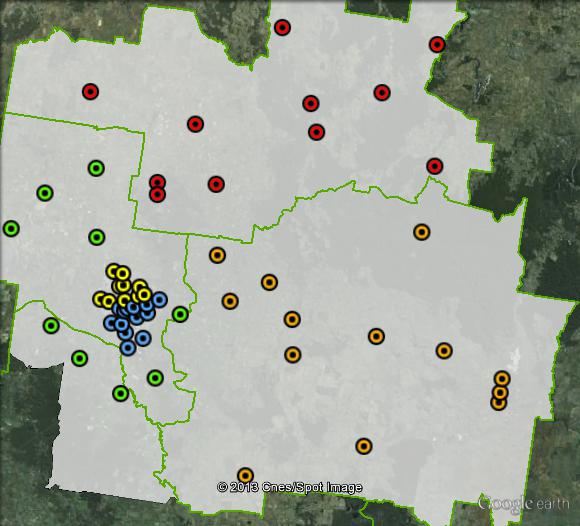 Booth breakdown
Booths have been divided into five areas. Polling places in Hepburn Shire have been grouped as "North". Polling places in Moorabool Shire have been group as "South East". Polling places in rural parts of Ballarat and Golden Plains council areas have been grouped as "West". Polling places in the Ballarat urban area have been split into south and north.
The ALP won a majority in all five areas, varying from 58.2% in West to 66.3% in Ballarat South.
The Greens vote varied from 10.1% in Ballarat North to 16% in the north of the seat.
| | | | | |
| --- | --- | --- | --- | --- |
| Voter group | GRN % | ALP 2PP % | Total votes | % of votes |
| Ballarat South | 11.77 | 66.30 | 20,157 | 22.54 |
| Ballarat North | 10.07 | 60.31 | 16,821 | 18.81 |
| South East | 10.26 | 61.99 | 12,072 | 13.50 |
| North | 15.95 | 64.90 | 7,585 | 8.48 |
| West | 10.17 | 58.16 | 7,483 | 8.37 |
| Other votes | 11.31 | 58.93 | 25,321 | 28.31 |