Incumbent MLCs
Gavin Jennings (Labor), since 2006. Previously MLC for Melbourne 1999-2006.
Inga Peulich (Liberal), since 2006. Previously Member for Bentleigh 1992-2002.
Gordon Rich-Phillips (Liberal), since 2006. Previously MLC for Eumemmerring 1999-2006.
Adem Somyürek (Labor), since 2006. Previously MLC for Eumemmerring 2002-2006.
Lee Tarlamis (Labor), since 2010.
Geography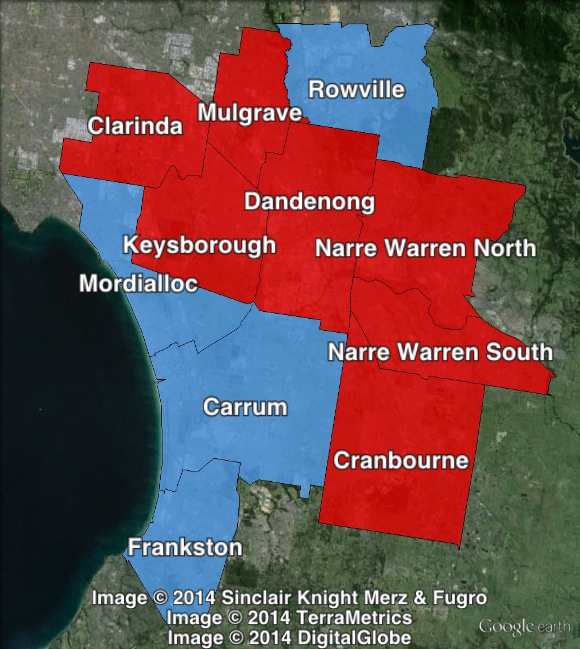 The South Eastern Metropolitan region covers Melbourne's outer south-eastern suburbs, stretching from Clayton and Rowville in the north to Frankston and Cranbourne in the south, and from Mordialloc in the west to Narre Warren in the east.
The region includes eight Labor seats and four Liberal seats.
Labor seats Cranbourne, Mulgrave and Narre Warren North are marginal, with margins ranging from 1.1% in Cranbourne to 4.8% in Narre Warren North. The other five Labor seats are safer, with margins ranging from 7.4% in Narre Warren South to 14% in Dandenong.
Three Liberal seats are ultra-marginal – with Carrum, Frankston and Mordialloc all held by margins of 1.5% or less. The Liberal Party holds the seat of Rowville with a much safer margin of 13%.
Redistribution
Nine out of eleven seats in the former South East Metropolitan region retained their names, but there were substantial changes to a number of those seats.
Lyndhurst shifted north-east and lost the suburb of the same name, so was renamed Keysborough. The neighbouring seats of Carrum, Mordialloc, Cranbourne, Narre Warren South and Dandenong all underwent significant changes.
Clayton shifted slightly south and was renamed Clarinda.
At the northern end of the region, the seat of Mount Waverley was transferred into Eastern Metropolitan region, and the new seat of Rowville was transferred into South East Metropolitan. Rowville was made up of southern parts of the former electorates of Ferntree Gully and Scoresby, both of which were contained in East Metro.
The changes decreased the Labor vote across the region by about 0.4%, and increased the Liberal vote by about the same amount.
History
The South Eastern Metropolitan region was created in 2006, when proportional representation was introduced.
Both elections have produced the same result – three Labor, two Liberal.
Jennigs, Peulich, Rich-Phillips and Somyürek have all held their seats since 2006. The fifth seat was held from 2006 to 2010 by Labor's Bob Smith. He was succeeded in 2010 by Labor's Lee Tarlamis. In 2010, Bob Smith shifted to run in Western Metropolitan, but was not re-elected.
2010 result
2010 election
Redistribution
Party
Votes
%
Quota
%
Quota

Labor Party

172,306
43.41
2.605
43.02
2.581

Liberal Party

162,517
40.94
2.457
41.37
2.482

The Greens

34,754
8.76
0.525
8.49
0.509
Family First
12,560
3.16
0.190
3.28
0.197
Democratic Labor Party
10,292
2.59
0.156
2.69
0.161
Christian Party
4,510
1.14
0.068
1.15
0.069
On primary votes, both the Labor Party and Liberal Party won seats in this region.
After the elimination of minor candidates, the third Labor and Liberal candidates, along with the lead candidates for the other four parties, were the final candidates remaining in the count:
Lee Tarlamis (ALP) – 0.600 quotas
Colin Long (GRN) – 0.525
Gladys Liu (LIB) – 0.449
Felicity Hemmersbach (FF) – 0.193
Geraldine Gonsalvez (DLP) – 0.158
Vivian Hall (CDP) – 0.071
Christian Party preferences flowed to the DLP:
Tarlamis (ALP) – 0.600
Long (GRN) – 0.525
Liu (LIB) – 0.450
Gonsalvez (DLP) – 0.221
Hemmersbach (FF) – 0.198
Family First preferences also flowed to the DLP:
Tarlamis (ALP) – 0.602
Long (GRN) – 0.527
Liu (LIB) – 0.455
Gonsalvez (DLP) – 0.405
The DLP fell 5% of a quota short of the Liberal candidate, and most DLP preferences flowed to the the Liberal candidate:
Liu (LIB) – 0.840
Tarlamis (ALP) – 0.605
Long (GRN) – 0.530
The Greens preferences pushed Labor over the top:
Tarlamis (ALP) – 1.103
Liu (LIB) – 0.844
Long (GRN) – 0.020
The margin between the Labor and Liberal candidates about 0.18 quotas.
Candidates
A – Martin Leahy – Sex Party
B – Sami Greiss – Australian Christians

C –

Labor

Gavin Jennings
Ian Spencer
Rosalie Davis

D – Sorin Ionascu – Voluntary Euthanasia
E – Elio Celotto – Animal Justice
F – Michael Palma – Democratic Labour
G – Daniel Nalliah – Rise Up Australia
H – Basil Walters – People Power
I – Lynette Harland – Family First
J – Jason Kennedy – Palmer United Party
K – Robert Siddle – Cyclists Party

L –

Liberal

Ali Khan
Moti Visa
George Hua

M – Leslie Hughes – Liberal Democrats
N – Ryan Perry – Shooters and Fishers

O – 

Nina Springle – Greens
Ungrouped
Preferences
Assessment
The Liberal Party and Labor Party each hold two safe seats in South East Metro.
The ALP only won their third seat by a relatively slim margin over the Liberal Party – a swing of less than 10% of a quota (1.6%) from Labor to Liberal would see a third Liberal winning the final seat.
It is also possible that a minor party could overtake either major party. In 2010, the third Liberal only stayed ahead of the DLP candidate by 0.05 quotas. The Labor candidate outpolled the Greens by only 0.075 quotas. In either case, it's possible that the Greens or the DLP could win the seat if they overtake the major party closer to them, and their side of politics is in a position to win a full quota with preferences from Labor or Liberal respectively.