LAB 7.66% vs NAT
Incumbent MP
Damien O'Connor, since 2011. Previously Member for West Coast 1993-1996, Member for West Coast-Tasman 1996-2008, list MP 2009-2011.
Other local MPs
Chris Auchinvole (

National

), list MP since 2011. Previously list MP 2005-2008, Member for West Coast-Tasman 2008-2011.
Kevin Hague (

Green

), list MP since 2008.
Geography
West Coast of New Zealand's South Island. West Coast-Tasman covers most of the Tasman council area, and all of Buller, Grey and Westland council areas. The seat includes the towns of Greymouth, Westport, Murchison, Takataka and Motueka.
Redistribution
No change.
History
The electorate of West Coast-Tasman was first drawn for the 1996 election. It largely succeeded the former electorate of West Coast, which had existed since 1972. West Coast had replaced Westland, which had existed continuously since 1890. These three electorates were won by Labour at all but two elections from 1928 to 2011, with the National Party winning in 1990 and 2008.
Labour's Kerry Burke won West Coast in 1978, after previously holding the seat of Rangiora from one term from 1972 to 1975. Burke served as a minister in the first term of the Labour government from 1984 to 1987, and then as Speaker until 1990.
In 1990, Burke lost the seat of West Coast to National candidate Margaret Moir.
Moir held West Coast for one term, and in 1993 lost to Labour candidate Damien O'Connor.
West Coast was expanded and renamed West Coast-Tasman at the 1996 election, and Damien O'Connor retained the renamed seat.
O'Connor was re-elected in West Coast-Tasman in 1999, 2002 and 2005, and served as a minister in the Labour government from 2005 to 2008.
At the 2005 election, National candidate Chris Auchinvole reduced O'Connor's margin from 23% to 6.8%, and was elected as a list MP.
At the 2008 election, O'Connor was defeated by National list MP Chris Auchinvole, who won the seat with a 2.9% margin. The National electorate vote had increased by 15.8% from 2002 to 2008. O'Connor was on the Labour party list, but was not ranked highly enough to win a seat. Green candidate Kevin Hague was also elected on his party's list.
In May 2009, Labour MP Michael Cullen retired, and O'Connor filled his vacancy on the Labour party list.
In 2011, sitting MP Chris Auchinvole suffered a 6.7% swing, and lost the seat by a 7.7% margin to O'Connor. Hague was re-elected on the list after running as a candidate in West Coast-Tasman, and Auchinvole was again elected as a list MP.
Candidates
Sitting National list MP Chris Auchinvole, who has run in West Coast-Tasman at the last three elections, is not running for re-election.
Laurence Boomert (Money Free)
Kevin Hague (

Green #3

), list MP.
Claire Holley (Conservative)
Damien O'Connor (

Labour #22

), Member for Mana.
Maureen Pugh (

National #52

)
Peter Salter (Ban 1080)
Steven Wilkinson (Independent)
Assessment
West Coast-Tasman is a traditional Labour electorate, but has trended towards the National Party in recent decades, and there will be a fierce contest for this seat.
The National party vote has grown by 6% since the 2005 election, and Labour and Green will need to reduce that vote to be on track to form a centre-left government.
2011 election results
Electorate Votes
Party Votes
Candidate
Party
Votes
%
Swing
Votes
%
Swing
Damien O'Connor

Labour

15,753
47.51
+3.85
9,200
27.25
-6.22
Chris Auchinvole

National

13,214
39.85
-6.66
15,462
45.79
+1.72
Kevin Hague

Green

2,123
6.40
+0.23
4,787
14.18
+3.32
Claire Holley
Conservative
623
1.88
+1.88
1,075
3.18
+3.18
Allan Birchfield
ACT
487
1.47
+1.47
278
0.82
-1.34
Clyde Graf
United Future
454
1.37
+0.63
468
1.39
+0.23
Steven Wilkinson
Legalise Cannabis
450
1.36
-0.47
249
0.74
+0.14
Robert Terry
Youth Party
52
0.16
+0.01
New Zealand First
1,931
5.72
+1.91
Māori
145
0.43
-0.20
Mana
91
0.27
+0.27
Democrats
33
0.10
-0.01
Libertarianz
31
0.09
+0.03
Alliance
16
0.05
-0.04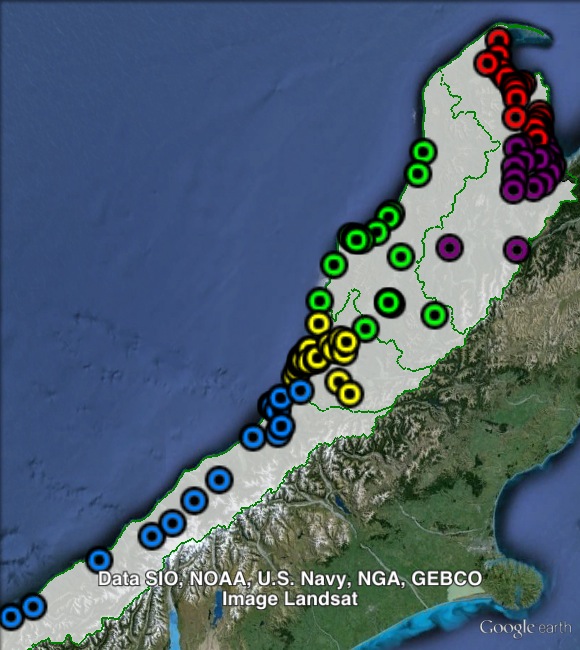 Booth breakdown
Booths in West Coast-Tasman have been divided into five areas. West Coast-Tasman covers four local council area. Polling places in Tasman have been split into Tasman North and Tasman South, and the other three council areas (Buller, Grey and Westland) have been grouped along council boundaries.
A majority of ordinary votes in West Coast-Tasman are in the Tasman council area.
The Labour candidate, Damien O'Connor, topped the electorate vote in three out of five areas, ranging from 57.2% in Buller to 47.3% in Grey. The National candidate, Chris Auchinvole topped the poll in Tasman South and Westland.
The National Party won the party vote in all five areas, with a vote ranging from 40.3% in Tasman North to 54.1% in Westland. The Labour vote peaks in Grey and Buller. The Green vote peaks in the Tasman area, with over 20% of the party vote in Tasman North.
Voter group
Electorate votes
Party votes
Total
% of votes
LAB
NAT
GRN
NAT
LAB
GRN
NZF
Tasman North
53.55
34.32
7.52
40.25
28.30
20.11
5.00
6,915
20.86
Tasman South
41.08
47.18
7.64
51.62
19.20
17.80
4.51
5,808
17.52
Grey
47.25
39.90
3.16
47.44
32.83
6.16
6.72
5,318
16.04
Buller
57.24
33.01
3.55
42.77
33.99
7.72
9.03
4,081
12.31
Westland
37.65
46.95
5.39
54.11
21.69
10.96
5.21
3,118
9.40
Other votes
46.00
40.02
8.56
43.62
27.16
16.26
5.08
7,916
23.88