NAT 37.34% vs LAB
Incumbent MP
Jacqui Dean, since 2008. Previously Member for Otago 2005-2008.
Geography
South Island. Waitaki covers a large part of the South Island to the south of Christchurch and to the north of Dunedin. Waitaki covers the entirety of Mackenzie, Central Otago and Waimate council areas, and parts of Queenstown-Lakes, Timaru and Waitaki council areas. The largest town in the electorate is Oamaru.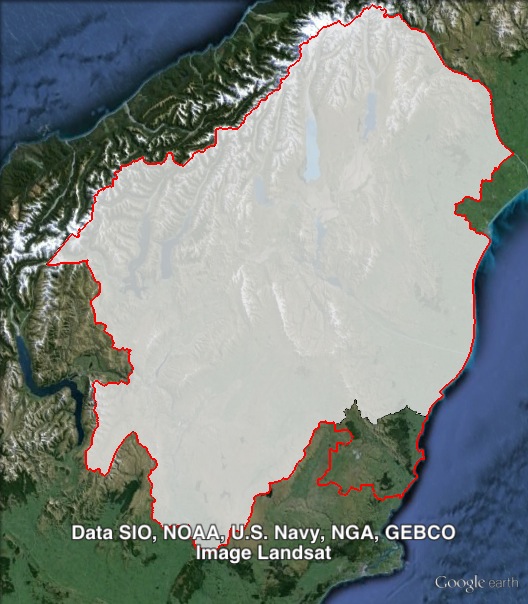 Redistribution
No changes were made to Waitaki's western or northern boundaries. Waitaki previously covered the entirety of Waitaki council area, but lost a small part of the council to Dunedin North. These changes cut the National margin from 37.4% to 37.3%.
History
The electorate of Waitaki in its current form has existed since 2008, when it effectively replaced the previous electorate of Otago. Otago had existed as an electorate since 1978. A previous electorate named Waitaki had also existed from 1978 to 1996, and before that 1871-1946 and 1957-1969.
Both seats have usually been won by the National Party, with occasional Labour breakthroughs.
National MP Jonathan Elworthy won Waitaki in 1978. He had held Oamaru for one term from 1975 to 1978. Elworthy was re-elected in 1981, but lost Waitaki in 1984.
Labour's Jim Sutton won Waitaki in 1984. He was re-elected in 1987. He was appointed to the ministry shortly before the 1990 election, when Labour lost power and Sutton lost in Waitaki.
Jim Sutton returned to Parliament in 1993 to represent Timaru, and then represented Aoraki from 1996 to 2005. He served one final term as a list MP from 2005 until his retirement in 2008.
Alec Neill won Waitaki in 1990 for the National Party, and he was re-elected in 1993.
In 1996, Waitaki was abolished. Neill was unsuccessful in being preselected for Otago, and ran as a National list candidate. Neill was not successful in 1996, but filled out a vacancy in Parliament in 1999 just before the 1999 election. He was again unsuccessful at the 1999 election, but again returned to Parliament to fill a vacancy in 2001, and left Parliament for the last time in 2002.
Otago was won in 1978 by Warren Cooper. Cooper had won the previous seat of Otago Central in 1975, before the seat was renamed in 1978.
Cooper held Otago from 1978 to 1996. He served as a minister in National governments from 1978 to 1984 and again from 1990 to 1996.
The National Party's Gavan Herlihy won Otago in 1996, and was re-elected in 1999.
In 2002, Herlihy was defeated by Labour's David Parker.
In 2005, Parker lost Otago to National's Jacqui Dean, but returned to Parliament as a Labour list MP. Parker served as a minister in the Labour government from 2005 to 2008, with the exception of two months in 2006 when he stepped down. Parker was re-elected as a list MP in 2008 and 2011. He has served as an opposition frontbencher since Labour lost power in 2008, and has served as Labour Party deputy leader since September 2013.
Jacqui Dean was re-elected in the renamed Waitaki electorate in 2008, and again in 2011.
Candidates
Glenda Alexander (Labour)
Donald Aubrey (Conservative #11)
Sue Coutts (Green #40)
Jacqui Dean (National #36), Member for Waitaki.
Hessel Van Wieren (Democrats #7)
Assessment
Waitaki is a very safe National seat.
2011 election results
Electorate Votes
Party Votes
Candidate
Party
Votes
%
Swing
Redist
Votes
%
Swing
Redist
Jacqui Dean

National

23,219
61.45
+1.31
61.39
21,309
55.29
+3.92
55.31
Barry Monks

Labour

9,076
24.02
-8.05
24.06
8,257
21.42
-8.65
21.51
Sue Coutts

Green

3,830
10.14
+5.26
10.16
4,587
11.90
+4.89
11.89
Jesse Misa
Conservative
760
2.01
+2.01
2.02
1,100
2.85
+2.85
2.84
David Ford
Independent
531
1.41
+1.41
1.39
Colin Nicholls
ACT
198
0.52
-0.79
0.53
432
1.12
-2.48
1.08
Hessel Van Wieren
Democrats
172
0.46
+0.10
0.46
74
0.19
+0.08
0.19
New Zealand First
2,010
5.22
+1.58
5.17
United Future
317
0.82
+0.12
0.83
Legalise Cannabis
218
0.57
+0.13
0.58
Māori
136
0.35
-0.15
0.37
Mana
52
0.13
+0.13
0.12
Libertarianz
26
0.07
+0.03
0.06
Alliance
23
0.06
-0.07
0.06
Booth breakdown
Booths in Waitaki have been split into four parts. Those in the town of Oamaru have been grouped together, and the remainder have been split into "North", "Central" and "South".
National won a majority in three out of four areas, and a plurality in Oamaru. The National electorate vote margin ranged from 48.7% in the South to 9.2% in Oamaru. The National party vote margin ranged from 43.3% in the south to 5.9% in Oamaru.
Voter group
Electorate votes
Party votes
Total
% of votes
NAT
LAB
GRN
NAT
LAB
GRN
NZF
South
66.28
17.60
12.23
60.16
16.85
13.05
4.68
10,861
30.08
Central
58.76
28.63
7.86
52.17
24.22
9.75
6.34
6,566
18.18
Oamaru
48.74
39.55
6.88
41.34
35.44
10.11
6.97
5,494
15.21
North
63.92
20.91
9.37
59.16
17.15
10.99
5.09
5,261
14.57
Other votes
63.96
20.47
12.03
58.33
18.93
13.87
3.69
7,928
21.96