NAT 29.12% vs LAB
Incumbent MP
Craig Foss, since 2005.
Geography
Eastern parts of the North Island. Most of the seat's population is centred in the Hastings urban area and some nearby towns, as well as other southern parts of Hastings council area, and northern parts of Central Hawke's Bay council area.
Redistribution
No change.
History
Tukituki has existed as an electorate since the 1996 election. The seat was held by Labour for the first three terms, and has been held by National since 2005. The seat mainly replaced Hastings, which had existed from 1946 to 1996. The seat regularly flipped back and forth between Labour and National.
Hastings was held by Labour from 1978 until 1990. In 1993, after one term of National control, Labour's Rick Barker won the seat in 1993.
Barker won the renamed Tukituki in 1996. He was re-elected in 1999 and 2002.
After the 2002 election, Barker joined cabinet as a minister covering multiple portfolios. Barker continued to serve in Cabinet until Labour lost power in 2008.
At the 2005 election, Barker was defeated in Tukituki by National candidate Craig Foss, but Barker retained a seat as a list MP. This result was repeated in 2008.
Foss was promoted to the ministry in June 2011. At the 2011 election, Foss beat Barker for a third time, and Barker's position on the list was not high enough for him to retain a list seat.
Candidates
Craig Foss (National #17), Member for Tukituki.
Stephen Jenkinson (Conservative)
Duncan Lennox (ACT #33)
Anna Lorck (Labour)
Romana Manning (Legalise Cannabis #7)
Chris Perley (Green #29)
Dick Ryan (Democrats #13)
Assessment
Tukituki is a seat that tends to favour the National Party, and Foss has built up a massive 29.1% margin since 2005. While Labour may be in a position to win this seat when they are in a strong position, it's hard to see that happening in 2014.
2011 election results
Electorate Votes
Party Votes
Candidate
Party
Votes
%
Swing
Votes
%
Swing
Craig Foss

National

19,378
58.42
+1.24
17,935
52.60
+2.36
Julia Haydon-Carr

Labour

9,718
29.30
-5.67
8,231
24.14
-8.01
James Macdonald

Green

2,319
6.99
+1.89
3,294
9.66
+3.64
Stephen Jenkinson
Conservative
1,078
3.25
+3.25
1,296
3.80
+3.80
Romana Manning
Legalise Cannabis
352
1.06
+1.06
198
0.58
+0.22
Robert Burnside
ACT
252
0.76
-0.73
498
1.46
-2.89
Barry Pulford
Democrats
74
0.22
+0.02
15
0.04
-0.02
New Zealand First
1,995
5.85
+2.68
Māori
263
0.77
-0.10
United Future
220
0.65
+0.10
Mana
117
0.34
+0.34
Libertarianz
19
0.06
+0.03
Alliance
17
0.05
-0.04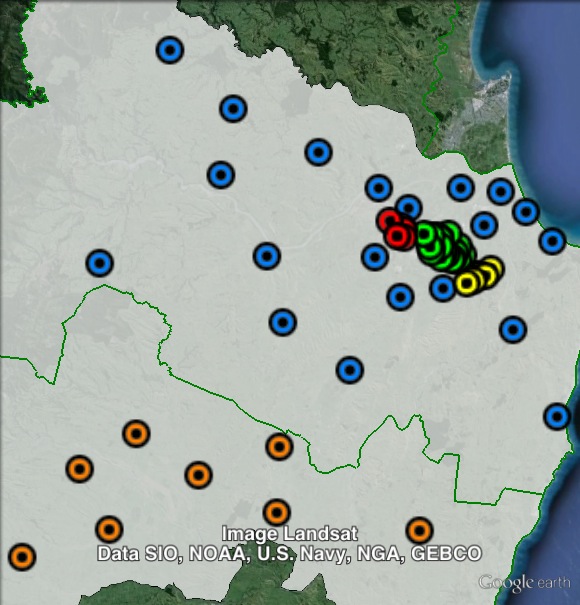 Booth breakdown
Booths in Tukituki have been divided into five areas.
Most of the electorate's population lies in the towns around Hastings. About 11,500 votes were cast in the Hastings urban area. A substantial number of votes were cast in the nearby towns of Flaxmere (to the east) and Havelock North (to the west).
The remainder of the seat has been split between the remainder of booths in the Hastings council area (as 'North') and all those booths in the Central Hawke's Bay council area as 'South'.
National won large majorities in Havelock North, North and South. Labour won a majority in Flaxmere. National won a plurality in Hastings – winning the electorate vote by a 12% margin, and the party vote by 13.7%.
The Green Party came third, with a vote peaking at 12.6% in the rural north of the seat.
Voter group
Electorate votes
Party votes
Total
% of votes
NAT
LAB
GRN
NAT
LAB
GRN
NZF
Hastings
49.56
37.53
6.33
44.31
30.66
8.76
7.65
11,519
34.73
Havelock North
70.41
19.68
6.14
65.11
15.17
9.53
4.11
5,898
17.78
North
66.28
19.64
9.29
60.22
14.85
12.64
4.44
5,546
16.72
Flaxmere
29.18
59.66
5.64
24.58
53.52
4.77
8.65
1,631
4.92
South
63.97
18.83
9.34
56.89
13.94
11.36
6.59
1,296
3.91
Other votes
62.29
26.48
6.87
55.37
23.25
9.73
4.74
7,281
21.95