LAB 8.27% vs NAT
Incumbent MP
Phil Twyford, since 2011. Previously list MP 2008-2011.
Other local MPs
Tau Henare (

National

), since 2005. Previously New Zealand First Member for Northern Maori 1993-1996 and Member for Te Tai Tokerau 1996-1999.
Geography
Western Auckland. Te Atatū covers the Te Atatu Peninsula and the suburbs of Glendene Henderson, Lincoln, Ranui, Swanson and Te Atatu South.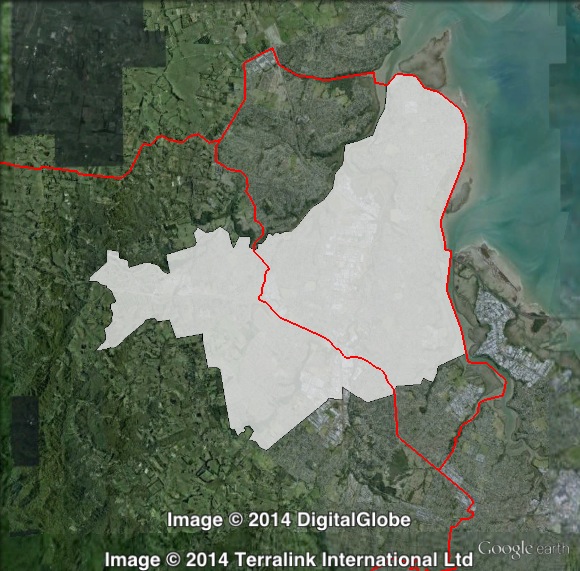 Redistribution
Te Atatū underwent substantial changes in the recent redistribution. Te Atatū was rearranged from a north-south seat to an east-west seat, losing its northern suburbs of Lincoln Heights, Royal Heights and Massey to the new electorate of Upper Harbour, and the southern suburb of Glendene to another new electorate named Kelston. In exchange, Te Atatū shifted west to gain Ranui and parts of Henderson from Waitakere. These changes cut the Labour margin from 18.4% to 8.3%.
The neighbouring seat of Waitakere was abolished in the redistribution, and the seat was broken up between four other seats. Te Atatū covers less than half of Waitakere, but covers more of the seat than any other electorate.
History – Te Atatū
Te Atatū has existed since the 1978 election, with the exception of three years from 1996 to 1999 when the seat was abolished before being restored at the 1999 election. That seat has been held by Labour at all but one election in its history.
Michael Bassett won Te Atatū in 1978. Bassett had previously held the marginal seat of Waitemata for one term from 1972 to 1975. Bassett was re-elected in 1981, 1984 and 1987. He was appointed to the ministry after Labour won government in 1984, and served as a minister until his retirement in 1990.
In 1990, Bassett's seat was lost to the National Party, and Labour lost power nationally.
Brian Neeson won Te Atatū for the National Party in 1990. In 1993, he moved to the new seat of Waitakere, and continued in Parliament until 2002 (see below).
Te Atatū was won in 1993 by Labour candidate Chris Carter. Carter was unsuccessful in running for Waipareira in 1996, and left Parliament for one term.
Carter won back Te Atatū when it was restored in 1999. Carter was re-elected in 2002, and served as a minister in various portfolios from 2002 until Labour lost power in 2008. He was re-elected in 2005 and 2008.
Alliance list MP Laila Harré was re-elected on the party list in 1999 after running in Te Atatū. She served as a minister in the Labour-Alliance government from 1999 to 2002. When the Alliance split in 2002, she ran in Waitakere in an attempt to preserve the Alliance as a parliamentary party, unsuccessfully. Harré has recently taken on the position of leader of the newly-created Internet Party.
In 2005, the National Party ran Tau Henare in 2005, and he was elected on the party list. Henare had previously served as a Māori electorate MP in northern parts of New Zealand from 1993 to 1999. He ran as a New Zealand First candidate and served with the party until a falling out with the party in 1998. Henare led a breakaway party named Mauri Pacific which continued to support the National government, until the 1999 election, when the National government lost power, and Henare and all of his fellow Mauri Pacific MPs lost their seats. Henare also served as Minister for Māori Affairs from 1996 to 1999.
Henare was re-elected as a National list MP in 2008 and 2011, running in Te Atatū at all three elections.
In 2010, Carter fell out with Phil Goff and was suspended from the Labour caucus. He finished his term as an independent MP and resigned shortly before the 2011 election.
At the 2011 election, Labour list MP Phil Twyford beat Henare in Te Atatū. Twyford had held a list seat since 2008.
History – Waitakere
Waitakere existed as an electorate from 1946 to 1984, and from 1993 until its abolition at this year's election. The seat was largely replaced by Titirangi from 1984 to 1993.
Waitakere/Titirangi was a Labour seat from 1946 to 1990. Waitakere was held by Labour's Ralph Maxwell from 1978 to 1984, and then he held Titirangi until 1990. In 1990, he lost Titirangi to the National Party's Marie Hasler. In 1993, she lost Titirangi to Labour's Suzanne Sinclair.
In 1993, Waitakere was won by the sitting National MP for Te Atatū, Brian Neeson. In 1996 he moved to the new seat of Waipareira, and then moved back to Waitakere in 1999. He lost preselection in 2002, and left Parliament at that year's election.
In 1996, Suzanne Sinclair ran for Labour and Marie Hasler ran for National in Waitakere, and Hasler won. Hasler served as a minister in the last term of the National government. In 1999, Hasler again ran for the restored seat of Titirangi, and lost to Labour's David Cunliffe, but won a list seat. She lost her seat in 2002.
In 1999, Labour's Jonathan Hunt was elected on the party list after losing the race for Waitakere. Hunt had held New Lynn from 1966 until 1996, and served as a list MP from 1996 to 2005. He served as Speaker of the Parliament from 1999 to 2005, when he retired. Hunt only ran once in Waitakere, in 1999.
In 2002, Labour candidate Lynne Pillay defeated Marie Hasler. Pillay was re-elected in 2005, and National candidate Paula Bennett was elected on the party list.
Pillay was defeated by Bennett in 2008, but retained her seat as a list MP. Pillay retired in 2011.
Bennett has served in a variety of ministerial portfolios since National won power in 2008, and was re-elected in Waitakere in 2011.
Candidates
Stephen Fletcher (ACT #13)
Adrian McDermott (Legalise Cannabis #11)
Alfred Ngaro (

National #34

), list MP. Ngaro stood as a list-only candidate at the 2011 election.
Paddy O'Rourke (Conservative)
Gary Stewart (

Green #57

)
Phil Twyford (

Labour #7

), Member for Te Atatū.
Chris Yong (Internet #5)
Assessment
The recent redistribution added significant parts of Waitakere into Te Atatū and changed the seat's character substantially. The Labour electorate vote dropped by 4.9% and the National vote jumped by 5.2%. Despite these changes, Twyford is still the incumbent MP, and holds the seat with a margin of over 8%. Labour will be hoping to strengthen their hold on this outer-suburban seat.
2011 election results – Te Atatū
Electorate Votes
Party Votes
Candidate
Party
Votes
%
Swing
Redist
Votes
%
Swing
Redist
Philip Twyford

Labour

15,860
53.83
+53.83
48.92
11,999
38.91
-2.59
37.05
Tau Henare

National

10,444
35.45
+35.45
40.65
12,701
41.19
-0.35
42.33
Gary Stewart

Green

1,744
5.92
+5.92
5.69
2,231
7.24
+3.23
8.09
Cynthia Liu
Conservative
1,106
3.75
+3.75
3.12
851
2.76
+2.76
2.73
Dominic Costello
ACT
308
1.05
+1.05
0.62
271
0.88
-2.28
0.97
New Zealand First
2,081
6.75
+2.56
6.62
Māori
193
0.63
-0.21
0.63
Legalise Cannabis
0.44
169
0.55
+0.2
0.48
Mana
0.46
159
0.52
+0.52
0.53
United Future
121
0.39
-0.48
0.39
Alliance
24
0.08
-0.01
0.05
Democrats
21
0.07
+0.04
0.04
Libertarianz
0.09
14
0.05
+0.02
0.07
2011 election results – Waitakere
Waitakere has been abolished for the 2014 election – some parts of this electorate are now contained in Te Atatū but these results reflect the pre-redistribution boundaries for Waitakere.
Electorate Votes
Party Votes
Candidate
Party
Votes
%
Swing
Votes
%
Swing
Paula Bennett

National

13,465
44.74
-0.16
12,533
40.27
-0.95
Carmel Sepuloni

Labour

13,456
44.71
+1.88
11,579
37.21
-2.57
Stephen Tollestrup

Green

1,855
6.16
+0.67
3,308
10.63
+4.16
Daniel Mountain
Conservative
611
2.03
+2.03
753
2.42
+2.42
Jeffrey Lye
Legalise Cannabis
331
1.10
+1.1
166
0.53
+0.01
Susan Bradford
Mana
322
1.07
+1.07
174
0.56
+0.56
Peter Osborne
Libertarianz
55
0.18
+0.18
33
0.11
+0.06
New Zealand First
2,011
6.46
+2.91
ACT
259
0.83
-2.56
Māori
168
0.54
-0.23
United Future
125
0.40
-0.31
Alliance
9
0.03
-0.10
Democrats
4
0.01
-0.01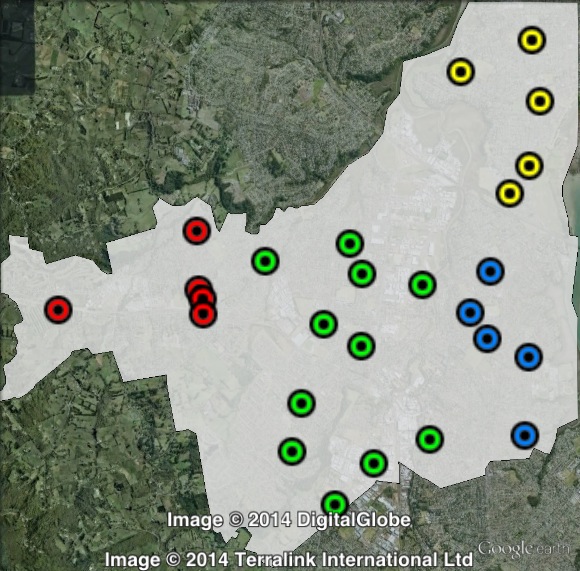 Booth breakdown
Booths in Te Atatū have been divided into four areas: Te Atatu Peninsula in the north, Te Atatu South in the east, Ranui in the west, and Henderson running through the centre of the seat.
Labour topped the electorate vote in all four areas, with a majority in two. The Labour margin varied from 0.7% in Henderson to 13.6% in Te Atatu Peninsula.
The National Party won the most party votes in three out of four areas, polling 43-45% in Henderson, Te Atatu South and Te Atatu Peninsula. Labour outpolled National in the party vote in Ranui.
Voter group
Electorate votes
Party votes
Total
% of votes
LAB
NAT
GRN
NAT
LAB
GRN
NZF
Henderson
45.63
44.98
4.52
44.67
37.01
6.58
5.98
10,131
31.68
Te Atatu South
51.23
38.01
5.60
45.60
34.18
7.21
6.65
5,924
18.53
Te Atatu Peninsula
51.17
37.55
6.66
43.58
32.28
10.11
7.34
5,030
15.73
Ranui
49.02
40.63
5.77
36.72
41.10
9.43
7.37
4,423
13.83
Other votes
50.15
38.70
6.80
38.87
40.35
8.74
6.55
6,469
20.23