NAT 29.55% vs LAB
Incumbent MP
Ian McKelvie, since 2011.
Geography
Central South Island. Rangitīkei stretches from Taumarunui in the north to Shannon in the south, although the seat does not include the Palmerston North urban area. The seat includes all of Manawatu and Rangitīkei council areas, and parts of Horowhenua, Palmerston North and Ruapehu council areas. The main towns are Feilding, Marton and Taumarunui.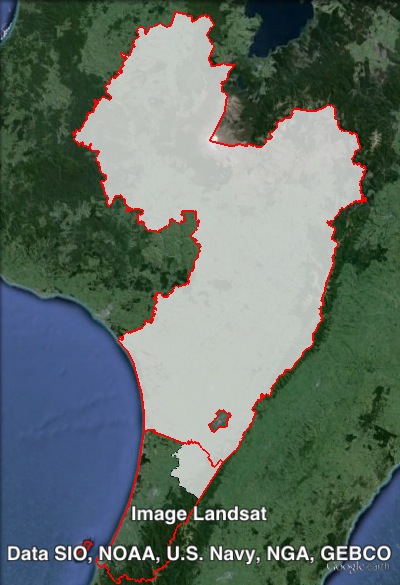 Redistribution
Most of Rangitīkei's boundaries remained steady, including the boundaries to the north, east and west. Palmerston North is completely surrounded by Rangitīkei, and no changes were made to that seat's boundaries. The southern boundary expanded further south to gain the northeastern corner of Horowhenua, which was previously entirely contained in Ōtaki council area.
History
Rangitīkei has existed since the 1861 election. The seat has been dominated by the National Party since 1938, when National won the seat off Labour's only MP for the seat, after only one term. In the past 76 years, National has only lost the seat for a six year period from 1978 to 1984, when the seat was held by the Social Credit Party.
Three successive National MPs from 1938 to 1977. Roy Jack moved to the seat in 1972, after holding other seats since 1954. In late 1977, he died after 39 years in Parliament.
The 1978 by-election was won by Bruce Beetham, leader of the Social Credit Party. His party at the time held no seat, and had only won a single seat once.
Beetham was re-elected at the 1978 election, when the Social Credit Party won 16.1% of the national vote but no other seats. He was re-elected in 1981, with a national vote of over 20%. Beetham was joined by a second Social Credit MP.
In 1984, Beetham was defeated by National candidate Denis Marshall. Marshall held the seat for four terms, retiring in 1999. Simon Power then held Rangitīkei for another four terms from 1999 to 2011.
Ian McKelvie has held Rangitīkei since 2011.
Candidates
Assessment
Rangitīkei is a safe National seat.
2011 election results
Electorate Votes
Party Votes
Candidate
Party
Votes
%
Swing
Redist
Votes
%
Swing
Redist
Ian McKelvie

National

18,284
58.87
+52.08
58.53
17,115
53.94
+1.49
53.47
Josie Pagani

Labour

8,902
28.66
+25.35
28.98
6,723
21.19
-6.35
21.68
Maree Brannigan

Green

2,108
6.79
+6.00
6.71
2,994
9.44
+4.00
9.35
Ian Robertson
Conservative
1,159
3.73
+3.30
3.66
1,333
4.20
+4.20
4.18
Hayden Fitzgerald
ACT
302
0.97
+0.86
0.95
478
1.51
-2.78
1.49
Peter Cleave
Mana
110
0.35
+0.31
0.34
62
0.20
+0.2
0.21
Charles Turner
Independent
102
0.33
+0.29
0.31
Grant Seton
Independent
91
0.29
+0.26
0.30
New Zealand First
0.15
2,305
7.26
+2.17
7.34
United Future
0.03
260
0.82
-0.33
0.82
Māori
247
0.78
-0.13
0.79
Legalise Cannabis
0.04
152
0.48
+0.08
0.48
Democrats
27
0.09
+0.03
0.08
Libertarianz
23
0.07
+0.01
0.07
Alliance
12
0.04
-0.06
0.04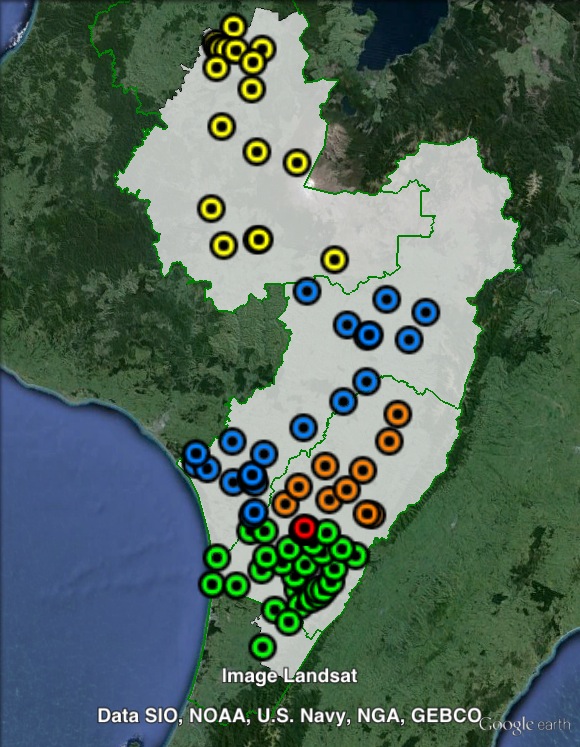 Booth breakdown
Booths in Rangitīkei have been divided into five areas. Polling places in Rangitīkei council area have been grouped as 'North Central', and those in Ruapehu council area have been grouped as 'North'. Polling places in Horowhenua, Manawatu and Palmerston North council areas have been grouped together and broken into three areas. Polling places in the town of Feilding have been grouped together, and the remainder is split into South Central (north of Feilding) and South (south of Feilding).
National won a majority of the electorate vote in all five areas. On the party vote, National won a majority in three areas and won a plurality just short of a majority in two others. Overall, the National vote is strongest in South Central, slightly less strong in North Central and South, and weakest (but still quite strong) in Feilding and North.
The Green Party came third, with a party vote ranging from 8.1% in North Central to 10.3% in North. New Zealand First came fourth, with a party vote ranging from 5.2% in South Central to 9.5% in North.
Voter group
Electorate votes
Party votes
Total
% of votes
NAT
LAB
GRN
NAT
LAB
GRN
NZF
South
60.42
27.45
6.39
55.23
20.68
9.27
6.77
9,258
28.47
Feilding
53.95
34.23
6.00
49.37
26.80
9.13
7.33
6,082
18.70
North Central
60.90
27.46
5.92
55.68
18.28
8.10
9.25
5,335
16.41
North
54.86
29.86
8.32
49.97
20.12
10.27
9.54
2,847
8.75
South Central
67.76
18.58
7.30
61.17
12.76
9.27
5.23
1,588
4.88
Other votes
57.65
29.56
7.49
52.77
23.62
10.17
6.32
7,410
22.79