NAT 31.59% vs LAB
Incumbent MP
Judith Collins, since 2008. Previously Member for Clevedon 2002-2008.
Geography
Urban fringe and rural areas to the south-east of Auckland. The entirety of Papakura is contained within Auckland regional council, but only some parts of the electorate would be considered part of the Auckland urban area. Most of the seat's population lies in the Papakura urban area.
Redistribution
The electorate shifted north-east, losing Clarks Beach and other neighbouring areas at the western edge of the seat, and gaining sparsely-populated areas to the north of Alfriston and Ardmore. Both boundary changes involved territory swaps between Papakura and Hunua. The National margin was cut from 32.6% to 31.6%.
History
The electorate of Papakura existed from 1978 to 1996, and again since 2008. In all of that time, the seat by the name of Papakura (and other seats covering the area from 1996 to 2008) has always been held by National Party MPs.
Papakura was won in 1990 by National's John Robertson. He was re-elected in 1993.
In 1995, he left the National Party and was one of seven sitting MPs to found the United party. In 1996, he ran in Hunua, a newly-restored seat covering parts of Papakura, but was not re-elected.
Hunua was won in 1996 by Warren Kyd, also of the National Party. He previously held seats named Clevedon from 1987 to 1993, and then Hauraki from 1993 to 1996. In both cases, he shifted seats due to a redistribution, and all of his seats roughly lay to the southeast of Auckland.
In 2002, the electorate of Hunua was abolished, and was largely replaced by the electorate of Clevedon. Kyd was unsuccessful in winning preselection for Clevedon, a seat by the same name as his original electorate he had won in 1987.
The National Party's Judith Collins won Clevedon in 2002.
Collins was re-elected in Clevedon in 2005. In 2008, Clevedon was abolished, and the seats of Papakura and Hunua were both restored at the southeastern fringe of Auckland. Collins won Papakura, and was re-elected in 2011. Collins has served as a minister in the National government since the 2008 election.
Candidates
Brent Catchpole (New Zealand First #17)
Judith Collins (National #6)
Caroline Conroy (Green #39)
Roger Fowler (Mana #31)
Ann Kendall (Maori #16)
Jerome Mika (Labour #35)
Kevin Stitt (Conservative)
John Thompson (ACT #40)
Assessment
Papakura is a very safe National seat.
2011 election results
Electorate Votes
Party Votes
Candidate
Party
Votes
%
Swing
Redist
Votes
%
Swing
Redist
Judith Collins

National

18,096
59.59
-0.10
59.11
16,640
52.62
+1.14
52.24
Jerome Mika

Labour

8,206
27.02
-0.07
27.52
8,603
27.21
-2.11
27.68
Brent Catchpole
New Zealand First
1,718
5.66
+0.89
5.65
2,680
8.48
+3.40
8.49
Caroline Conroy

Green

1,519
5.00
+0.93
4.97
1,731
5.47
+2.51
5.46
Arthur Daw
Conservative
619
2.04
+2.04
2.03
967
3.06
+3.06
2.99
John Thompson
ACT
212
0.70
-2.65
0.71
331
1.05
-5.03
1.07
Māori
0.00
183
0.58
-0.35
0.56
Mana
159
0.50
+0.50
0.51
Legalise Cannabis
152
0.48
+0.10
0.48
United Future
133
0.42
-0.41
0.40
Libertarianz
22
0.07
+0.04
0.07
Democrats
0.00
11
0.03
+0.02
0.02
Alliance
9
0.03
-0.03
0.03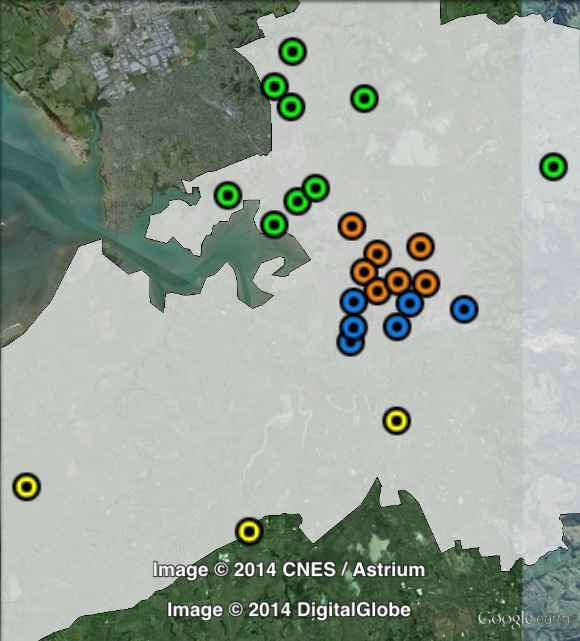 Booth breakdown
Booths in Papakura have been divided into four groups.
Close to half of ordinary votes were cast in the Papakura area, and these polling places have been split into a northern half and a southern half. A large proportion of the population lives in the area north of Papakura, and these booths were grouped as 'North'. The small number of booths to the south of Papakura have been grouped as 'South'.
The National Party won an electorate vote majority in all four areas, and a party vote majority in three out of four areas, winning a plurality of party votes in the remaining area.
The National electorate vote, varied from 78% in the south to 50.04% in Papakura North. The National party vote ranged from 43.4% in Papakura North to 71.8% in the south.
Labour's vote varied from 33-34% in Papakura North down to less than 10% in the South.
The New Zealand First party vote ranged from 6.4% in the south to 11.5% in Papakura North. The Green vote was higher in Papakura than in other parts of the seat.
Voter group
Electorate votes
Party votes
Total
% of votes
NAT
LAB
NAT
LAB
NZF
GRN
North
62.36
26.14
55.81
25.87
7.48
4.97
9,408
32.05
Papakura North
50.04
33.56
43.43
34.02
11.45
5.40
5,620
19.14
Papakura South
59.77
25.69
52.70
25.01
8.91
6.32
4,780
16.28
South
77.78
9.92
71.77
9.46
6.35
5.43
2,471
8.42
Other votes
55.03
31.96
47.80
32.70
8.01
5.59
7,078
24.11