UNF 0.29% vs LAB
Incumbent MP
Peter Dunne, since 2008. Previously Member for Ohariu 1984-1993, Member for Onslow 1993-1996, Member for Ohariu-Belmont 1996-2008.
Other local MPs
Charles Chauvel (

Labour

), list MP 2006-2013. Chauvel resigned from Parliament in early 2013.
Gareth Hughes (

Greens

)
Katrina Shanks (

National

), list MP 2007-2013. Shanks resigned from Parliament in late 2013.
Geography
Northern suburbs of Wellington. Ōhariu covers suburbs in the northern part of the City of Wellington, including Churton Park, Crofton Downs, Johnsonville, Khandallah, Newlands, Tawa and Wadestown.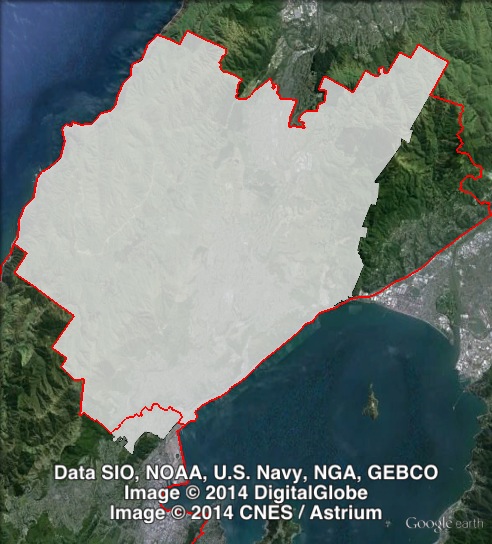 Redistribution
Ōhariu moved south-west, losing the suburbs of Tirohanga, Normandale, Maungaraki and Korokoro: all suburbs in Lower Hutt, so that the new boundaries in that area now follow the Wellington-Lower Hutt council boundary. Ōhariu then gained Wadestown from Wellington Central on its southern boundary. This cut the margin for Peter Dunne from 3.7% to 0.3%, in part due to the inclusion of a suburb where Dunne had not stood at the previous election.
History
The electorate of Ōhariu has existed since 2008, but is the successor to the previous seats of Ohariu-Belmont (1996-2008), Onslow (1993-1996) and Ohariu (1978-1993) which all covered the northern suburbs of Wellington. The electorate has been held by Peter Dunne since 1984 – first as a Labour MP until 1994 and for United Future since 1996.
Hugh Templeton was the first member elected for Ohariu in 1978, representing the National Party. He had served one term representing Awarua in Southland from 1969 to 1972, and then in 1975 had won the seat of Karori. Karori covered areas now in Ohariu, and had been held by National MPs ever since its creation in 1946.
Templeton served as a minister in the Muldoon National government from 1977 to 1984.
In 1984, Templeton was defeated by Labour candidate Peter Dunne, in the year that the Labour Party won power back from the Muldoon National government. Dunne was a member of Labour's right-wing faction, aligned with senior figures like Roger Douglas and Richard Prebble.
Dunne was re-elected in Ohariu in 1987 and 1990. In 1993, Ohariu was abolished and replaced with Onslow, which Dunne also won.
In 1994, Dunne resigned from Labour, after a number of other prominent right-wing figures in the party had also resigned. Dunne sat as an independent, before forming a party named Future New Zealand.
In 1995, a number of other centrist MPs from National and Labour also resigned from their parties, and Dunne joined them in forming a new party named United New Zealand. United formed a coalition with National, and Dunne took on a ministerial role.
At the 1996 election, the first held under MMP, Dunne was the only United MP to hold his seat, now expanded to include the Belmont area in the Hutt Valley and renamed Ohariu-Belmont. The party did not win enough votes to bring in any list MPs.
In addition, two other minor party MPs were elected on their party's list after running in Ohariu-Belmont: Phillida Bunkle for the Alliance and Ken Shirley for ACT. Shirley had previously been the Labour member for Tasman from 1984 to 1990, and served as a minister in the Labour government.
Bunkle was re-elected in 1999, and Shirley was re-elected in 1999 and 2002, but neither stood again in Ohariu-Belmont. Bunkle served as a minister in the first term of the Labour-led government.
After the 1996 election, Dunne became leader of United New Zealand, and supported the National government in a Parliament with a large and diverse crossbench. He was re-elected in 1999.
In 2000, Dunne's party merged with another party named Future New Zealand, a Christian conservative party, and the merged party was named United Future New Zealand.
At the 2002 election, United Future did very well, and won 8 seats in Parliament: seven list MPs, and Dunne in Ohariu-Belmont. In addition, the ACT party's Heather Roy was elected on the list after running in Ohariu-Belmont. Roy ran again in Ohariu-Belmont in 2005, and ended up serving three terms before retiring in 2011.
Peter Dunne's party's fortunes didn't last after the 2002 election, and only three MPs, including Dunne, were elected in 2005. This was enough to put Dunne in the balance of power, and he took on the role of Minister of Revenue in the Labour-led government.
At the 2005 election, Dunne was challenged by Labour's Charles Chauvel and National's Katrina Shanks. Both candidates narrowly missed out on a seat on their party's list, and both later won seats on the party's list after other MPs resigned: Chauvel in 2006, and Shanks in 2007.
Over the course of the 2005-2008 term, United Future lost one of its three MPs, and in 2008 Dunne was the sole MP elected to represent United Future. Dunne was re-elected in 2008 with a slim margin, defeating the Chauvel by a 3.7% margin, with Shanks not far behind. Chauvel and Shanks both retained their list seats. Dunne continued serving as a minister after the change of government in 2008, taking on a role in the National-led government.
The Greens stood Gareth Hughes in Ōhariu in 2008. Hughes failed to win a seat on the party list, but took his seat in 2009 following the retirement of Jeanette Fitzsimmons.
At the 2011 election, United Future again failed to poll enough votes to win any additional list seats, and Dunne again defeated Chauvel by a 3.7% margin. Shanks and Hughes were both re-elected as list MPs, giving Ōhariu four members of Parliament who had contested the electorate.
Dunne was forced to resign as a minister in June 2013, after he refused to cooperate with an investigation into the leaking of a report into spying on Kim Dotcom. Dunne was returned to the frontbench in January 2014.
Shanks and Chauvel both resigned their seats in Parliament in 2013.
Candidates
Sitting Green list MP Gareth Hughes, who ran in Ōhariu in 2008 and 2011, will be running as a list-only candidate, as the #5 Green candidate.
Virginia Andersen (

Labour #37

)
Michael Brunner (Conservative #15)
Peter Dunne (United Future #1), Member for Ōhariu.
Sean Fitzpatrick (ACT #16)
Sue Hamill (Independent)
Brett Hudson (

National #39

)
Alida Steemson (Democrats #6)
Tane Woodley (

Green #28

)
Assessment
Peter Dunne's political career, and the political survival of United Future, rely entirely on the result in Ōhariu. United Future has been polling so poorly that it would not even qualify to win a single seat, so without a successful Ōhariu campaign the party will be out of Parliament, ending Dunne's 30-year career.
Labour will be campaigning hard to win Ōhariu, but may be hampered by the loss of Chauvel, who has increased the Labour vote from 20.4% in 2002 (when Chauvel was not a candidate) to 34.8% in 2011 (35.9% on the new boundaries).
The National Party won almost 50% of the party vote in Ōhariu in 2011 (48.8% on new boundaries). Labour and Greens will be hoping to knock down the centre-right vote in 2014 if they are to have a hope of forming a centre-left government.
2011 election results
Electorate Votes
Party Votes
Candidate
Party
Votes
%
Swing
Redist
Votes
%
Swing
Redist
Peter Dunne
United Future
14,357
38.58
+38.58
36.21
672
1.78
-0.43
1.74
Charles Chauvel

Labour

12,965
34.84
+34.84
35.92
10,036
26.53
-6.80
26.93
Katrina Shanks

National

6,907
18.56
+18.56
19.65
18,764
49.60
+3.33
48.81
Gareth Hughes

Green

2,160
5.80
+5.80
5.92
5,453
14.42
+5.28
14.96
Stephen Woodnutt
Conservative
378
1.02
+1.02
0.97
636
1.68
+1.68
1.58
Hugh Barr
New Zealand First
339
0.91
+0.91
0.85
1,478
3.91
+1.82
3.79
Sean Fitzpatrick
Libertarianz
109
0.29
+0.29
0.30
47
0.12
+0.07
0.14
ACT
0.09
286
0.76
-2.66
0.81
Māori
201
0.53
-0.20
0.57
Legalise Cannabis
0.04
160
0.42
+0.11
0.42
Mana
73
0.19
+0.19
0.23
Alliance
0.01
12
0.03
-0.11
0.03
Democrats
10
0.03
+0.00
0.01
Pirate
0.05
Independent
0.01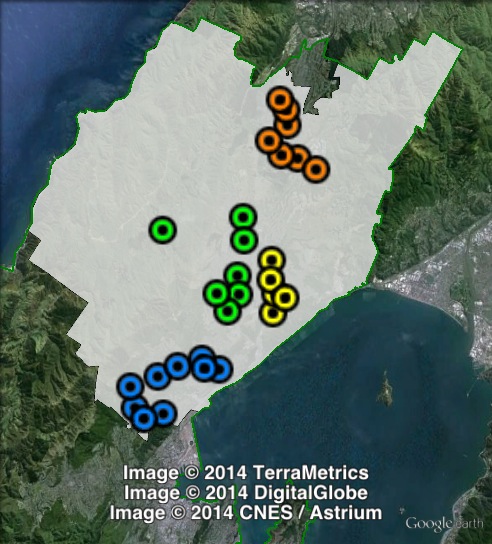 Booth breakdown
Booths in Ōhariu have been divided into four areas:
Central East – Newlands and Paparangi
Central West – Churton Park, Johnsonville and Ohariu
North – Grenada North and Tawa
South – Crofton Downs, Khandallah, Ngaio and Wadestown
United Future won the electorate vote in Central West and in the North, and Labour won the vote in the south and Central East. It should be noted that 17.5% of votes cast in the south were in the electorate of Wellington Central, so Dunne was not on the ballot in that area.
The United Future vote ranged from 34.1% in the south to 42.9% in Central West. The Labour electorate vote ranged from 32.7% in Central West to 40.6% in Central East. The National vote ranged from 15.5% in Central East to 21.3% in the south.
United Future only polled 1.8% of the party vote (1.7% on new boundaries) – ranking behind National, Labour, Green and New Zealand First, and only just ahead of the Conservative Party.
The National Party won a majority of the vote in the south and the central west, and a large plurality (48.4%) in the north. In the Central East area, National topped the poll, but with less than the combined Labour-Green vote.
Overall, the centre-right is stronger in Central West, North and South, with the centre-left stronger in Central East.
Voter group
Electorate votes
Party votes
Total
% of votes
UNF
LAB
NAT
NAT
LAB
GRN
South
34.07
36.62
21.25
51.46
22.39
19.01
9,060
26.62
Central West
42.89
32.72
17.87
52.07
26.26
12.02
7,857
23.09
Central East
36.62
40.62
15.54
41.12
34.78
12.13
4,582
13.46
North
37.39
34.84
19.28
48.40
28.08
12.15
3,843
11.29
Other votes
31.65
36.09
21.91
47.42
27.56
16.10
8,692
25.54