NAT 35.95% vs LAB
Incumbent MP
Mike Sabin, since 2011.
Geography
Northern end of New Zealand. Northland covers the northernmost part of North Island, with the exception of the area around Whangarei. The electorate includes all of Far North and Kaipara council areas, and small parts of Auckland and Whangarei council area.
Redistribution
No change.
History
Northland has existed since the 1996 election, and has always been won by the National Party candidate. The seat was preceded by Bay of Islands from 1978 to 1993, and by Far North from 1993 to 1996.
Bay of Islands was restored in 1978 after being abolished in 1946. The seat covered the northern tip of the North Island. Neill Austin won the seat for the National Party, after previously winning Hobson in 1975. Austin retired in 1987.
John Carter won Bay of Islands in 1987. He was re-elected representing a seat in the area in 1990, 1993, 1996, 1999, 2002, 2005 and 2008. The seat was renamed 'Far North' in 1993 and 'Northland' in 1996.
Carter resigned from Parliament in early 2011 to take up the position of High Commissioner to the Cook Islands.
At the 2011 election, Northland was won by the National Party's Mike Sabin.
At every election from 1996 to 2008, another candidate in Northland was elected as a list MP. In 1996, the Alliance's Frank Grover won a seat. In 1999, the Green Party's Sue Bradford was elected after running in Northland. She was re-elected three more times, retiring in 2009. She only ran in Northland in 1999.
In 2002, New Zealand First candidate Jim Peters was elected on the party list. He lost his seat in 2005.
Labour candidate Shane Jones was elected as a list MP at the 2005 and 2008 elections after running in Northland. In 2011, he ran in a different seat, and retired in 2014.
Candidates
David Clendon (Green #11), list MP since 2009.
Craig Nelson (ACT #35)
Willow-Jean Prime (Labour #34)
Ken Rintoul (Focus #1)
Murray Robertson (Independent)
Mike Sabin (National #44), Member for Northland.
Mel Taylor (Conservative #7)
Glen Timms (Money Free)
David Wilson (Democrats #20)
Assessment
Northland is a very safe National seat.
2011 election results
Electorate Votes
Party Votes
Candidate
Party
Votes
%
Swing
Votes
%
Swing
Mike Sabin

National

18,188
57.55
-1.59
16,381
50.15
-1.55
Lynette Stewart

Labour

6,826
21.60
-7.64
5,748
17.60
-7.44
Pauline Evans

Green

3,822
12.09
+5.22
3,848
11.78
+4.44
Melanie Taylor
Conservative
1,606
5.08
+5.08
1,714
5.25
+5.25
Ngawai Herewini
Mana
611
1.93
+1.93
420
1.29
+1.29
Josephine Peita
Māori
290
0.92
+0.92
257
0.79
-0.69
Barry Brill
ACT
261
0.83
-0.85
536
1.64
-2.57
New Zealand First
3,330
10.19
+3.79
Legalise Cannabis
213
0.65
+0.23
United Future
149
0.46
-0.21
Democrats
35
0.11
-0.03
Libertarianz
25
0.08
0.00
Alliance
9
0.03
-0.05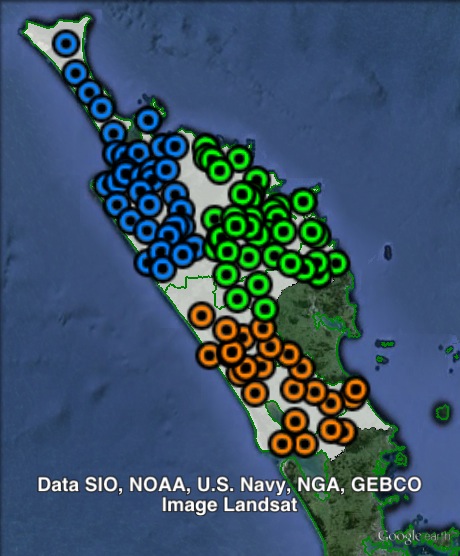 Booth breakdown
Booths in Northland have been divided into three areas. Polling places in the Auckland and Kaipara council areas, and southern parts of Whangarei, have been grouped as 'South'. Polling places in Far North council area, and northern parts of Whangarei, have been split into North-East and North-West.
The National Party won a majority of the electorate vote, ranging from 51% in North-West to 60.6% in the South. Labour's electorate vote ranges from 20% to 25%, while the Green vote ranges from 10% to 12.8%.
On the party vote, the National Party won a majority in the North-East and the South, and won a plurality of the vote, with 44.6%, in the North-West. Even in the North-West, this was more than twice the vote for the Labour Party.
Voter group
Electorate votes
Party votes
Total
% of votes
NAT
LAB
GRN
NAT
LAB
GRN
NZF
North-East
59.74
20.06
12.25
52.78
16.49
12.04
9.12
10,605
33.56
South
60.56
20.95
10.05
51.71
15.56
9.77
12.16
7,246
22.93
North-West
51.10
25.05
12.82
44.64
20.15
12.24
11.53
6,004
19.00
Other votes
56.74
21.64
13.23
49.41
18.97
12.90
8.85
7,749
24.52