NAT 29.00% vs LAB
Incumbent MP
Jonathan Coleman, since 2005.
Geography
Northern suburbs of Auckland. Northcote covers the suburbs of Beachhaven, Birkdale, Birkenhead, Glenfield and Northcote: all on the northern side of Auckland Harbour.
Redistribution
No change.
History
The electorate of Northcote was first created prior to the 1996 election. The seat was held by Labour from 1999 to 2005, and has otherwise been held by the National Party. The seat partly replaced the seat of Birkenhead, which had existed from 1969 to 1996. That seat had only been won by Labour at three elections, and was dominated by National.
Ian Revell won Birkenhead in 1990. He was re-elected in 1993, and moved to Northcote in 1996. In addition to Revell, Alliance candidate Grant Gillon was elected on the party list.
In 1999, Revell lost to Labour's Ann Hartley. Revell was not on the National list so did not return to Parliament, but Gillon returned for a second and final term as an Alliance list MP.
Hartley was re-elected in 2002, but lost in 2005 to National candidate Jonathan Coleman. Hartley served as a list MP for one term, retiring early in 2008.
Coleman won by a 7% margin in 2005, which was increased to a massive 26.9% margin in 2008, and then increased further to 29% in 2011.
Coleman has served as a minister since the 2008 election, and since 2011 he holds the Defence and State Services portfolios.
Candidates
Assessment
Northcote is a seat that has always trended towards the National Party, and will usually only be viable for the Labour Party when they are performing very strongly. Coleman has built his margin to almost unassailable levels, so it is unlikely to change hands in 2014.
2011 election results
Electorate Votes
Party Votes
Candidate
Party
Votes
%
Swing
Votes
%
Swing
Jonathan Coleman

National

18,908
58.46
+0.59
17,263
52.26
+1.85
Wendy Gillon

Labour

9,529
29.46
-1.51
8,264
25.02
-4.72
Vernon Tava

Green

1,890
5.84
-0.04
3,614
10.94
+4.25
Dion Jelley
New Zealand First
732
2.26
+2.26
1,865
5.65
+2.48
Matthew Webster
Conservative
593
1.83
+1.83
824
2.49
+2.49
Leo Biggs
Legalise Cannabis
289
0.89
+0.89
181
0.55
+0.16
Timothy Kronfeld
ACT
185
0.57
-1.34
484
1.47
-3.84
Steven Dromgool
United Future
113
0.35
-0.06
193
0.58
-0.40
Peter Linton
Libertarianz
105
0.32
+0.10
37
0.11
+0.01
Māori
182
0.55
-0.09
Mana
103
0.31
+0.31
Alliance
10
0.03
+0.01
Democrats
10
0.03
-0.01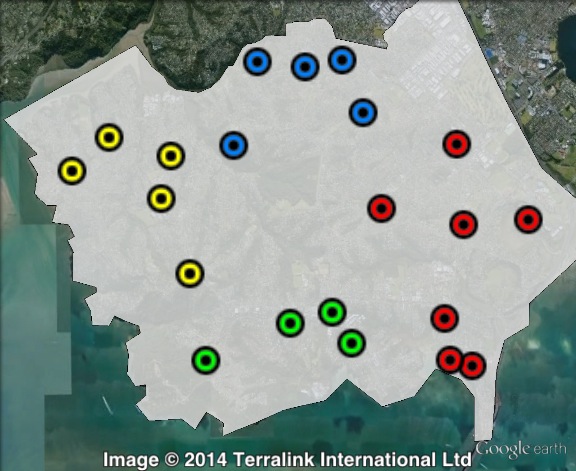 Booth breakdown
Booths in Northcote have been divided into four areas, based on the four key suburbs: Birkdale in the west, Birkenhead in the south, Glenfield in the north, Northcote in the east. Beachhaven is included in Birkdale.
National won large majorities of 63-65% of the electorate vote and 56-59% of the party vote in Northcote and Birkenhead. National also topped the poll in Glenfield and Birkdale, with Glenfield having a stronger National vote than Birkdale. The National margin over Labour on the electorate vote ranged from 31.4% in Birkenhead to 10.6% in Birkdale.
The Green Party came third, with a vote ranging from 8% in Glenfield to 13.1% in Birkenhead.
Voter group
Electorate votes
Party votes
Total
% of votes
NAT
LAB
GRN
NAT
LAB
GRN
NZF
Northcote
63.42
26.10
5.07
56.54
22.25
10.31
5.17
8,567
26.49
Birkdale
47.88
37.27
6.81
42.55
30.25
12.71
7.58
6,069
18.76
Birkenhead
65.00
23.63
6.50
58.63
18.16
13.10
4.50
5,489
16.97
Glenfield
55.71
32.20
4.90
49.36
29.30
8.10
6.29
4,351
13.45
Other votes
58.17
29.65
6.01
52.28
26.34
10.36
5.14
7,868
24.33