NAT 5.74% vs LAB
Incumbent MP
Sam Lotu-liga, since 2008.
Other local MPs
Carol Beaumont (

Labour

), list MP 2008-2011, 2013-present. Beaumont ran in Maungakiekie in both 2008 and 2011. At the 2011 election she was not ranked highly enough to win re-election as a list MP, but returned to Parliament in 2013 following the resignation of another Labour MP, Charles Chauvel.
Geography
Eastern suburbs of Auckland. Maungakiekie covers suburbs to the south-east of the Auckland city centre, including Ellerslie, Mount Wellington, One Tree Hill, Onehunga, Oranga and Panmure.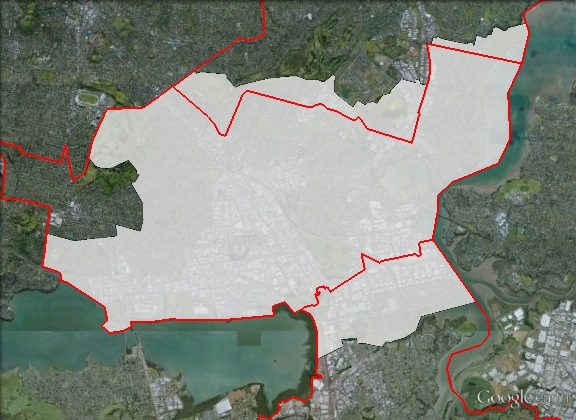 Redistribution
Maungakiekie shifted east, losing Royal Oak to Mount Roskill, and gaining territory on the southern boundary from Manukau East and on the northern boundary from Tāmaki. These changes reduced the National margin from 9.3% to 5.7%.
History
The electorate of Maungakiekie was created for the 1996 election, out of parts of the former electorates of Onehunga and Panmure.
Both of these former electorates were Labour seats. Panmure had been Labour-held continuously since its creation in 1984, while Onehunga had been held by Labour at all but one election since its restoration in 1938, with National winning in 1990.
Despite these trends, Maungakiekie was won in 1996 by National candidate Belinda Vernon. In addition, the Alliance's Matt Robson ran in Maungakiekie and was elected on his party's list.
In 1999, Vernon lost Maungakiekie to Labour list MP Mark Gosche, who had been first elected in 1996. Vernon was returned as a list MP, along with Robson.
Gosche served as a minister in the Labour government, and held Maungakiekie until his retirement in 2008.
Vernon ran again in Maungakiekie in 2002, but was unsuccessful in winning re-election either as an electorate MP or a list MP. Robson was re-elected to a third term as the Progressive Coalition's only list MP in 2002 when he ran in Manukau East. He returned to Maungakiekie in 2005, but the party did not win enough votes to elect a second MP in addition to party leader Jim Anderton.
In 2008, with Gosche's retirement, National candidate Sam Lotu-liga won the seat against Labour's Carol Beaumont, on a swing of almost 14%. Beaumont won a seat on the Labour party list.
In 2011, Lotu-liga was re-elected, and Beaumont was unsuccessful in retaining her list seat. Beaumont returned in 2013, after the retirement of Labour list MP Carol Beaumont.
Candidates
Carol Beaumont (

Labour #27

), list MP.
Felicity Coggan (Communist)
Sitaleki Finau (Mana #21)
Richard Leckinger (

Green #23

)
Sam Lotu-liga (

National #24

), Member for Maungakiekie.
Bryan Mockridge (United Future #8)
Litia Simpson (Conservative)
Assessment
Maungakiekie is a marginal electorate that Labour held during its last period of government, and Labour will be hoping to regain the seat if it has a chance of forming government. A swing of less than 6% would certainly be within reach if Labour performs well.
Labour has a solid party vote, of just under 39%, but Labour's party vote peaked at over 50% in 2002 and 2005, and those votes will need to return to Labour if the centre-left has a chance of forming government.
2011 election results
Electorate Votes
Party Votes
Candidate
Party
Votes
%
Swing
Redist
Votes
%
Swing
Redist
Sam Lotu-Iiga

National

16,189
49.88
+4.33
47.80
14,747
43.59
+1.11
42.05
Carol Beaumont

Labour

13,168
40.57
+0.73
42.06
12,467
36.85
-2.69
38.65
Tom Land

Green

1,827
5.63
+0.81
5.67
3,220
9.52
+4.04
9.06
Jerry Ho
New Zealand First
687
2.12
+0.26
2.14
1,753
5.18
+2.23
5.44
Grace Haden
Conservative
443
1.36
+1.36
1.51
585
1.73
+1.73
1.70
Barry Tumai
Mana
145
0.45
+0.45
0.47
140
0.41
+0.41
0.43
ACT
0.20
400
1.18
-3.35
1.17
Māori
213
0.63
-0.05
0.62
United Future
130
0.38
-0.75
0.36
Legalise Cannabis
128
0.38
+0.08
0.38
Libertarianz
28
0.08
0.00
0.08
Alliance
13
0.04
-0.01
0.03
Democrats
7
0.02
+0.01
0.02
Other independents
0.14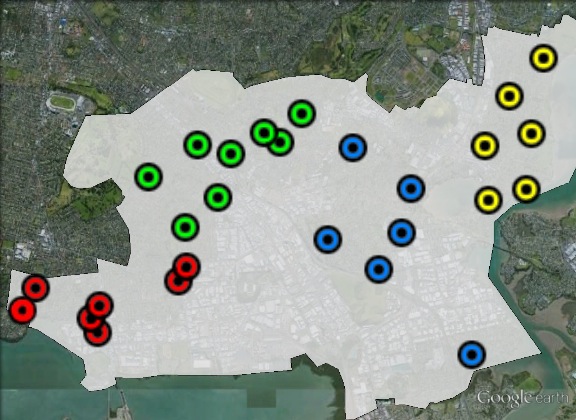 Booth breakdown
Booths in Maungekiekie have been divided into four areas: Ellerslie in the north-west, Mt Wellington in the south-east, Onehunga in the south-west and Panmure in the north-east.
The National Party is stronger in the western end of the seat, and Labour is stronger in the eastern end. National won a huge 62.4% majority in Ellerslie, and won a 47.4% plurality in Onehunga. Labour won 63.4% of the electorate vote in Panmure, and 51.1% in Mt Wellington.
Similar patterns emerge in the party vote, although Labour outpolls National in Onehunga. The Green Party's vote ranged from 5.5% in Panmure to 11.2% in Ellerslie, overall performing better in areas that were stronger for National. The New Zealand First vote ranged from 4.8% in Ellerslie to 6.4% in Panmure.
Voter group
Electorate votes
Party votes
Total
% of votes
NAT
LAB
GRN
NAT
LAB
GRN
NZF
Ellerslie
62.42
26.72
7.35
56.81
22.58
11.24
4.81
7,759
23.69
Mt Wellington
39.52
51.09
4.07
35.97
46.60
6.50
6.29
6,438
19.66
Onehunga
47.46
43.94
4.72
38.32
40.63
10.26
5.71
6,317
19.29
Panmure
27.09
63.42
4.08
23.99
59.43
5.53
6.40
3,237
9.88
Other votes
48.80
39.82
6.62
42.86
37.84
9.46
4.88
9,002
27.48