LAB 63.30% vs NAT
Incumbent MP
Su'a William Sio, since 2008. Previously list MP 2008.
Geography
South-eastern Auckland. The electorate covers the suburbs of Favona, Mangere, Mangere Bridge and Mangere East, as well as Auckland Airport.
Redistribution
No change.
History
Mangere was first created as an electorate in 1969. The electorate has always been held by the Labour Party.
Mangere was first held by Labour's Colin Moyle from 1969 to 1977. Moyle served as a minister in the Labour government from 1972 to 1975.
In 1977, Moyle resigned from Parliament after being accused by Robert Muldoon of being suspected by the police of homosexual activities, which was then illegal.
Moyle later returned to politics, holding Hunua from 1981 to 1984, and Otara from 1984 to 1990. He served as a minister in the Labour government again from 1984 to 1990.
The 1977 by-election was won by Labour's David Lange. Lange was elected leader of the Labour Party in 1983, and led Labour back to power in 1984.
Lange served as Prime Minister for five years from 1984 to 1989. He led Labour to re-election in 1987, but was replaced as Prime Minister in 1989.
Lange was elected to a fifth full term in 1990, and a sixth in 1993. He retired in 1996.
Taito Phillip Field won Mangere in 1996. Field had held Otara from one term from 1993 to 1996, but shifted to Mangere when his former electorate was abolished.
Field was re-elected in Mangere in 1999, 2002 and 2005. He served as a junior minister from 2002 to 2005.
In 2005, Field was forced to step down from the ministry due to allegations of his using his influence for his own financial gain. In 2007, he was expelled from the Parliamentary Labour Party over comments he made about running against Labour at a future election.
At the 2008 election, Field was defeated by Labour list MP Su'a William Sio. Sio easily won with over 50% of the vote, with Field coming second with 22.9%.
Sio had previously run on the Labour list in 2005 and had narrowly missed out on a list seat. He filled a casual vacancy in early 2008 and briefly served as a list MP before winning Māngere.
Sio was re-elected in Māngere in 2011.
Candidates
James Papali'i (Mana #9)
Edward Saafi (Conservative #5)
Su'a William Sio (Labour #14), Member for Māngere.
Mua Strickson-Pua (Green #58)
Misa Fia Turner (National #53)
Assessment
Māngere is the safest seat in the country. Labour will easily retain this seat in 2014.
2011 election results
Electorate Votes
Party Votes
Candidate
Party
Votes
%
Swing
Votes
%
Swing
Su'a William Sio

Labour

18,177
75.90
+23.50
17,960
71.82
+10.22
Claudette Hauiti

National

3,018
12.60
-1.35
3,592
14.36
-2.07
Todd Ross

Green

1,030
4.30
+2.06
962
3.85
+1.81
Oliva Ilalio
New Zealand First
597
2.49
+2.49
1,466
5.86
+2.55
Fa'avae Gagamoe
Conservative
584
2.44
+2.44
402
1.61
+1.61
James Papali'I
Mana
422
1.76
+1.76
252
1.01
+1.01
Casey Costello
ACT
121
0.51
-0.51
77
0.31
-0.81
Māori
134
0.54
-0.43
Legalise Cannabis
95
0.38
0.00
United Future
49
0.20
-0.67
Alliance
14
0.06
+0.03
Libertarianz
4
0.02
-0.01
Democrats
0
0.00
-0.01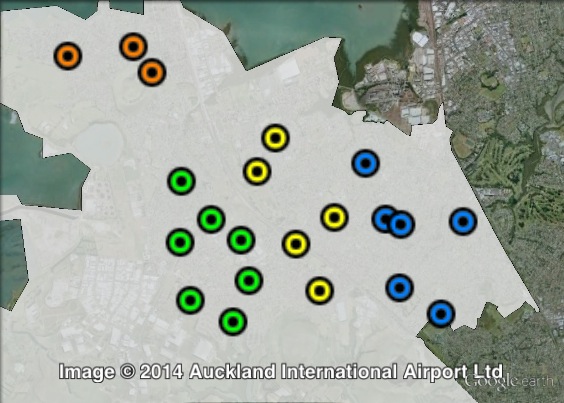 Booth breakdown
Booths in Māngere have been divided into four areas. A small number of polling places in the suburb of Mangere Bridge are separated from the main population centre of the electorate, and have different voting patterns. This area has been grouped as "North". The other three areas have been split into "Central", "East" and "North".
In the three main centres, the Labour Party won a colossal majority – 80-85% of the electorate vote, and 76-81% of the party vote. In these areas, the National Party polled below 10% of the electorate vote, and 7-11% of the party vote.
In the north, Labour won only 44% of the electorate vote and 35% of the party vote. The National Party won a plurality of the party vote. Indeed, the National Party won more electorate votes in the North than in the other three areas combined, despite that area having four times as many votes.
Both New Zealand First and the Green Party did substantially better in the north than in the rest of the electorate.
Voter group
Electorate votes
Party votes
Total
% of votes
LAB
NAT
GRN
LAB
NAT
NZF
GRN
Central
83.16
7.23
2.87
79.72
9.14
5.24
2.33
4,746
19.82
East
80.62
9.52
3.79
76.70
11.40
6.03
2.77
4,643
19.39
West
84.63
6.57
2.43
81.33
7.78
5.31
2.06
4,080
17.04
North
44.40
35.01
10.08
35.11
38.35
8.88
11.03
3,056
12.76
Other votes
76.47
12.06
4.19
73.55
13.33
5.27
3.53
7,424
31.00