LAB 6.64% vs NAT
Incumbent MP
Kris Faafoi, since 2010.
Other local MPs
Jan Logie (

Green

), list MP since 2011.
Hekia Parata (

National

), list MP since 2008.
Geography
Suburbs north of Wellington. The Mana electorate covers all of the Porirua council area, which contains most voters in Mana. The seat also covers small parts of Wellington, Kapiti Coast and Upper Hutt council areas. The Mana electorate is effectively an urban electorate covering the northern parts of Wellington's urban area, as well as some rural areas north of Porirua.
Redistribution
No change.
History
The electorate of Mana was created for the 1996 election. The seat has always been won by the Labour Party. The electorate was a successor to the seat of Porirua, which was Labour-held for its entire history from 1963 to 1996.
Graham Kelly won Porirua in 1987. He was re-elected in 1990 and 1993, and moved to the new seat of Mana in 1996, when boundaries were redrawn due to a reduction in the number of electorate seats under the new MMP system.
Kelly won Mana in 1996 and 1999. In 2002, he stepped down from Mana and was re-elected as a list MP. He retired in 2003 to take up the position of High Commissioner to Canada.
Mana was won in 2002 by Labour list MP Winnie Laban. Laban had first won a seat on the Labour list at the 1999 election.
Laban was re-elected in Mana in 2005 with a 21.4% margin, and was appointed Minister of Pacific Island Affairs from November 2007 until Labour lost power in November 2008, when she won a fourth term in Parliament, and a third consecutive term in Mana with an 18.1% margin.
Along with Laban, the National Party's candidate in Mana has been elected on the party list at every election since 2005. In 2005, National candidate Chris Finlayson won a seat. He was re-elected on the party list in 2008 and 2011. In 2008, the National Party stood Hekia Parata, and she was elected on the party list.
Laban resigned from Parliament in 2010, triggering a by-election in Mana. Labour candidate Kris Faafoi won the seat with a 6.1% over National list MP Hekia Parata and Green candidate Jan Logie.
Parata was promoted to serve as Minister for Women and Ethnic Affairs in late 2010, serving in the role until the 2011 election.
In 2011, Faafoi increased his margin slightly to 6.8%. Parata was re-elected on the National party list. Green candidate Jan Logie was also elected on the party list.
Parata has served as Minister of Education since the 2011 election.
Candidates
Roy Barry (Conservative)
Ron England (Democrats #30)
Kris Faafoi (

Labour

), Member for Mana.
Richard Goode (Legalise Cannabis #6)
Jan Logie (

Green #10

), list MP.
Hekia Parata (

National #7

), list MP.
Assessment
Mana is Labour's second-most marginal electorate, but has never been won by the National Party. If Labour is in a position to form government, they will be hoping to significantly increase their margin.
On the party vote, Labour and Green will be hoping to drive down the National vote in Mana.
2011 election results
Electorate Votes
Party Votes
Candidate
Party
Votes
%
Swing
Votes
%
Swing
Kris Faafoi

Labour

16,323
48.61
-4.45
12,999
37.76
-6.15
Hekia Parata

National

14,093
41.97
+6.98
13,754
39.95
+3.28
Jan Logie

Green

2,652
7.90
+1.18
4,398
12.78
+4.39
Richard Goode
Legalise Cannabis
332
0.99
+0.99
168
0.49
+0.10
Michael Warren
ACT
182
0.54
-1.30
163
0.47
-1.89
New Zealand First
1,667
4.84
+1.87
Conservative
604
1.75
+1.75
United Future
234
0.68
-0.64
Māori
227
0.66
-0.37
Mana
165
0.48
+0.48
Libertarianz
20
0.06
+0.01
Alliance
16
0.05
0.00
Democrats
10
0.03
+0.01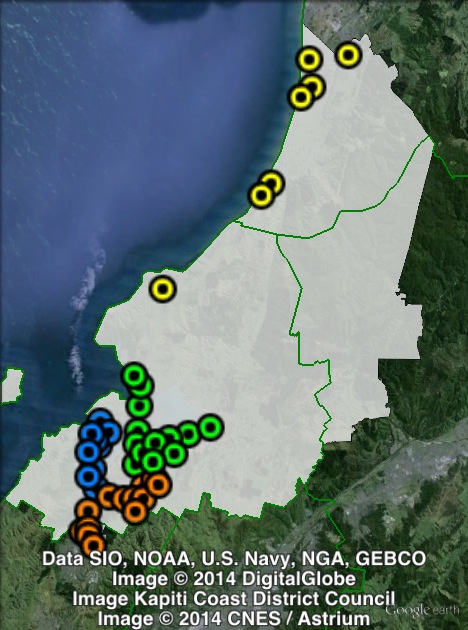 Booth breakdown
Booths in Mana has been divided into four areas. The 'North' area covers rural areas outside of the Wellington urban area. The other three areas have been split up as:
Central – Aotea, Ascot Park, Pauatahanui, Plimmerton, Whitby
South – Cannons Creek, Linden, Porirua East
West – Elsdon, Porirua, Titahi Bay
The Labour candidate won a large majority of the party vote in south (72%) and west (62%). The National candidate won a large 59.5% majority in Central. Labour narrowly outpolled National in the north, by a 1.3% margin.
The National Party narrowly outpolled Labour on the party vote, with a wide variety of margins. The Labour Party won a 42.9% majority in the south, and an 18.7% margin in the west. National won a 12% majority in the north and a 33.3% majority in Central.
The Green Party came third on the party vote, ranging from 6.8% in the south to 20.5% in the north.
Voter group
Electorate votes
Party votes
Total
% of votes
LAB
NAT
GRN
NAT
LAB
GRN
NZF
Central
32.92
59.49
6.44
56.51
23.25
11.56
4.06
10,650
31.71
South
71.84
21.67
5.20
21.03
63.89
6.83
4.33
6,151
18.32
North
43.72
42.45
12.28
40.61
28.62
20.45
5.38
5,732
17.07
West
62.45
28.00
7.49
27.17
45.85
13.32
8.55
3,457
10.29
Other votes
49.17
39.82
9.00
37.62
39.95
13.22
4.29
7,592
22.61
The following maps show the electorate vote for Labour and National, and the party vote for the Green Party.