NAT 50.86% vs LAB
Incumbent MP
Paul Hutchison, since 2008. Previously Member for Port Waikato 1999-2008.
Geography
Southern outskirts of Auckland. Hunua lies entirely within the Auckland Region, but largely covers rural areas to the south and east of the Auckland urban area, as well as the town of Pukekohe.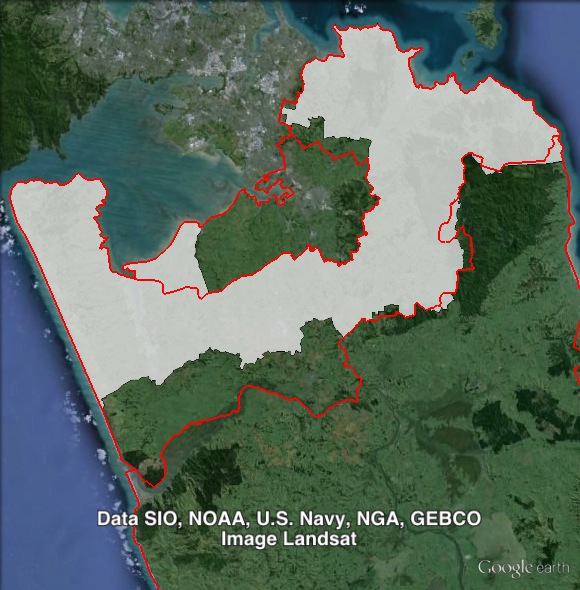 Redistribution
Hunua's southern boundaries with Coromandel and Waikato were adjusted, with most changes being minor, and with a piece of territory in the south-west of the electorate transferred to Waikato. Hunua gained the area around Clarks Beach from the western end of Papakura, while losing areas at the other end of Papakura to Papakura, and a small area to Botany on the edge of the Auckland urban area. These changes increased the National margin from 48.8% to 50.9%.
History
The electorate of Hunua has existed in its current form only since 2008, although it previously existed from 1978 to 1984 and again from 1996 to 2002.
The seat at its first election in 1978 produced a remarkably close result which originally saw Labour's Malcolm Douglas win the seat. A 1979 court decision overturned the result and gave the seat to Winston Peters of the National Party – who went on to found and lead New Zealand First in 1993.
Peters lost in 1981 to Labour's Colin Moyle. Moyle had held other seats in eastern Auckland from 1963 to 1977, when he resigned from Parliament. Moyle continued in Parliament until 1990, in other seats after Hunua's abolition in 1990.
National MP Warren Kyd, who had held other seats since 1987, won the restored Hunua electorate in 1996, and again in 1999. In 2002, the seat was abolished again, and he lost to Judith Collins for National preselection and retired.
Paul Hutchison won Hunua in 2008. Hutchison had held Port Waikato from 1999 to 2008. That seat was then abolished, and Hunua was restored covering some of the same territory.
Also in 2008, former Labour finance minister Roger Douglas returned to Parliament as an ACT list MP after running in Hunua. Douglas had helped form ACT in the 1990s. After one term in Parliament, he retired in 2011.
Hutchison was re-elected in Hunua in 2011.
Candidates
Sitting National MP Paul Hutchison is not running for re-election.
Andrew Bayly (National #55)
Ian Cummings (ACT #9)
Neville Hudson (Conservative #19)
Huia Mitchell (Democrats #21)
Tom Phillips (Māori #14)
Jon Reeves (New Zealand First #15)
Arena Williams (Labour #40)
Assessment
Hunua is a very safe National seat.
2011 election results
Electorate Votes
Party Votes
Candidate
Party
Votes
%
Swing
Redist
Votes
%
Swing
Redist
Paul Hutchison

National

22,563
65.59
+1.18
66.76
22,161
62.58
+1.94
63.44
Richard Hills

Labour

5,766
16.76
-1.05
15.90
5,705
16.11
-3.60
15.27
Charmaine Watts

Green

2,576
7.49
+3.01
7.46
2,438
6.88
+3.52
6.89
Doug Nabbs
New Zealand First
1,405
4.08
+1.15
4.02
2,626
7.42
+3.04
7.27
Kevin Campbell
Conservative
1,373
3.99
+3.99
3.84
1,320
3.73
+3.73
3.82
Ian Cummings
ACT
440
1.28
-7.74
1.28
515
1.45
-6.79
1.45
Thomas Phillips
Māori
194
0.56
+0.56
0.52
188
0.53
-0.01
0.55
Huia Mitchell
Democrats
81
0.24
+0.24
0.23
30
0.08
+0.06
0.11
United Future
170
0.48
-0.34
0.50
Legalise Cannabis
154
0.43
+0.11
0.44
Mana
75
0.21
+0.21
0.20
Libertarianz
25
0.07
+0.04
0.05
Alliance
4
0.01
-0.03
0.01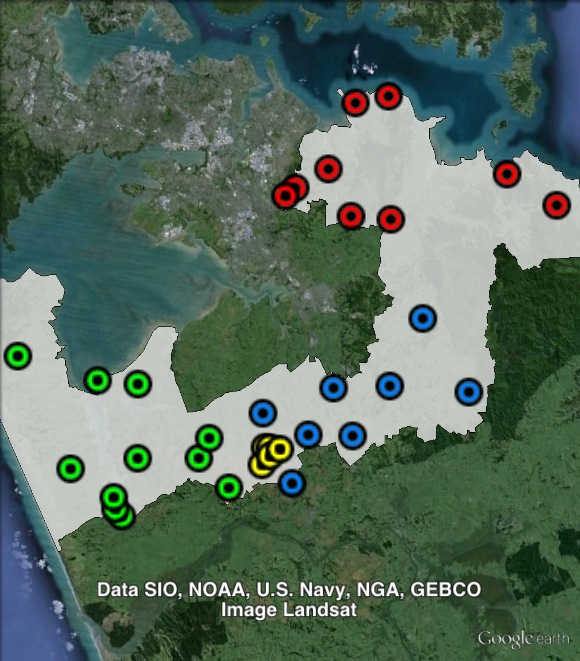 Booth breakdown
Booths in Hunua have been divided into four areas. The largest town in the electorate, Pukekohe, includes five polling places that have been grouped together.
The other three areas have been grouped as "West" (west of Pukekohe), "North" (north of Papakura) and "Central" in between.
The National Party won large majorities in all four areas, ranging from 57% to 69% on the party vote and 60% to 73% on the electorate vote.
The Labour Party polled much lower, with a vote ranging from 9-10% in Central to 19-21% in Pukekohe.
The New Zealand First vote and the Green Party vote both peaked in the West.
Voter group
Electorate votes
Party votes
Total
% of votes
NAT
LAB
GRN
NAT
LAB
NZF
GRN
West
63.74
16.60
8.68
60.81
14.75
9.08
7.57
7,532
23.86
Pukekohe
60.37
20.77
6.68
57.20
19.82
8.72
6.47
6,561
20.78
North
72.17
13.53
7.51
69.04
13.41
5.06
6.58
6,535
20.70
Central
73.42
10.16
6.40
69.32
9.43
6.45
6.98
3,751
11.88
Other votes
67.34
15.86
7.42
63.78
16.30
6.51
6.78
7,194
22.79