NAT 13.97% vs LAB
Incumbent MP
Tim Macindoe, since 2008.
Other local MPs
Sue Moroney (Labour), list MP since 2011.
Geography
Western suburbs of Hamilton West. The electorate's southern and western boundaries follow the boundaries of Hamilton City, and its eastern boundary runs along the Waikato River. The electorate includes a small part of the Waikato council area. The main suburbs are Deanwell, Dinsdale, Forest Lake, Frankton, Glenview, Hamilton City, Hamilton West, Maeroa, Melville, Nawton, Pukete, St Andrews and Whitiora.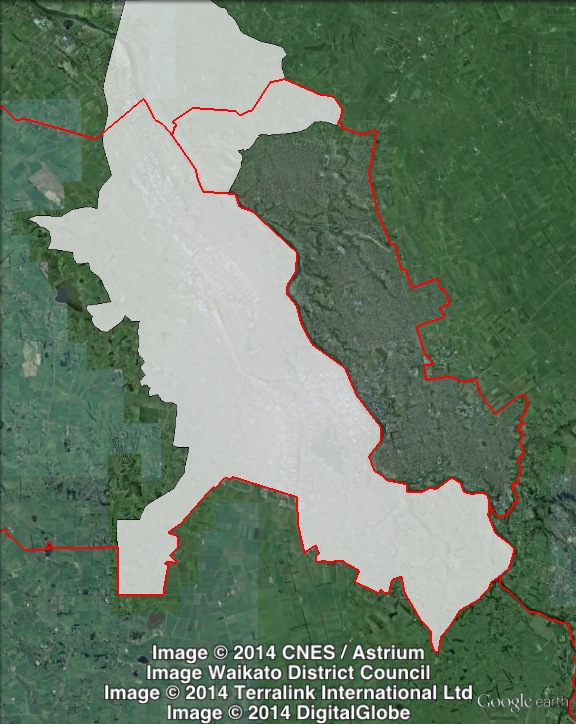 Redistribution
Hamilton West previously included rural areas to the west of Hamilton, which have been transferred to Taranaki-King Country. In exchange, Hamilton West expanded north, gaining territories east of the Waikato River at the northern end of the Hamilton area from Hamilton East and Waikato. These changes cut the National margin slightly from 14.2% to 14%.
History
The electorate of Hamilton West has existed continuously since 1969. The seat has always been a marginal seat between Labour and National, with no sitting MP winning no more than three terms before the other party won the seat.
Labour's Martin Gallagher won Hamilton West off National's Grant Thomas in 1993. Gallagher lost the seat to National candidate Bob Simcock in 1996.
Simcock lost to Gallagher in 1999, but stayed in Parliament as a National list MP. He lost his seat in 2002, and served as Mayor of Hamilton from 2007 to 2010.
In addition to Gallagher and Simcock, New Zealand First candidate Neil Kirton won a list seat in 1996. He became an independent in 1998 and didn't run for re-election.
Martin Gallagher was returned in 2002, and New Zealand First candidate Bill Gudgeon won a seat in Parliament on the party list. Gudgeon served one term in Parliament.
Gallagher won a third term in 2005, and in 2008 he lost to National's Tim Macindoe.
Macindoe was re-elected in 2011, and Labour candidate Sue Moroney won a list seat.
Candidates
Bill Gudgeon (New Zealand First #24)
Tim Macindoe (National), Member for Hamilton West.
Tony McKenna (Conservative)
Sue Moroney (Labour #10), list MP.
Sara Muti (ACT #10)
Mischele Rhodes (Democrats #19)
Richard Te Ao (Māori)
Assessment
Hamilton West is held by a sizeable 14% margin. The seat may become vulnerable if Labour is on track to form government, but Macindoe is still the favourite to hold the seat.
The seat is relatively strong for New Zealand First, who'll be hoping for a strong result if they are to have a chance of getting over 5%.
2011 election results
Electorate Votes
Party Votes
Candidate
Party
Votes
%
Swing
Redist
Votes
%
Swing
Redist
Tim Macindoe

National

16,587
53.26
+4.47
53.15
15,300
47.74
+1.76
47.77
Sue Moroney

Labour

12,169
39.07
-4.83
39.18
9,342
29.15
-6.50
29.36
Bill Gudgeon
New Zealand First
1,294
4.16
+4.16
4.05
2,475
7.72
+3.44
7.50
Pat Gregory
Conservative
744
2.39
+2.39
2.38
1,022
3.19
+3.19
3.23
Robert Curtis
Independent
159
0.51
+0.51
0.49
Tim Wikiriwhi
Independent
115
0.37
+0.37
0.34
Les Port
Democrats
75
0.24
+0.24
0.23
38
0.12
+0.04
0.12

Green

0.14
2,834
8.84
+3.76
8.78
ACT
0.03
292
0.91
-2.83
0.92
United Future
227
0.71
-0.41
0.72
Māori
188
0.59
-0.48
0.57
Legalise Cannabis
175
0.55
+0.10
0.53
Mana
115
0.36
+0.36
0.37
Libertarianz
31
0.10
+0.01
0.09
Alliance
10
0.03
0.00
0.03
Pirate
0.01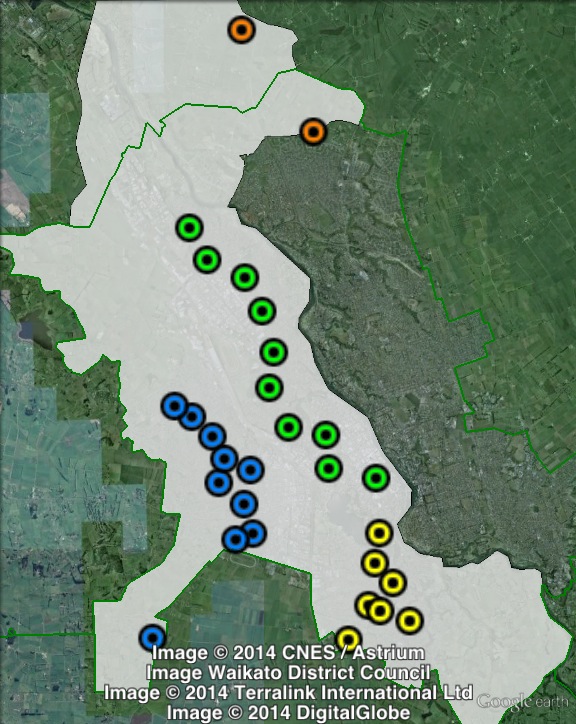 Booth breakdown
Booths in Hamilton West have been divided into four areas. Two polling places in the rural north of the seat have been grouped as 'north'.
The urban parts of Hamilton West have been split between West, Central and South.
The National Party won the electorate vote in all four areas, with a margin ranging from 1.9% in the south to 57.5% in the north.
On the party vote, the National Party polled slightly more poorly, but Labour also polled less than the electorate vote, and National comfortably won the party vote in all four areas.
Voter group
Electorate votes
Party votes
Total
% of votes
NAT
LAB
NZF
NAT
LAB
GRN
NZF
West
47.42
42.67
5.82
42.78
32.75
7.84
9.70
9,086
29.26
Central
58.05
35.84
3.15
52.82
25.46
9.20
6.72
7,847
25.27
South
47.31
45.41
3.59
41.80
34.08
9.44
7.77
5,849
18.84
North
75.48
18.02
0.78
69.87
14.58
4.98
2.80
1,415
4.56
Other votes
55.50
37.42
3.78
49.09
28.41
9.70
6.31
6,855
22.08