NAT 24.37% vs LAB
Incumbent MP
David Bennett, since 2005.
Geography
Eastern suburbs of Hamilton, on the North Island. Hamilton East covers all of the suburbs of Hamilton City on the eastern side of the Waikato River, as well as a small rural part of Waikato district to the east of Hamilton. These suburbs include Chartwell, Claudelands, Fairfield, Hillcrest and Hamilton East.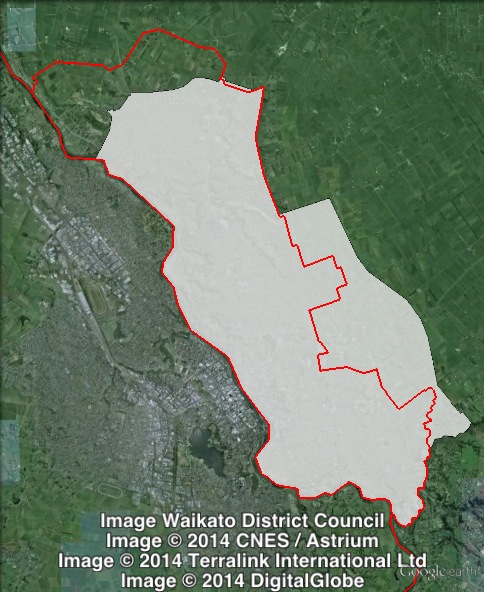 Redistribution
The major population centres of Hamilton East were unaffected by the redistribution. A small sparsely populated part of Waikato district was transferred into Hamilton East from the Waikato electorate, and northern parts of Hamilton City were transferred into Hamilton West. Neither of these areas included a significant population. These changes reduced the margin for the National Party from 25.5% to 24.4%.
History
The electorate of Hamilton East has existed since the 1972 election. The seat has shifted back and forth regularly between Labour and National – no party has won the seat for more than three elections in a row, and no MP has successfully handed the seat over to a successor from the same party.
The seat went to the party of government from 1972 to 1990, but since Labour won the seat back in 1993 the seat has often been won by the opposition party in 1993, 1999 and 2005.
Tony Steel won the seat for the National Party in 1990, defeating two-term Labour MP Bill Dillon. In 1993, Steel lost to Labour's Dianne Yates. Steel and Yates faced off against each other at four successive elections – and both of them were unseated on two different occasions.
In 1996, Steel won the seat back off Yates. Yates won a seat on the Labour party list. Steel was re-elected in 1999, with Yates staying on the Labour list.
In 2002, Steel lost to Yates in a Labour landslide. Steel did not win a list seat, and the election finished his political career.
In 2005, Dianne Yates was defeated by National candidate David Bennett, and she retained her seat as a list MP. She retired in early 2008 in the lead-up to the election.
Bennett has been re-elected in Hamilton East twice in 2008 and 2011 – the first MP to win election to three successive terms in Hamilton East since Ian Shearer (1975-1984).
In addition to Yates, two other list MPs have contested Hamilton East. New Zealand First's Doug Woolerton ran in Hamilton East, and was elected on the party list, at four successive elections from 1996 to 2005. He lost his seat when New Zealand First was eliminated from Parliament at the 2008 election.
Labour list MP Sue Moroney – who lost to Bennett in 2008 – has been elected on the Labour party list at the 2005, 2008 and 2011 elections. She still sits in Parliament as a Labour list MP, but did not contest Hamilton East at the last election.
Candidates
Cliff Allen (Labour)
David Bennett (National #37), Member for Hamilton East.
Ray Calver (Internet #28)
Katrina Day (Conservative)
Carolyn McKenzie (Democrats #11)
Mark Servian (Green #54)
Ron Smith (ACT #19)
Richard Taurima (New Zealand First #28)
Quentin Todd (United Future #9)
Assessment
Hamilton East has a reputation as a bellwether seat, but has shifted towards National in recent years. Labour would likely need to do very well to challenge David Bennett's hold on the seat.
2011 election results
Electorate Votes
Party Votes
Candidate
Party
Votes
%
Swing
Redist
Votes
%
Swing
Redist
David Bennett

National

18,505
57.11
-1.47
56.33
17,085
51.39
+1.88
50.57
Sehai Orgad

Labour

10,230
31.57
-0.43
31.96
8,217
24.71
-6.09
25.07
Nick Marryatt

Green

1,697
5.24
+0.92
5.47
3,949
11.88
+4.67
12.17
Gordon Stewart
New Zealand First
797
2.46
-0.04
2.57
1,786
5.37
+2.08
5.48
Robyn Jackson
Conservative
752
2.32
+2.32
2.34
1,145
3.44
+3.44
3.50
Garry Mallett
ACT
230
0.71
-0.56
0.71
341
1.03
-3.07
1.00
Bruce Kingsbury
Pirate
137
0.42
+0.42
0.43
Carolyn McKenzie
Democrats
54
0.17
0.00
0.18
18
0.05
0.00
0.06
United Future
260
0.78
-0.57
0.77
Māori
195
0.59
-0.37
0.60
Legalise Cannabis
131
0.39
+0.01
0.39
Mana
89
0.27
+0.27
0.27
Libertarianz
25
0.08
+0.01
0.09
Alliance
8
0.02
-0.03
0.02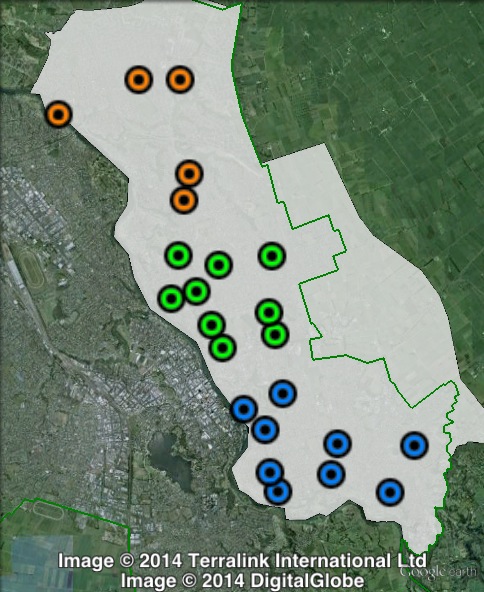 Booth breakdown
Booths in Hamilton East have been split into three parts:
Central – Enderley, Fairfield and parts of Claudelands
North – Chartwell, Flagstaff and Rototuna
South – Hamilton East, Hillcrest and Silverdale
National won a large electorate vote majority (69% – 22.5%) in the north, and a similar majority in the north on party votes.
National won a plurality of electorate and party votes in South and Central – around 47-48% on the electorate vote and 41-43% on the party vote.
The Labour electorate vote varies from 22.5% in the north to almost 40% in the centre, and a similar pattern is seen in the party vote, but on a lower vote base.
The Green Party came third, with a party vote ranging from 7.6% in the north to 17.9% in the south.
Voter group
Electorate votes
Party votes
Total
% of votes
NAT
LAB
GRN
NAT
LAB
GRN
NZF
North
68.90
22.50
3.19
63.38
17.62
7.57
4.58
9,298
29.77
South
47.80
38.50
7.34
41.05
28.98
17.88
5.45
7,667
24.55
Central
47.62
39.85
5.67
42.74
32.16
11.60
6.53
5,697
18.24
Other votes
56.13
31.14
6.14
50.43
24.94
12.42
5.78
8,574
27.45