NAT 52.49% vs LAB
Incumbent MP
Murray McCully, since 2002. Previously Member for East Coast Bays 1987-1996, Member for Albany 1996-2002.
Geography
Northern suburbs of Auckland. East Coast Bays covers the suburbs of Albany, Browns Bay, Long Bay, Mairangi Bay, Murray Bay, Redvale and Torbay, all at the northern end of Auckland's north shore.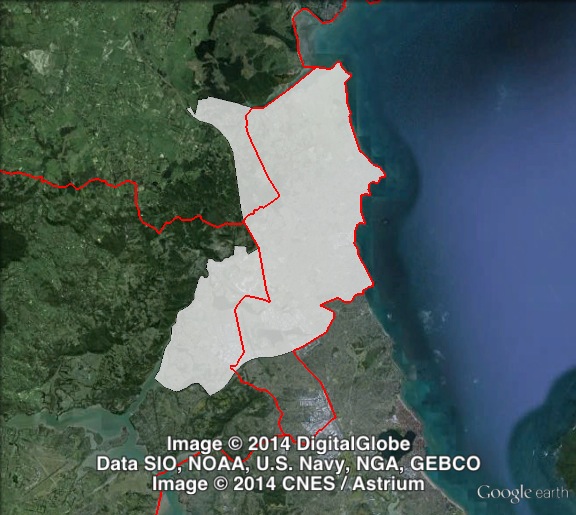 Redistribution
East Coast Bays lost Unsworth Heights and Wairau Valley at the southern end of the electorate to Upper Harbour, and gained parts of Redvale from Rodney, and Albany and Schnapper Rock from Helensville, all from the western edge of the electorate.
History
East Coast Bays originally existed from 1972 to 1996, when it was abolished. In 2002, the electorate of Albany was abolished, and East Coast Bays was restored. Neither Albany or East Coast Bays has been won by Labour, and East Coast Bays has been National-held since the current member first won the seat in 1987.
Frank Gill held East Coast Bays from 1972 until 1980, when he resigned to become Ambassador to the United States.
The 1980 by-election was won by Gary Knapp, of the Social Credit Party. Social Credit had won another seat in 1978, giving them a total of two seats.
Knapp was re-elected in 1981 and 1984. The Social Credit Party was renamed the Democratic Party in 1985.
At the 1987 election, Knapp was defeated by National candidate Murray McCully.
McCully has represented the area in Parliament for nine consecutive terms. He held East Coast Bays from 1987 until its abolition in 1996.
McCully served as a minister in the National government from 1990 to 1999.
In 1996, McCully won the electorate of Albany, which had previously been represented by Don McKinnon since 1978. McKinnon became a National list MP, holding a seat until 2002.
In 2002, Albany was abolished and East Coast Bays was restored, and McCully has held the seat ever since then.
McCully has served as Minister for Foreign Affairs since the National Party won government in 2008.
Candidates
Assessment
East Coast Bays on paper is a very, very safe National seat.
In 2014, the seat has been chosen by Conservative Party leader Colin Craig as the target seat in his attempt to break through into Parliament. If Craig is elected, it would entitle the Conservative Party to a share of the list seats in Parliament, and could give them a critical role in forming the next government.
Craig and the Conservative Party has sought a deal with the National Party to effectively allow Craig a free run in East Coast Bays. In other electorates, National has nudged its voters to support ACT and United Future candidates, but in both cases a National candidate still nominated in the electorate. In East Coast Bays, Craig's request was for the National Party to not nominate a candidate at all in the electorate. Murray McCully, as a senior minister, would not find it hard to win a list seat if he was not elected in East Coast Bays.
John Key announced in July that, while National would encourage its voters to vote for the ACT and United Future candidates in Epsom and Ōhariu respectively, National would not make a deal to help Colin Craig get elected in East Coast Bays.
It will be very difficult for the Conservative Party to win in East Coast Bays, even if National were to tacitly encourage voters to vote Conservative. The Conservative Party polled less than 5% of the electorate vote in 2011, compared to 65% for McCully (69% after the redistribution).
As long as the National Party chooses to run a candidate in East Coast Bays, it's very hard to see anything other than a National win taking place.
2011 election results
Electorate Votes
Party Votes
Candidate
Party
Votes
%
Swing
Redist
Votes
%
Swing
Redist
Murray McCully

National

21,094
64.98
+6.90
68.78
21,079
62.86
+1.45
65.98
Vivienne Goldsmith

Labour

6,453
19.88
+2.07
16.36
5,769
17.20
-4.44
14.35
Brett Stansfield

Green

2,832
8.72
+2.20
8.60
2,704
8.06
+3.99
8.26
Simonne Dyer
Conservative
1,614
4.97
+4.97
4.84
1,254
3.74
+3.74
3.74
Toby Hutton
ACT
467
1.44
-2.15
1.28
530
1.58
-4.08
1.61
New Zealand First
0.03
1,657
4.94
+2.11
4.52
Legalise Cannabis
0.11
156
0.47
+0.19
0.45
United Future
145
0.43
-0.31
0.43
Māori
130
0.39
-0.01
0.35
Mana
64
0.19
+0.19
0.17
Libertarianz
24
0.07
0.00
0.07
Alliance
14
0.04
0.00
0.04
Democrats
9
0.03
-0.01
0.02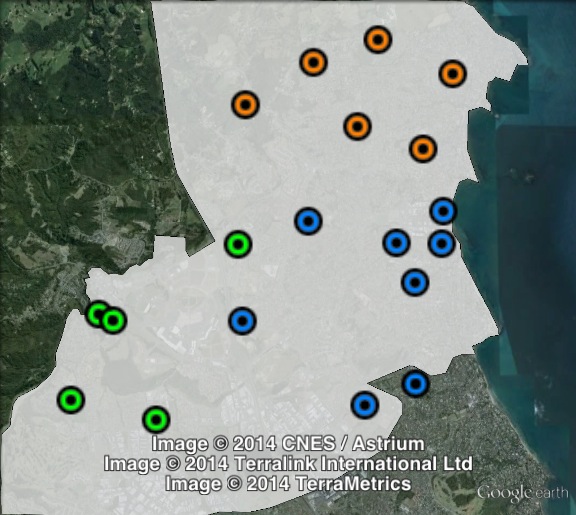 Booth breakdown
Booths in East Coast Bays have been divided into three areas: Torbay in the north, Albany in the west, Browns Bay in the south-east.
The National Party won large majorities in all three areas, with the largest majorities in Albany.
The Conservative vote was highest in Torbay, with 9-10%, and the lowest in Albany, with 6-7%.
Voter group
Electorate votes
Party votes
Total
% of votes
NAT
LAB
CON
NAT
LAB
CON
Browns Bay
68.39
16.36
8.79
65.98
14.11
7.89
10,403
33.12
Torbay
64.53
17.92
9.62
63.68
14.68
9.39
6,506
20.72
Albany
73.91
14.29
6.37
69.90
13.58
6.60
5,101
16.24
Other votes
69.38
16.40
8.90
65.46
14.79
8.76
9,397
29.92