NAT 16.65% vs LAB
Incumbent MP
Anne Tolley, since 2005.
Other local MPs
Moana Mackey (Labour), list MP since 2003.
Geography
North-eastern corner of the North Island. East Coast stretches along the northern coast from the Bay of Plenty, and then around onto the east coast and southward to Gisborne. Gisborne and Whakatane are the two main population centres in the seat. The seat covers all of Kawerau, Opotiki and Whakatane council areas, a majority of Gisborne council area and a small part of the Western Bay of Plenty council area.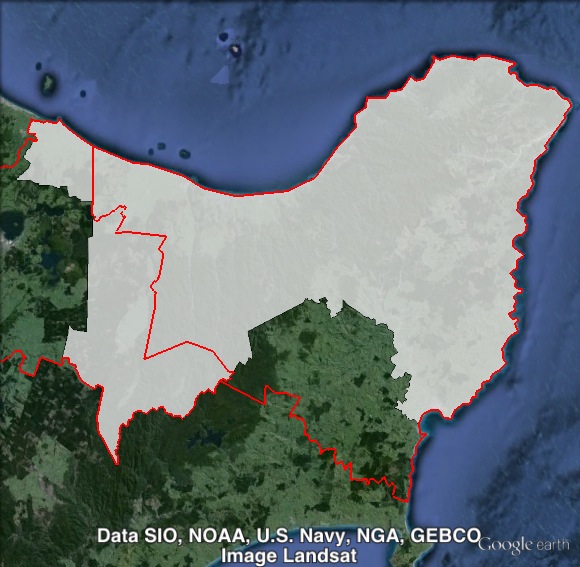 Redistribution
The seat shifted north and to the west, losing rural areas to the south and west of Gisborne to the seat of Napier, and then gaining territory on its western boundary from the seat of Rotorua. There is a relatively small population in the transferred areas, and the change increased the National margin by 0.2%, from 16.45% to 16.65%.
History
The electorate of East Coast in its current form has existed since the 1999 election. A seat of the name had previously existed from 1871 to 1893. The seat mostly replaced Mahia, which had existed from one term from 1996 to 1999. That seat primarily replaced the seat of Gisborne, which had existed from 1908 until the 1996 election. All of these seats had a tendency to switch back and forth between the major parties.
Labour's Janet Mackey won the seat of Gisborne off the National Party's Wayne Kimber in 1993. She was re-elected in the new seat of Mahia in 1996, and then in East Coast in 1999.
At the 2002, Janet Mackey was elected to a fourth term and United Future candidate Judy Turner won a list seat.
In 2005, Mackey retired from East Coast. Her daughter, Moana Mackey, had filled a casual vacancy as a Labour list MP in 2003, and she ran as the Labour candidate in East Coast in 2005.
The younger Mackey lost to National candidate Anne Tolley, and retained her list seat. United Future list MP Judy Turner was also elected for a second term, finishing up in 2008.
Tolley again defeated Mackey in 2008, and Green candidate Catherine Delahunty also won a list seat.
In 2011, Tolley again defeated Mackey. Mackey was elected to a fourth term as a list MP, and Delahunty was re-elected after shifting to run in Coromandel.
Candidates
Rick Drayson (Conservative)
Moana Mackey (Labour #17), list MP.
Gavin Maclean (Green #47)
Patrick Salmon (Internet #16)
Harry Alchin Smith (Democrats #14)
Mere Takoko (New Zealand First)
Anne Tolley (National #12), Member for East Coast.
Assessment
East Coast is an electorate that Labour only last held when they won a landslide victory in 2002. While the 16.7% margin isn't completely out of reach, it will be very hard for Labour to win back in 2014.
2011 election results
Electorate Votes
Party Votes
Candidate
Party
Votes
%
Swing
Redist
Votes
%
Swing
Redist
Anne Tolley

National

14,003
48.27
-4.18
50.41
14,804
49.77
+2.15
49.62
Moana Mackey

Labour

9,229
31.82
-0.21
32.76
7,101
23.87
-7.78
23.93
Darryl Monteith

Green

2,452
8.45
+3.09
7.49
3,154
10.60
+4.24
10.77
Kathrine Sheldrake
Conservative
1,352
4.66
+4.66
4.61
898
3.02
+3.02
3.14
Tamati Reid
New Zealand First
1,184
4.08
-2.76
4.68
2,536
8.53
+2.68
9.27
Martin Gibson
United Future
392
1.35
-1.96
4.12
271
0.91
-1.28
3.97
Valentine Irwin
Mana
256
0.88
+0.88
1.05
224
0.75
+0.75
0.86
John Norvill
ACT
140
0.48
+0.48
0.41
280
0.94
-1.62
0.98
Māori
313
1.05
-0.38
2.64
Legalise Cannabis
133
0.45
+0.14
0.55
Democrats
10
0.03
0.00
0.22
Alliance
10
0.03
-0.03
0.05
Libertarianz
9
0.03
-0.01
0.09
Economic Euthenics
0.24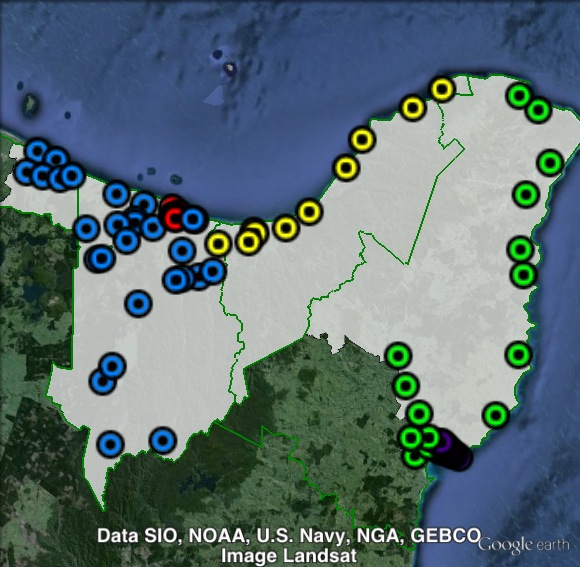 Booth breakdown
Booths in East Coast have been divided into five areas. The two largest towns in the electorate are Gisborne and Whakatane, and these polling places have been grouped together. The remaining rural booths in Gisborne council area have been grouped as 'East', and those in Western Bay of Plenty and Whakatane council areas have been grouped as 'West'. Those in the Opotiki council area have been grouped together.
The National Party topped both the electorate and party votes in the other areas, with majorities in the west and east rural areas.
The National electorate vote margin ranged from 2.6% in Gisborne to 31.7% in the east. The National party vote margin ranged from 17.1% in Gisborne to 40.9% in the east.
The Green Party came third in Gisborne and Opotiki, and New Zealand First came third in West, East and Whakatane.
Voter group
Electorate votes
Party votes
Total
% of votes
NAT
LAB
GRN
NAT
LAB
GRN
NZF
Gisborne
40.90
38.29
9.01
46.27
29.16
11.35
7.39
9,590
28.97
West
55.00
28.15
4.07
51.55
20.12
7.87
11.75
7,438
22.47
Whakatane
49.15
32.36
7.42
49.27
23.23
9.26
10.38
4,716
14.25
East
56.37
24.69
7.38
58.87
17.95
7.74
7.86
2,386
7.21
Opotiki
46.22
31.00
8.79
42.83
22.63
12.56
12.51
1,787
5.40
Other votes
51.84
29.36
7.80
49.72
23.39
10.95
8.40
7,188
21.71