LAB 12.12% vs NAT
Incumbent MP
Clare Curran, since 2008.
Geography
South Island. Dunedin South lies entirely within the City of Dunedin, covering rural parts of the city to the west of the urban centre, as well as southern parts of the Dunedin urban area, as well as the Otago Peninsula.
Redistribution
No change.
History
An electorate of Dunedin South previously existed from 1881 to 1890, and from 1905 to 1946. The current electorate was created in 1996, and has always been held by Labour. The new electorate of Dunedin South primarily replaced St Kilda, which had existed from 1946 to 1996 and was Labour-held except for two terms from 1951 to 1957.
St Kilda was held by Labour's William Fraser from 1957 (when he won the seat off the National Party until his retirement in 1981.
St Kilda was won in 1981 by Michael Cullen. Cullen served as a junior minister in the Labour government from 1987 to 1990, and then continued as a frontbencher after Labour lost power in 1990.
In 1996, St Kilda was abolished and Cullen was elected in Dunedin South, which took in much of the same territory. Cullen was elected deputy Labour leader in 1996, and continued in that role until 2008.
In 1999, Cullen chose to run instead on the Labour list and not in Dunedin South. Labour won power at the 1999 election, and Cullen took on the role of Minister of Finance. Cullen was re-elected on the Labour list at the 2002, 2005 and 2008 elections. He retired from Parliament in 2009.
Labour candidate David Benson-Pope won Dunedin South in 1999, and was re-elected in 2002 and 2005.
Benson-Pope served as a minister in the Labour government from 2004 to 2007, barring a short period before the 2005 election.
In 2007, Benson-Pope was forced to resign as a minister over allegations that a staff member had forced the sacking of a public servant in the department.
In 2008, Benson-Pope sought Labour's nomination to run in Dunedin South, but was defeated by Clare Curran.
Curran won Dunedin South in 2008, and was re-elected in 2011.
Candidates
Julian Crawford (Legalise Cannabis #1)
Clare Curran (Labour), Member for Dunedin South.
Shane Gallagher (Green #43)
Cindy Kerr (Conservative)
Andrew LePine (Internet #30)
Colin Nicholls (ACT #36)
Warren Voight (Democrats #5)
Hamish Walker (National #65)
Assessment
Dunedin South is a reasonably safe Labour seat.
2011 election results
Electorate Votes
Party Votes
Candidate
Party
Votes
%
Swing
Votes
%
Swing
Clare Curran

Labour

16,844
48.89
-3.40
12,326
34.97
-11.76
Joanne Hayes

National

12,669
36.77
+2.05
14,163
40.18
+5.97
Shane Gallagher

Green

3,197
9.28
+2.44
4,798
13.61
+5.64
Randall Ratana
New Zealand First
979
2.84
+2.84
2,522
7.15
+2.59
Warren Voight
Democrats
238
0.69
+0.22
126
0.36
+0.18
Kimberly Hannah
ACT
215
0.62
-0.81
210
0.60
-1.51
Robert Wansink
Restore All Things in Christ
167
0.48
+0.18
Kay Murray
Alliance
142
0.41
-0.13
58
0.16
-0.03
Conservative
520
1.48
+1.48
United Future
186
0.53
-0.21
Legalise Cannabis
157
0.45
+0.06
Māori
107
0.30
-0.13
Mana
62
0.18
+0.18
Libertarianz
16
0.05
+0.01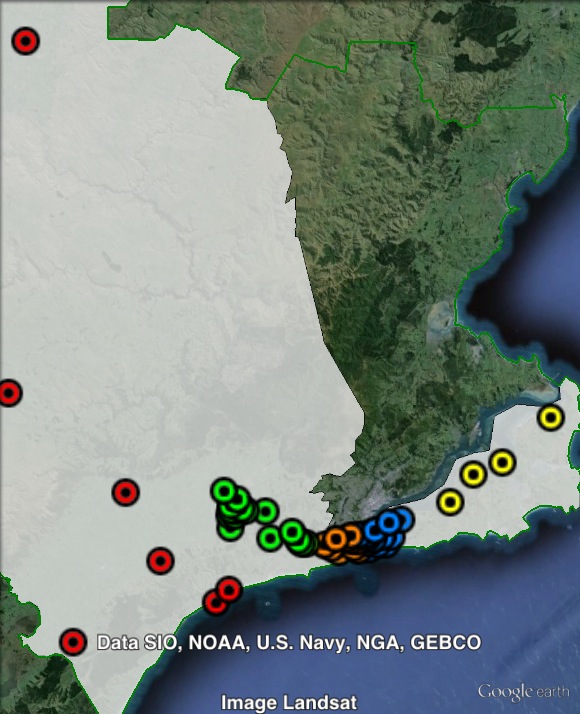 Booth breakdown
Booths in Dunedin South have been divided into five parts. Polling places in the urbanised part of Dunedin, have been split into three parts:
Abbotsford-Mosgiel – Abbotsford, East Taieri, Fairfield, Green Island, Mosgiel and Wingatui.
Dunedin East – Andersons Bay, Musselburgh, South Dunedin, St Kilda, Tainui and Waverley.
Dunedin West – Calton Hill, Caversham, Concord, Corstorphine, Forbury Corner, Macandrew Bay and St Clair.
Those polling places on the Otago Peninsula have been grouped as "Peninsula", and the rural west of the seat has been grouped as "West".
Labour won a majority of the electorate vote in Dunedin East, Dunedin West and the Peninsula. Labour also won a plurality of the party vote in those three areas, with as little as 35.2% on the Peninsula.
In Abbotsford-Mosgiel, Labour won a slim plurality of the electorate vote (44.9% to 43.7%), while National won a larger plurality of the party vote (47.2% to 32.4%).
In the West, National won a majority of both the electorate and party vote.
The Green Party came third in the electorate, with quite a large party vote. The Green party vote ranged from 8.7% in Abbotsford-Mosgiel to 25.6% in Peninsula.
Voter group
Electorate votes
Party votes
Total
% of votes
LAB
NAT
GRN
LAB
NAT
GRN
NZF
Abbotsford-Mosgiel
44.93
43.67
6.36
32.39
47.20
8.65
7.79
10,508
30.50
Dunedin East
52.51
32.85
9.70
37.71
36.80
14.43
6.99
8,112
23.55
Dunedin West
54.99
29.34
11.04
39.22
32.83
16.65
7.26
5,596
16.24
West
34.66
51.52
9.22
23.88
53.35
11.67
6.13
2,040
5.92
Peninsula
56.75
25.15
13.85
35.15
28.69
25.59
7.68
1,459
4.24
Other votes
48.26
34.96
10.90
35.47
37.93
15.76
6.50
6,736
19.55