NAT 52.06% vs LAB
Incumbent MP
Bill English, since 1996. Previously Member for Wallace 1990-1996.
Geography
Southern end of South Island. The electorate covers all of Clutha and Gore council areas, most of the Southland council area, and parts of the Queenstown-Lakes council area.
Redistribution
No change.
History
Clutha-Southland was created in the 1996 redistribution. The seat has always been held by the National Party.
National MP Bill English has held Clutha-Southland since its creation in 1996. English previously held Wallace from 1990 until its abolition in 1996. Wallace covered a lot of the same areas as Clutha-Southland, and was held by the National Party continuously from the 1930s until 1996, and had been held by the National Party's predecessors since the beginning of organised political parties.
English served as a minister in the National government from 1996 to 1999, and has continued on the National frontbench ever since.
English was elected as Leader of the Opposition in 2001, and led National to its worst-ever defeat at the 2002 election. He was replaced as National leader in 2003.
English became deputy leader of the National Party in 2006. He has served as Deputy Prime Minister and Minister for Finance since National won power in 2008.
Candidates
Sitting National MP Bill English will be running as a list-only candidate, and will not be running for re-election in Clutha-Southland.
Assessment
Clutha-Southland is a very safe seat.
2011 election results
Electorate Votes
Party Votes
Candidate
Party
Votes
%
Swing
Votes
%
Swing
Bill English

National

21,375
68.83
+0.96
20,020
62.89
+3.03
Tat Loo

Labour

5,207
16.77
-4.69
5,160
16.21
-7.73
Rachael Goldsmith

Green

2,633
8.48
+1.57
2,751
8.64
+3.54
Donald Nicolson
ACT
796
2.56
+0.79
583
1.83
-2.06
William Calverley
Conservative
787
2.53
+2.53
992
3.12
+3.12
Anthony Corbett
Sovereignty Party
130
0.42
+0.42
Robert Mills
Democrats
128
0.41
+0.41
75
0.24
+0.18
New Zealand First
1,556
4.89
+2.02
United Future
259
0.81
+0.06
Legalise Cannabis
210
0.66
+0.27
Māori
136
0.43
+0.01
Mana
48
0.15
+0.15
Libertarianz
24
0.08
+0.03
Alliance
17
0.05
-0.13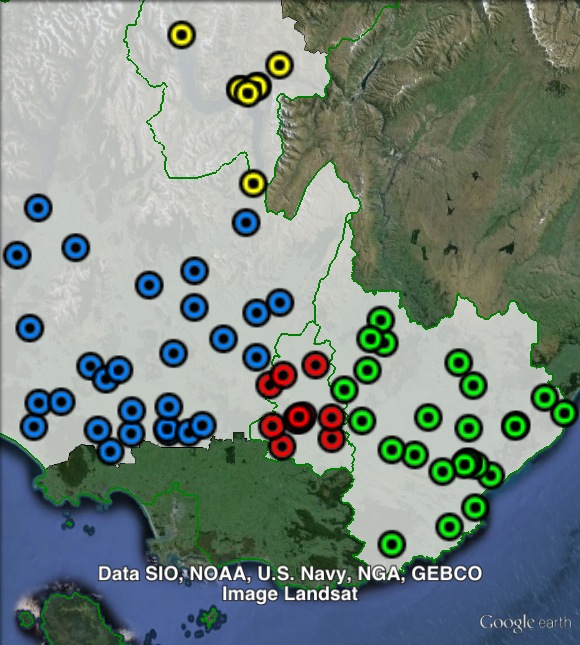 Booth breakdown
Booths in Clutha-Southland have been divided into four areas. Polling places have been grouped along local council lines: Clutha, Southland, Queenstown and Gore.
The National Party won large majorities in all four areas. The National electorate vote ranged from 64.5% in Clutha to 74.9% in Southland. The National party vote ranged from 57.5% in Clutha to 69.9% in Southland.
The Labour electorate vote ranged from 11.5% in Southland to 22.8% in Clutha, with a similar trend on the party vote. In general Clutha and Gore are slightly more progressive than Southland and Queenstown, but still National-dominated.
The Green vote is much higher at 15% in Queenstown, compared to 5-6% in the other areas.
Voter group
Electorate votes
Party votes
Total
% of votes
NAT
LAB
GRN
NAT
LAB
GRN
Clutha
64.53
22.80
6.46
57.47
21.51
6.35
7,308
23.53
Southland
74.86
11.47
5.86
69.87
11.13
6.07
6,695
21.56
Queenstown
69.24
12.75
15.05
64.20
12.40
15.23
5,058
16.29
Gore
64.62
21.25
5.80
58.24
20.57
5.89
4,969
16.00
Other votes
70.22
15.26
10.25
64.28
15.15
10.68
7,026
22.62