NAT 49.69% vs LAB
Incumbent MP
Tony Ryall, since 1996. Previously Member for East Cape 1990-1993, Eastern Bay of Plenty 1993-1996.
Geography
North Island. Bay of Plenty covers rural areas surrounding the Tauranga electorate, including parts of the Tauranga and Western Bay of Plenty council areas. The main centres include Mt Maunganui, Omokoroa, Papamoa, Te Puna and Welcome Bay.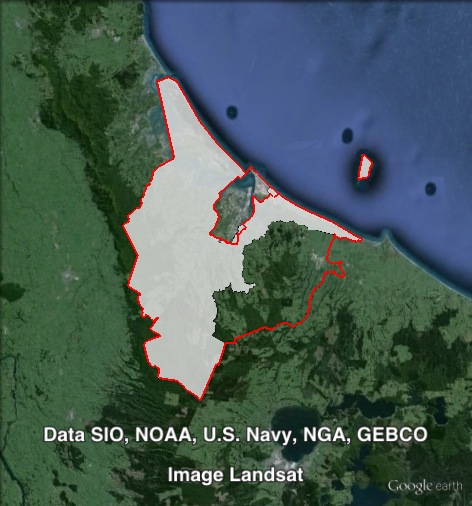 Redistribution
Bay of Plenty lost sparsely-populated areas in the south-eastern corner of the seat to Rotorua, and gained a small area from Tauranga in the centre of the seat. The changes cut the National margin slightly from 50.5% to 49.7%.
History
An electorate by the name of Bay of Plenty existed from 1893 to 1978, and again since 1996. The geographic area of Bay of Plenty is much larger than the current boundaries of the electorate. When the seat was abolished in 1978, its successor was largely considered to be East Cape until 1993 and then Eastern Bay of Plenty from 1993 to 1996. Neither of these electorates had any overlap with the current electoral boundaries. These three seats have been National-held since a 1941 by-election, with the exception of two Labour terms from 1984 to 1990.
Duncan MacIntyre won Bay of Plenty in 1975 for the National Party. He won East Cape in 1978, and held it until his defeat in 1984. East Cape was held by Labour's Anne Fraser.
In 1990, Fraser lost East Cape to National's Tony Ryall. Ryall won the renamed seat of Eastern Bay of Plenty in 1993, and then Bay of Plenty in 1996. He has held Bay of Plenty for six terms, winning re-election in 1999, 2002, 2005, 2008 and 2011.
Ryall has served as Minister of Health and Minister of State Services since National won power in 2008.
Peter Brown ran as the New Zealand First candidate at the 1996, 1999, 2002, 2005 and 2008 elections. At the first four elections he was elected on the New Zealand First party list, but lost his seat at the 2008 election. He served as deputy leader of New Zealand First from 1998 to 2009.
Candidates
Sitting National MP Tony Ryall is not running for re-election.
Deborah Cunliffe (Conservative #17)
Raymond Dolman (New Zealand First #19)
Brendan Horan (NZ Independent Coalition #1), list MP.
Tracy Livingston (Democrats #15)
Todd Muller (National #59)
Ben Rickard (United Future #5)
Clare Wilson (Labour #50)
Assessment
Bay of Plenty is a very safe National seat.
2011 election results
Electorate Votes
Party Votes
Candidate
Party
Votes
%
Swing
Redist
Votes
%
Swing
Redist
Tony Ryall

National

23,710
67.48
+2.61
66.62
20,853
57.64
-1.05
56.88
Carol Devoy-Heena

Labour

5,950
16.94
+0.86
16.93
4,965
13.72
-6.46
13.81
Ray Dolman
New Zealand First
3,704
10.54
-0.79
10.79
4,569
12.63
+4.37
12.89
Peter Redman
Conservative
1,306
3.72
+3.72
3.71
1,485
4.10
+4.1
3.91
Sharon Stevens
Mana
251
0.71
+0.71
0.71
91
0.25
+0.25
0.27
Brian Carter
United Future
213
0.61
+0.11
0.58
207
0.57
-0.13
0.57

Green

0.61
3,142
8.69
+3.81
9.23
ACT
0.02
418
1.16
-1.75
1.19
Māori
0.01
213
0.59
-0.11
0.58
Legalise Cannabis
183
0.51
+0.14
0.54
Libertarianz
29
0.08
+0.01
0.08
Democrats
0.00
13
0.04
-0.01
0.03
Alliance
9
0.02
-0.03
0.02
Independent
0.01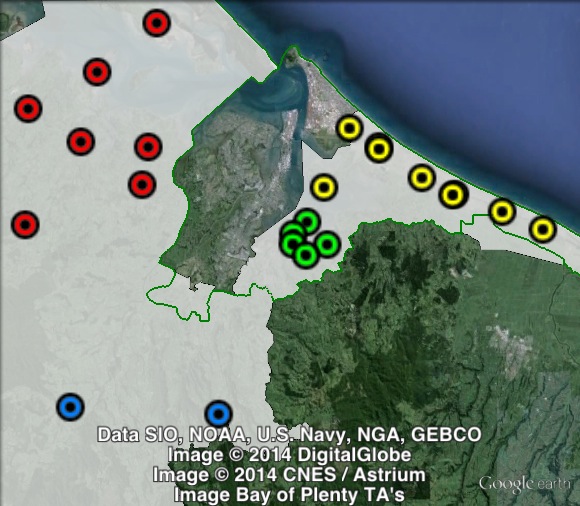 Booth breakdown
Booths in Bay of Plenty have been divided into four areas. Polling places in the Tauranga council area have been divided into "East" (along the coast) and "Central" (the cluster closest to Tauranga). Those polling places in Western Bay of Plenty council area have been divided into "South" and "West".
The National Party won solid majorities in all four areas. In the East and Central, they polled 63-64% of the electorate vote, and 53-55% of the party vote. In the West and South, they polled 73-74% of the electorate vote and 62% of the party vote.
Labour came second, far behind the National Party, with electorate votes between 12% and 18%, and party votes between 7% and 16%. New Zealand First also polled strongly, and outpolled Labour in the party vote in the south of the seat. The Green Party came fourth, but slightly outpolled Labour and New Zealand First on the party vote in the West.
Voter group
Electorate votes
Party votes
Total
% of votes
NAT
LAB
NZF
NAT
LAB
NZF
GRN
East
63.84
18.31
11.79
55.31
15.62
14.24
8.76
10,927
35.28
Central
64.31
17.65
11.62
52.99
14.58
13.54
9.90
5,285
17.06
West
73.88
13.34
7.56
62.12
9.35
9.84
10.03
4,009
12.94
South
73.54
12.07
9.02
62.33
7.10
11.55
9.87
820
2.65
Other votes
67.41
16.87
10.69
58.06
13.77
58.06
9.03
9,936
32.07