NAT 10.6% vs LAB
Incumbent MP
Nikki Kaye, since 2008.
Other local MPs
Jacinda Ardern (Labour), list MP since 2008.
Denise Roche (Green), list MP since 2011.
Geography
Central suburbs of Auckland, including the Auckland city centre and the suburbs of Freemans Bay, Grafton, Mechanics Bay and Ponsonby. Auckland Central also covers the Great Barrier Island and Waiheke Island.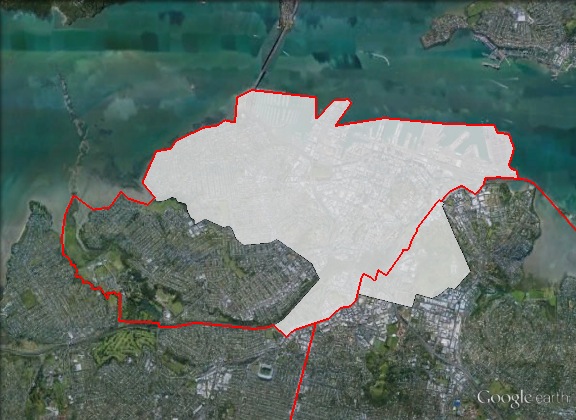 Redistribution
Auckland Central lost a number of suburbs on the western side of the electorate to Mount Roskill, including Grey Lynn and Westmere. In exchange, Auckland Central gained Grafton and the Auckland Domain from Epsom. These changes substantially improved the National margin, from 2.2% to 10.6%.
History
The electorate of Auckland Central has existed continuously since 1905. The Labour Party held the seat from 1919 to 1993, and from 1996 to 2008.
The seat was held by Labour MP Richard Prebble from 1975 to 1993. Prebble served as associate finance minister in the Labour government, and was closely identified with the neoliberal economic reforms pushed by his colleague Roger Douglas.
He was a target of the left-wing Alliance, and in 1993 lost his seat to Alliance candidate Sandra Lee.
Richard Prebble helped form the ACT party after his loss in 1993, and became the party's leader in the lead-up to the first MMP election in 1996. He was elected in Wellington Central. He lost Wellington Central in 1999, but served two more terms as a list MP and leader of ACT before retiring at the 2005 election.
Sandra Lee was the second Alliance MP to win a seat in 1993, joining her party's leader Jim Anderton, who had held his Christchurch-area seat after leaving Labour in 1989.
In 1996, Lee lost Auckland Central to Labour MP Judith Tizard. Vercoe served two additional terms as a list MP while contesting Auckland Central. She served as a senior minister in the Labour/Alliance government from 1999 to 2002, and retired at the 2002 election.
Judith Tizard had first been elected at the 1990 election to represent Panmure in southeastern Auckland. The seat was abolished in 1996, and she shifted to Auckland Central. She was re-elected in Auckland Central in 1999, 2002 and 2005. Tizard served in a variety of ministerial portfolios, and retired in 2008.
During Tizard's time holding Auckland Central, a number of other candidates for the electorate won office as list MPs.
In 1996, in addition to Sandra Lee, ACT candidate Rodney Hide was elected to the party list. He served as a list MP until 2005, and then held the neighbouring seat of Epsom from 2005 until 2011. He also served as the ACT party leader from 2004 to 2011. He did not run in Auckland Central again after the 1996 election.
In 1999, ACT candidate Donna Awatere Huata and Green candidate Nándor Tánczos both were elected on the party list. Tánczos was a new MP, while Awatere Huata had been elected to Parliament initially in 1996 after running in a different seat.
Awatere Huata chose to run in a different seat in 2002, and was elected to a third term as a list MP. She was expelled from the ACT party in 2003 over accusations of fraud, and was removed from Parliament in 2004.
Tánczos ran in Auckland Central again in 2002 and 2005. At the 2005 election, he initially was defeated for re-election due to a decline in the Green vote, but returned before the end of the year following the death of Green Party co-leader Rod Donald less than two months after the 2005 election.
Tánczos ran for the Green Party co-leadership in 2006, and was unsuccessful. In 2008, he retired from Parliament to allow co-leader Russell Norman to take up a seat.
In 2002, National list MP Pansy Wong ran in Auckland Central, and won a third term on the party list, after winning a seat in 1996 and 1999 after running in other seats. She was again elected on the party list after standing in Auckland Central in 2005, and in 2008 won the new seat of Botany.
Wong served as a minister from 2008 to 2010, when she resigned over allegations related to her husband's use of travel expenses. She resigned in early 2011, triggering a by-election in Botany.
At the 2008 election, Judith Tizard faced off against National candidate Nikki Kaye. At that election, the Labour margin of 10.8% was demolished, and National won with a 4.4% margin. Despite this result, the combined centre-left vote for Labour and the Greens still made up a majority of the electorate vote. Tizard did not return to Parliament on the party list.
In 2011, Kaye was challenged by Labour list MP Jacinda Ardern, and Kaye's margin was cut from 4.4% to 2.2%. In addition to Ardern, Green candidate Denise Roche was elected on the party list.
Nikki Kaye has served as a minister in the National government since 2013.
Candidates
Assessment
The redistribution was very favourable to the National Party, increasing the party's margin from 2.2% to 10.6%. It will be difficult for Labour to win back Auckland Central without a large boost in their vote. In 2011, Labour engaged in a tactic of encouraging Green Party voters to switch to vote for Labour to defeat Kaye. This can be seen in the 4.7% swing against the Greens on the electorate vote compared to a 7.3% swing towards the Greens on the party vote. While that tactic could have worked on the old boundaries, the new boundaries give National a greater electorate vote than Labour and Green combined.
Having said that, Labour has still lost a lot of ground in Auckland Central compared to the early 2000s, and if it was to recover those voters this seat would certainly be in play.
Both Labour and Green will also be fighting hard for the party vote in this area. The Green Party has taken a massive chunk of Labour's vote for the party list, to the point where the Green party vote is only 1.7% behind the Labour party vote on the new boundaries.
2011 election results
Electorate Votes
Party Votes
Candidate
Party
Votes
%
Swing
Redist
Votes
%
Swing
Redist
Nikki Kaye

National

15,038
45.39
+2.48
48.66
14,447
42.24
+2.15
45.04
Jacinda Ardern

Labour

14,321
43.23
+4.69
38.07
8,590
25.11
-9.44
23.15
Denise Roche

Green

2,903
8.76
-4.66
9.65
7,797
22.79
+7.33
21.41
Allen Davies
New Zealand First
412
1.24
+1.24
1.37
1,403
4.10
+1.81
4.63
Stephen Greenfield
Conservative
238
0.72
+0.72
0.88
280
0.82
+0.82
0.92
David Seymour
ACT
149
0.45
-1.25
1.11
404
1.18
-2.95
1.43
Anthony van den Heuvel
Human Rights
68
0.21
+0.01
0.22
Māori
562
1.64
+0.71
1.64
Mana
237
0.69
+0.69
0.60
Democrats
202
0.59
+0.56
0.35
Legalise Cannabis
146
0.43
+0.14
0.47
United Future
75
0.22
-0.26
0.19
Libertarianz
53
0.15
+0.08
0.15
Alliance
10
0.03
0.00
0.02
Other independents
0.04
Booth breakdown
Booths in Auckland Central have been split into five areas. Those booths on the mainland have been divided into East, Central and West. In addition, booths on Waiheke Island and Great Barrier Island have been grouped together. A very small number of votes were cast on Great Barrier Island.
National defeated Labour in all five areas, on both the electorate and party vote. On the electorate vote, the National margin ranged from 0.1% on Waiheke Island to 27.8% in the west. On the party vote, the National margin ranged from 8.5% on Waiheke Island (against the Greens) to 38.1% in the west.
The Green Party polled strongly on the party vote, with a vote ranging from 16% in the west to 27% in Waiheke Island. The Green Party outpolled Labour on both islands.
Voter group
Electorate votes
Party votes
Total
% of votes
NAT
LAB
GRN
NAT
LAB
GRN
East
46.07
40.05
7.91
43.49
28.21
19.33
4,689
20.63
Central
49.36
43.61
5.27
46.36
25.02
21.20
3,531
15.54
Waiheke Island
39.50
39.41
17.63
35.54
24.20
27.05
3,306
14.55
West
60.68
32.89
5.02
57.65
19.51
15.96
3,250
14.30
Great Barrier Island
49.61
32.30
13.70
37.24
18.62
25.26
387
1.70
Other votes
48.74
36.17
11.07
44.56
20.63
22.42
7,565
33.29