November 30, 2013
Cause of by-election
Lianne Dalziel, Labour member for Christchurch East since 1999 and in the Parliament since 1990, was elected Mayor of Christchurch in October 2013, and thus resigned from the Parliament.
Margin – LAB 19.0% vs NAT
Sitting MP
Lianne Dalziel, Member for Christchurch East 1999-2013. Previously list MP 1996-1999 and Member for Christchurch Central 1990-1996.
Other MPs in Christchurch East
Mojo Mathers, Green Party list MP since 2011.
Geography
Christchurch East covers suburbs to the north-east of the Christchurch CBD, including Burwood, New Brighton, Aranui, Wainoni, Avondale and Dallington. The seat stretches north to the Waimakariri River, and is bordered by the Pacific Ocean on the eastern side.
History
The seat of Christchurch East has existed in its current form since the first MMP election in 1996. The redistribution before this election abolished the seat of Avon, which had covered much of the current electorate for most of the 20th century.
A previous seat named Christchurch East had existed prior to abolition in 1946, and had existed alongside Avon. Both Christchurch East in its former form, and Avon throughout the 20th Century, had been held by Labour since 1922. Avon had been won by Labour one term earlier in 1919.
Avon/Christchurch East has long been considered a safe Labour seat.
Larry Sutherland won Avon in 1987 upon the retirement of Mary Batchelor. He held the seat until it was renamed Christchurch East in 1996. He won that seat for one more term, and retired in 1999. Lianne Dalziel succeeded Sutherland in Christchurch East.
Lianne Dalziel had won the seat of Christchurch Central in 1990. In 1996, she instead stood on the Labour party list and was elected as a list MP. She returned to being an electorate MP when she succeeded Sutherland in Christchurch East.
Dalziel served as a minister in Helen Clark's Labour government for its entirety, primarily serving in the Immigration and Commerce portfolios. She served on the Labour frontbench after Labour lost power in 2008.
Since the introduction of MMP in 1996, no other candidate running in Christchurch East had won election as a list MP at the first four elections.
In 2008, Aaron Gilmore ran for the National Party in Christchurch East, and was ranked 56th on the National list. He was the last National list MP to win a seat.
Gilmore was promoted to 53rd on the National list in 2011, and again ran in Christchurch East. On election night he looked set to again win the last National list seat, but was narrowly beaten by the Green Party's Mojo Mathers.
Mathers, who had also ran in Christchurch East in 2008 and 2011, was elected as the first deaf MP in the New Zealand Parliament.
Gilmore was returned to Parliament in February 2013 when Lockwood Smith resigned from Parliament to serve as New Zealand's High Commissioner in London.
Gilmore's second Parliamentary career only lasted three months, before he was forced to resign over a number of scandals in May 2013.
In 2011, Christchurch was rocked by a series of major earthquakes that resulted in a significant loss of life and great shifts in population within the Christchurch area. The 2013 census, the first in seven years, showed that Christchurch East, which had been drawn with a relatively small population in 2006, had dropped by over 17% and was now the least populous electorate in the country.
Christchurch East is expected to undergo significant boundary changes in the upcoming boundary review, with its boundaries expanding west to bring its population within the permitted variation.
Candidates

Assessment
Christchurch East has a long history of being a safe Labour seat.
However the 2011 earthquake has seen a significant shift in the electorate's population, and at the 2011 election the National Party outpolled Labour by over 14% in the party vote.
With the departure of the longstanding local member, this could be the National Party's best chance to claim the seat.
Electorate Votes
Party Votes
Candidate
Party
Votes
%
Swing
Votes
%
Swing
Lianne Dalziel

Labour

15,559
55.5
+2.6
9,100
31.7
-13.6
Aaron Gilmore

National

10,225
36.5
+0.6
13,252
46.1
+10.4
Mojo Mathers

Green

1,347
4.8
-0.6
3,359
11.7
+4.5
Leighton Baker
Conservative
522
1.9
+1.9
617
2.2
+2.2
Michael Britnell
Legalise Cannabis
254
0.9
-0.3
145
0.5
+0.2
Johnny Miller
United Future
108
0.4
-0.2
160
0.6
-0.4
New Zealand First
1,801
6.3
+2.3
ACT
101
0.4
-1.6
Māori
84
0.3
-0.2
Mana
63
0.2
+0.2
Alliance
28
0.1
-0.1
Democrats
22
0.1
–
Libertarianz
17
0.1
–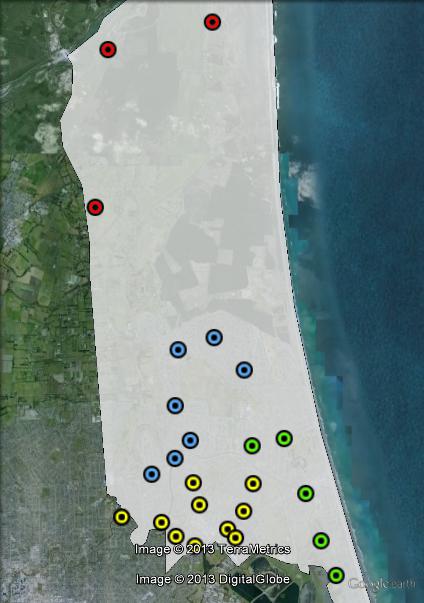 Booth breakdown
Booths in Christchurch East have been broken into four areas. The three booths at the northern end of the electorate, away from the urban centre of the electorate, have been grouped as "North".
The vast majority of voters live in the southern end of the electorate, and these booths have been divided between Burwood, to the north, New Brighton in the east and booths in the southwest grouped as "South".
The National Party's vote was strongest in Burwood, where they outpolled Labour in the electorate vote and won a significant majority in the party vote.
In the north of the electorate, Labour won a solid electorate vote majority, while National won a large majority on the party vote.
In New Brighton and the south, Labour won majorities of over 60% in the electorate vote, while winning between 37 and 38% in the party vote.
The Green Party's vote peaked in New Brighton, with 18% in the party vote and 7% in the electorate vote.
Voter group
Electorate votes
Party votes
Total
% of votes
LAB
NAT
GRN
LAB
NAT
GRN
NZF
Burwood
46.3
47.5
3.5
25.5
56.8
9.0
5.1
7585
26.2
New Brighton
61.5
28.3
7.1
32.2
37.9
18.4
6.7
5309
18.3
South
66.5
26.0
3.7
42.1
36.8
8.8
7.6
4563
15.7
North
56.3
36.7
4.1
23.2
52.2
12.7
6.8
1022
3.5
Other Votes
54.4
37.2
5.2
32.2
45.9
11.4
6.2
10498
36.2