ALP 5.8%
Incumbent MP
Bernie Ripoll, since 1998.
Geography
Oxley covers the southwestern suburbs of the City of Brisbane and eastern parts of the City of Ipswich. Suburbs include Redbank, Forest Lake, Richlands, Durack, Inala, Jamboree Heights and Jindalee.
History
The seat of Oxley was created as part of the expansion of the House of Representatives at the 1949 election. After first being held by the Liberal Party for a decade, it has almost always been won by the ALP, except for the 1996 election, when it was won by disendorsed Liberal candidate Pauline Hanson, who later formed the One Nation party.
The seat was first won in 1949 by Liberal candidate Donald Cameron.  Cameron served as a minister in the Menzies government from 1956 until his defeat at the 1961 election, when he was defeated by former police officer and Labor candidate Bill Hayden.
Hayden served as Member for Oxley for 27 years. He joined Gough Whitlam's ministry in 1972, and served as Treasurer for the final five months of the Whitlam government in 1975. Hayden was elected Leader of the Opposition after Gough Whitlam's resignation after the 1977 election, and led the party to an improved position in 1980.
Hayden faced a leadership threat from former ACTU president Bob Hawke, who had entered Parliament in 1980. Hawke failed to win a ballot in 1982. In early 1983 Hayden resigned as leader and was replaced by Hawke, only hours before Malcolm Fraser called an early election. After Bob Hawke's win, Hayden was appointed Foreign Minister. He served in this role until he was appointed Governor-General in 1988, at which point he resigned from Parliament.
The ensuing by-election was won by the ALP's Les Scott. Scott held the seat for the remainder of the Hawke/Keating government, up to the 1996 election. The Liberal Party preselected former Ipswich councillor Pauline Hanson as their candidate in 1996. Shortly before the election she was quoted in local papers criticising government assistance for indigenous Australians, which resulted in her disendorsement as a Liberal candidate. With the ballot papers already printed with the Liberal Party's name attached to Hanson, she gained a high profile and managed to win the seat with a large swing.
Hanson was a prominent independent MP and, in 1997, founded the One Nation party in support of her political views. The party had a strong result at the Queensland state election in early 1998 and she was predicted to perform strongly at the next federal election. Her hopes fell short at the 1998 election, where One Nation only managed to elect a single Senator, despite a national result of over 8%. Hanson contested the new seat of Blair, which now covered Ipswich, which had previously been included in Oxley. Despite coming first on primary votes, Hanson lost due to the ALP and Liberal Party swapping preferences.
Hanson continued to lead One Nation until 2003, running for the Senate in 2001 in Queensland and as an independent for the NSW Legislative Council in 2003 with the support of the original One Nation party, against the breakaway One Nation NSW party. She went to prison in 2003 for electoral fraud over the registration of One Nation in Queensland, but this was overturned later that year. Despite vowing not to return to politics, she ran as an independent for the Senate in Queensland in 2004 and 2007, and for Beaudesert at the 2009 Queensland state election. She has since decided to move to the United Kingdom, and is not expected to stand again.
Hanson's seat of Oxley was won in 1998 by ALP candidate Bernie Ripoll, and he has held the seat ever since.
Candidates
Assessment
Oxley has been a long-standing Labor seat. Only once was it lost, to Pauline Hanson in 1996. Despite this long history, a margin of less than 6% for a Labor seat in Queensland is far from safe.
2010 result
| | | | | |
| --- | --- | --- | --- | --- |
| Candidate | Party | Votes | % | Swing |
| Bernie Ripoll | ALP | 31,985 | 44.71 | -10.91 |
| Tarnya Smith | LNP | 27,431 | 38.35 | +2.97 |
| Des Hoban | GRN | 8,436 | 11.79 | +6.49 |
| Timothy Stieler | FF | 3,682 | 5.15 | +3.18 |
2010 two-candidate-preferred result
| | | | | |
| --- | --- | --- | --- | --- |
| Candidate | Party | Votes | % | Swing |
| Bernie Ripoll | ALP | 39,894 | 55.77 | -5.57 |
| Tarnya Smith | LNP | 31,640 | 44.23 | +5.57 |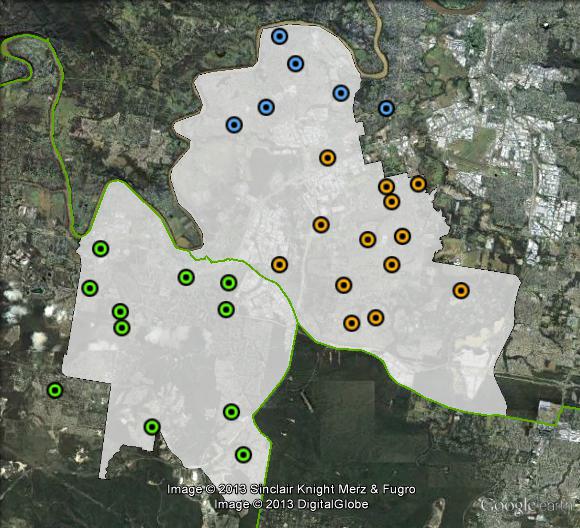 Booth breakdown
Booths have been divided into three areas. Booths in the City of Ipswich have been grouped as 'South-West'. Booths in the City of Brisbane have been split into South-East and North.
The ALP won majorities of over 60% in the south-east and south-west, while the Liberal National Party won over 57% of the two-party vote in the north of the seat.
| | | | | |
| --- | --- | --- | --- | --- |
| Voter group | GRN % | ALP 2PP % | Total votes | % of votes |
| South-East | 10.89 | 61.05 | 21,979 | 30.73 |
| South-West | 11.92 | 62.49 | 19,351 | 27.05 |
| North | 11.82 | 42.89 | 16,518 | 23.09 |
| Other votes | 13.03 | 53.34 | 13,686 | 19.13 |