LIB 8.7%
Incumbent MP
Alby Schultz, since 1998. Previously state Member for Burrinjuck 1988-1998.
Geography
Southern NSW. Hume covers southern NSW from Young and Cootamundra in the west and Cowra in the north, through Yass and Goulburn and up the Hume Highway to cover most of Wollondilly Shire on the southwestern outskirts of Sydney. The seat covers most of the Hume Highway between Sydney and Canberra, although the Southern Highlands towns of Moss Vale, Bowral and Mittagong are not included. While the seat follows the Hume Highway, the exclusion of Bowral and its neighbouring towns isolates Wollondilly from the rest of the seat's population.
History
Hume is an original federation electorate, and originally covered the NSW border region, including the towns of Albury, Gundagai and Cootamundra.
The seat was first won by William Lyne in 1901. Lyne was a Protectionist and had previously been Premier of New South Wales, and a leading opponent of federation.
Lyne had been originally offered the role of Australia's first Prime Minister by Governor-General Lord Hopetoun, but failed to form a ministry and instead became a minister in Edmund Barton's first cabinet.
Lyne served in Edmund Barton and Alfred Deakin's Protectionist cabinets from 1901 to 1904 and 1905 to 1908. Lyne refused to join with Alfred Deakin when the Protectionist and Free Trade parties merged to form the Commonwealth Liberal Party in 1909, and served as an independent until 1913.
Lyne was defeated in 1913 by Commonwealth Liberal Party candidate Robert Patten, who held the seat until his retirement in 1917, when the seat was won by Franc Falkiner (LIB), who had previously held the seat of Riverina from 1913 to 1914. Falkiner abandoned Hume in 1919 in an attempt to move to the Senate.
Parker Moloney (ALP) won Hume in 1919. Moloney had previously held the neighbouring seat of Indi in Victoria from 1910 to 1913 and 1914 to 1917.
Moloney held the seat until 1931, when he was defeated by Thomas Collins of the Country Party. This began a period of Hume being a marginal seat between the ALP and the Country Party until 1974.
Collins was defeated by Arthur Fuller (ALP) in 1943, after serving as a minister in Robert Menzies' first government.
Fuller was defeated in 1949 by Charles Anderson of the Country Party. Fuller won back the seat in 1951, and Anderson won it back again in 1955. Fuller defeated Anderson for the last time in 1961.
Fuller was defeated by John Pettiitt of the Country Party in 1963. Pettitt held the seat until he was defeated by the ALP's Frank Olley at the 1972 election. Olley was defeated by Stephen Lusher of the Country Party in 1974. This was the last time the seat was held by the ALP, and the margin for future National and Liberal candidates increased to a safer range.
At the 1984 election, a redistribution saw the Liberal member for Farrer and former Fraser government minister Wal Fife challenge Lusher. Lusher came third and his preferences elected Fife.
Fife held the seat until his retirement at the 1993 election, when a redistribution saw the National member for Gilmore, John Sharp, move to Hume. Sharp served as a minister in the first term of the Howard government before his career was claimed by the travel rorts affair, and he retired in 1998.
The 1998 election saw the seat go to Alby Schultz, previously the Liberal member for the state seat of Burrinjuck since 1988. Schultz came first on primary votes, with the National candidate reduced to fourth place behind One Nation.
The 2000 redistribution saw Hume move into the Southern Highlands, and saw Macarthur move into more marginal territory in south-western Sydney. Finance Minister John Fahey, former NSW premier and member for Macarthur, planned to run for preselection in Hume, into which his home base of the Southern Highlands had been redistributed. Fahey, however, decided to retire due to ill-health, freeing up Schultz to run for re-election.
Schultz has been reelected at every election since then, achieving the largest margin in Hume ever in 2004, with 64.1% of the two-party preferred vote. Schultz suffered an 8.7% swing against him in 2007, but strengthened his margin in 2010.
Candidates
Sitting Liberal MP Alby Schultz is not running for re-election.
Lindsay Cosgrove (Citizens Electoral Council)
Bruce Nicholson (Katter's Australian Party)
James Harker-Mortlock (Independent)
Michael Pilbrow

(Labor)

Angus Taylor 

(Liberal)

Jason Cornelius (Palmer United Party)
Adrian Van Der Byl (Christian Democratic Party)
Zaza Chevalier

(Greens)

Lynette Styles (One Nation)
Assessment
While there was some threat of the Nationals running in Hume, the Nationals eventually decided not to run. Without a Nationals challenger, this seat will be very safe for the Liberal Party.
2010 result
| | | | | |
| --- | --- | --- | --- | --- |
| Candidate | Party | Votes | % | Swing |
| Alby Schultz | LIB | 47,137 | 53.56 | +12.96 |
| Robin Saville | ALP | 28,044 | 31.86 | -5.06 |
| Kevin Watchirs | GRN | 6,737 | 7.65 | +1.49 |
| Charles Liptak | FF | 2,075 | 2.36 | +0.53 |
| Karen Buttigieg | CDP | 1,546 | 1.76 | +0.09 |
| Greg Butler | DEM | 1,280 | 1.45 | +1.36 |
| Lisa Milat | LDP | 1,197 | 1.36 | +1.36 |
2010 two-candidate-preferred result
| | | | | |
| --- | --- | --- | --- | --- |
| Candidate | Party | Votes | % | Swing |
| Alby Schultz | LIB | 51,679 | 58.72 | +3.37 |
| Robin Saville | ALP | 36,337 | 41.28 | -3.37 |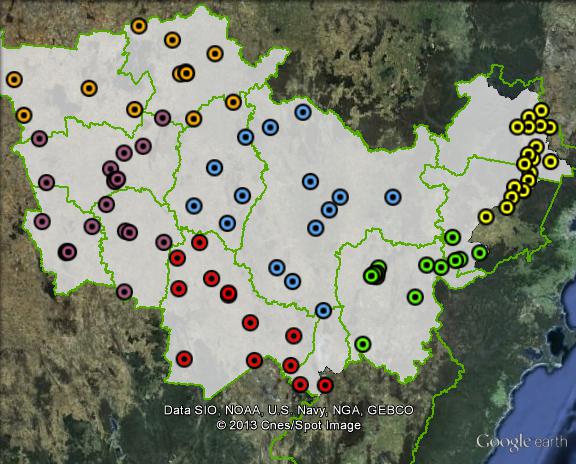 Booth breakdown
Booths have been divided into six areas. These areas are:
Cowra – Cowra and Weddin local government areas (LGAs)

Goulburn – Goulburn Mulwaree LGA and southern parts of Wingecarribee LGA
Upper Lachlan – Boorowa and Upper Lachlan LGAs
Wollondilly – Wollondilly LGA and northern parts of Wingecarribee LGA
Yass – Yass Valley LGA and parts of Palerang LGA
Young – Cootamundra, Harden and Young LGAs
The Liberal Party won a majority in all six areas, ranging from 51.4% in Goulburn to 67.3% in Upper Lachlan.
The Greens came third, with their vote varying from 4.2% in Young to 12.4% in Yass.
| | | | | |
| --- | --- | --- | --- | --- |
| Voter group | GRN % | LIB 2PP % | Total votes | % of votes |
| Wollondilly | 7.94 | 57.58 | 19,105 | 21.71 |
| Goulburn | 8.55 | 51.39 | 14,217 | 16.15 |
| Young | 4.18 | 64.22 | 10,727 | 12.19 |
| Yass | 12.43 | 53.12 | 9,294 | 10.56 |
| Cowra | 4.34 | 63.11 | 7,343 | 8.34 |
| Upper Lachlan | 5.52 | 67.32 | 5,123 | 5.82 |
| Other votes | 8.11 | 60.63 | 22,207 | 25.23 |