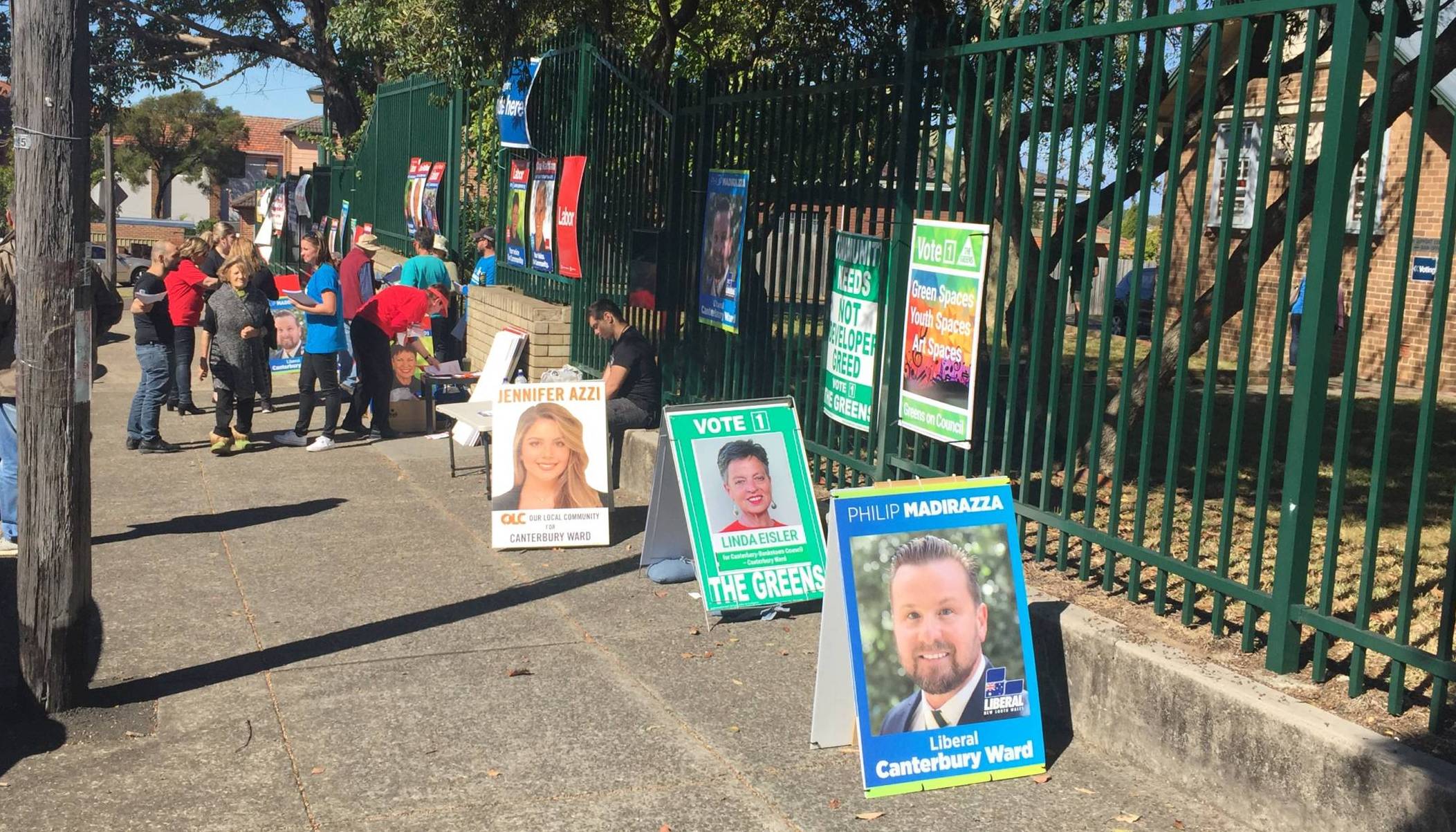 Throughout the most recent outbreak of COVID-19 in New South Wales there has been a lack of information about how the election process would be adapted to deal with the risk of infection, apart from postponing the election for three months.
The Electoral Commission had announced plans to make the spaces inside polling places safer, with the same techniques we'd all be familiar with.
The most radical change, however, was quietly announced in the last few days. The Electoral Commissioner had been granted the power to prevent the distribution of election material at polling places or within 100 metres (including prepoll).
There hasn't been much attempt to justify this change beyond a vague reference to the risk of infection with COVID-19, and I think it's a pretty big step to remove a key political freedom weeks out from an election while the state is otherwise opening up.
On the weekend (I think – the declarations are undated), the Commissioner announced that how-to-votes couldn't be distributed in any NSW council election conducted by the NSWEC, across the whole state. He also directed that posters could only be put up or taken down before 7am or after 7pm.
I definitely think there are situations where such a policy would be justified, particularly during a lockdown, although I'd argue that elections should first be postponed and should only be conducted under a hard lockdown when absolutely necessary.
But New South Wales is now moving out of lockdown, with high vaccination rates, and a case count that has declined from the peak. Restaurants are open for the vaccinated, as has retail. Children are now returning to school, and travel from Sydney to regional areas will open up from November 1.
Pre-poll voting commenced on November 22, with election day on December 4. By then, there will be no more restrictions that only apply to unvaccinated people.
Many of these activities carry the risk of infection, but we have decided that those risks have been minimised enough, and with the current vaccination rates we can open up. Yet this particular activity has been prohibited to "reduce the risk of infection".
I haven't found any statements indicating that there is health advice warning against people campaigning outside polling places, indeed there's been no statements beyond the official declarations.
I'm an elections expert, not an infectious diseases expert, but people handing out how-to-votes outside a polling place doesn't seem particularly risky. It takes place outdoors, and it seems like sensible precautions could be taken. Volunteers at the 2020 Queensland state election wore masks and did not re-use any how-to-vote cards. Whatever the risk, it still feels relatively small compared to all the other things that are now legal.
I don't think it's a bad idea to have this power up our sleeve, but it seems like over-reach for the commissioner to have already invoked it for the whole state in current conditions.
When making these calculations, you have to consider both the risks of the activity, but also consider the benefits. I do wonder if the people making this decision, whether they are election administrators or health officials, have factored in the benefits of free public election campaigning when making their risk assessments. It's easier to quantify the economic value of crowds at a football game or opening retail than it is to identify the benefit of allowing political protests or election campaigning.
I should acknowledge that there are plenty of people who think we should get rid of how-to-votes on election day, perhaps replacing them with the provision of how-to-votes in the voting booth or by using official posters. I see some of this from Greens supporters who have struggled to find enough volunteers to cover their booths and feel like it's an unfair playing field.
I don't agree – I think it's not unreasonable that a candidate's ability to attract and organise volunteers is relevant to their ability to get elected. I also think there is still value in understanding how to vote, particularly in council elections where voters are less familiar with the candidates and the issues, and regardless of the merits of telling a voter "how to vote", it's the last and most universal opportunity to talk to voters. Banning campaigning at the polling booth will advantage candidates with greater name recognition (including independents) or those with the money to advance their campaigns in other ways.
But whatever the merits, such a change should be decided through the political process with public debate, not through a sudden change justified with a vague handwave to COVID infection risks.