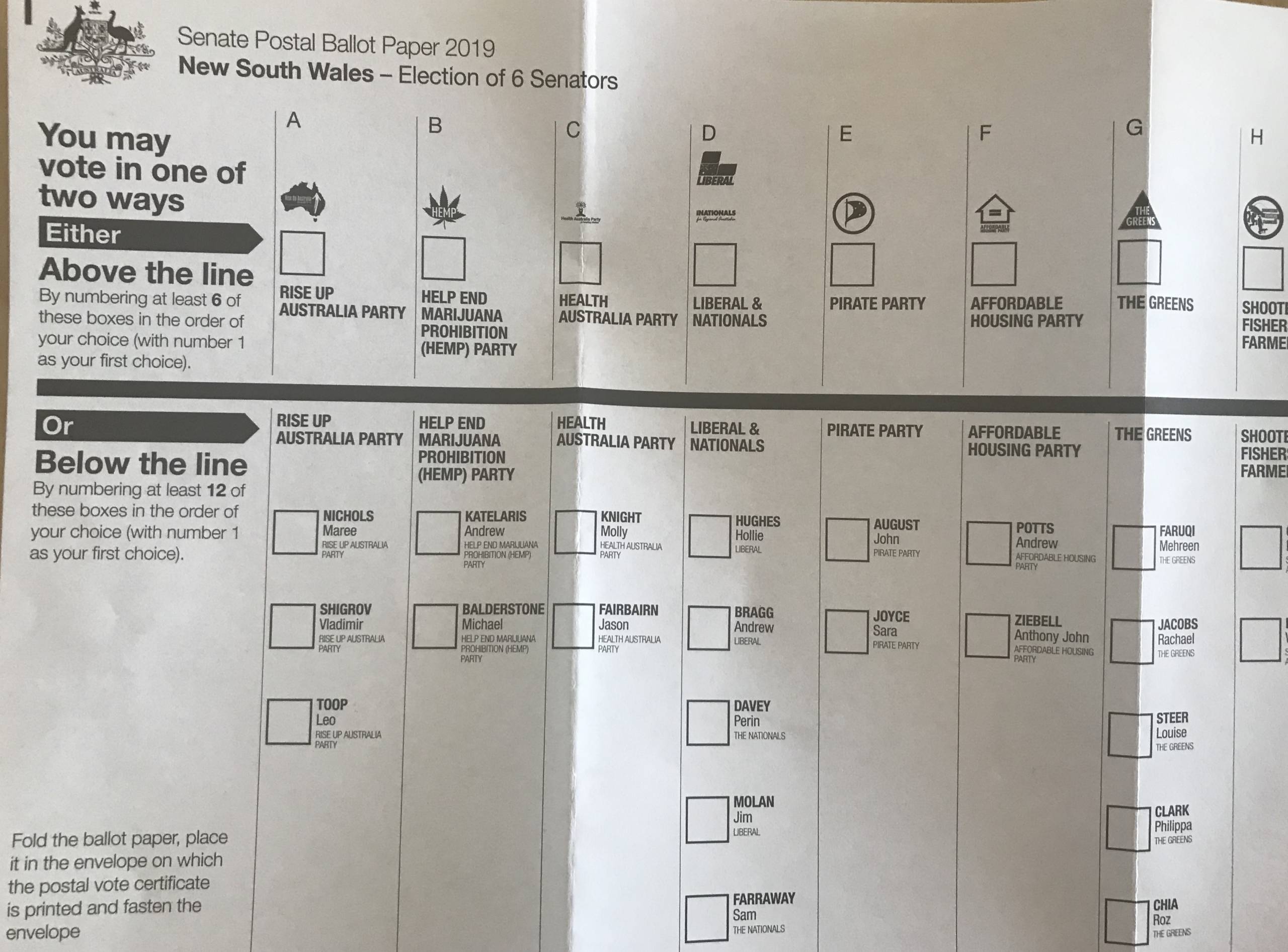 We've now got one more week before election day and a few people have been asking me for advice about how to plan out their preferences in the Senate.
There are a few dozen columns on the Senate ballot in the bigger states, and even more boxes if you choose to vote below the line. It's no longer necessary to number every box for your vote to count (6 above the line or 12 below the line is sufficient) but it's always a good idea to number more boxes. And the more boxes you number the greater the risk that you'll miss a number or double up on a number, and your vote would end right there.
Luckily there is a tool you can use to plan out your vote, producing instructions on how to vote fill in your own ballot.
The tool has been made by Tom Clement of Geeklections and you can access it here.
The first step involves picking where you stand on a political compass. All the parties running in the Senate are also marked on this compass, although you can adjust them if you think they belong somewhere else.
You then select your state and it will generate a list of parties in order. You can choose to just get a list of major parties or minor parties only. The former would be useful if you want your vote to have a lot of impact without having to number many boxes. Tom appears to have defined major parties as those which won a seat in 2016 (so no Fraser Anning, but yes to Jacqui Lambie).
Then you can drag and drop the parties if you want to modify the order at all. This would be particularly relevant if you want to change your first preference.
Finally, the tool will generate a PDF showing which numbers to put in which boxes, in ballot order. You can choose to either vote below or above the line. If you vote above the line you won't be able to vote for ungrouped candidates. If you vote below the line you can choose to vote "tactically" which basically means numbering groups from the bottom to top. This will mean if you vote for a group which receives more than a quota of the primary vote your vote won't be absorbed to elect the candidates at the start of the candidate, and will remain wholly available to the candidate still in the final rounds of the count. It's not likely to be a significant effect.
The tool doesn't let you manually reorder candidates within a party column for your below the line vote, but you could put together a below-the-line HTV and manually swap two of the numbers if there was a particular person you wanted to vote for or preference.
Personally I recommend that most voters stick to above-the-line voting. Below-the-line voting is only relevant if you want to reorder the candidates within a particular party group. This is relevant for the handful of senators trying to win despite an unwinnable ranking, but otherwise it's not going to matter. Below-the-line voting used to be the only way you could control your own preferences but above-the-line numbering now lets you have total control of inter-party preferences.
But with so many parties to preference above the line, a voter who wants to number a lot of boxes could use the help to make sure their vote does exactly what they want, and for that purpose I recommend this tool.