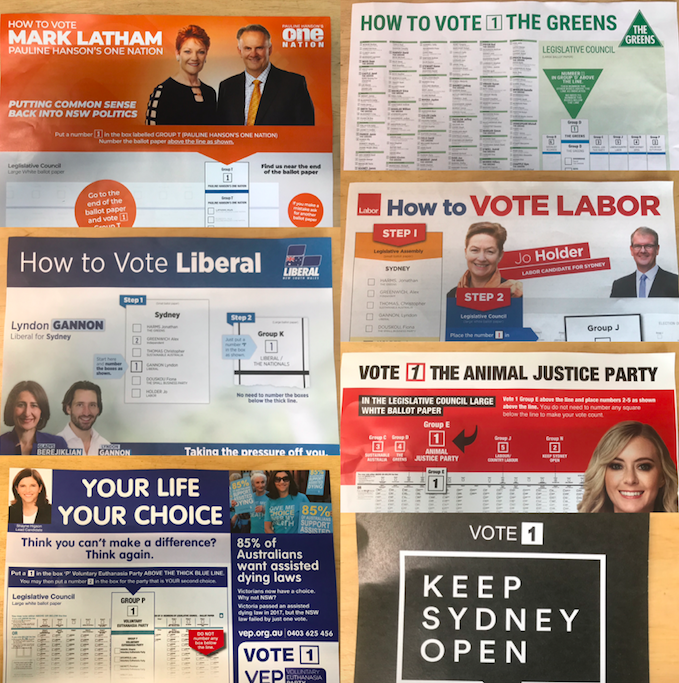 Today is the third of day of voting in the NSW state election, with pre-poll booths opening around the state.
I dropped in to the biggest pre-poll booth at Sydney Town Hall on Monday morning to collect all of the how-to-votes that were available, and grabbed a couple more this afternoon.
I've been running a lengthy Twitter thread posting all of these how-to-votes as pictures, supplemented by submissions from others and some stuff I found by contacting candidates directly.
I dropped in to the Sydney Town Hall pre-poll booth this morning to grab the how-to-votes. This thread will run through what I found. #nswvotes

— Ben Raue (@benraue) March 11, 2019
You can follow that thread to see all of the how-to-votes in full, but I'm going to briefly summarise what I found.
I have managed to track down most of the progressive parties' how-to-votes, but I'm still lacking how-to-votes for right-wing parties like the Shooters, Fishers and Farmers, Australian Conservatives, Christian Democrats and Liberal Democrats.
Labor has done well on preferences from the Greens and other minor progressive parties. The Greens are directing preferences in all 93 seats, and in every case they are preferencing Labor above the Coalition. The Greens NSW delegate this decision to local groups, so this suggests a clear consensus in the party to favour Labor, and likely reflects a deal with Labor.
Keep Sydney Open are preferencing Labor over the Coalition in the 42 seats where they are running. They are preferencing the incumbent in all non-government seats, which means they are favouring the Greens in Newtown, Balmain and Ballina but Labor in Summer Hill (they are not running in Lismore). I have only seen Animal Justice Party how-to-votes for a handful of seats but it appears they are also preferencing Labor over the Coalition.
These decisions are reflected in Labor's upper house how-to-vote, which goes to Greens second, then Animal Justice, then Keep Sydney Open. This would be consistent with Labor swapping upper house preferences for favourable lower house preferences with these three parties. The Greens also favour Animal Justice and Keep Sydney Open just after Voluntary Euthanasia, with Labor fifth and Socialist Alliance sixth.
Animal Justice and Keep Sydney Open appear to be part of a preference deal with Sustainable Australia for their upper house preferences. KSO and Sustainable Australia swap their second preferences, with Animal Justice third on the KSO how-to-vote and fourth for Sustainable Australia. Animal Justice go to the other two parties second and third on their recommendations. AJP and KSO then flow to Greens and Labor as fourth and fifth, but Sustainable Australia is on the outer with the bigger progressive parties.
The Voluntary Euthanasia Party is not part of this pact, with no lower house candidates and an upper house how-to-vote which recommends no preferences. Ex-Greens independent MLC Jeremy Buckingham likewise exhausts his preferences. Socialist Alliance preference all of the parties mentioned in the above preference pacts as well as Voluntary Euthanasia and Buckingham. They are the only party I have found giving a preference to Buckingham, despite his loud denunciations of 'socialists' in his former party.
If we move over to the right, the Liberal/Nationals coalition is not directing any preferences on the statewide how-to-vote they use at Sydney Town Hall, but they are marking preferences for the seat of Sydney on the local how-to-vote, so it's possible the statewide how-to-vote is an interim measure and there could be different preferences revealed later.
Mark Latham's One Nation and Angela Vithoulkas' Small Business Party have both recommended no upper house preferences.
That's all I've got for now. If you see interesting how-to-votes please take a photo. You can tweet them at me, or upload the photo online and link to it in a comment below.
I'm particularly interested in upper house preferences for right-wing minor parties which haven't been mentioned in this post, and interesting lower house preferences – evidence of a trend where a minor party with a lot of candidates is indicating the same preferences in multiple seats, or evidence of the Coalition indicating preferences, or how preferences shake out in rural seats between the Shooters, Labor and independents.
Next Monday we will be able to access all of the materials which have been registered to be used on election day, although that won't necessarily confirm exactly how parties are preferencing, since it's permissible for a candidate to register multiple how-to-votes with contradictory preference recommendations, and we may not know which recommendations will be handed out on the day until they are being handed out. I'll be sure to update you when we know more.
EDIT: The Liberal Democrats how-to-votes are on their website. They are not directing preferences in the upper house (although they do recommend preferences). In the lower house they are generally preferencing the Coalition ahead of rivals in seats like Barwon, Orange and Holsworthy, but they are preferencing independent Judy Hannan ahead of the Liberal in Wollondilly.