There's been a lot of attention over the last few days on the newly elected One Nation senator from Queensland, Malcolm Roberts. His election was a bit of a surprise, whereas we were confident that Pauline Hanson would win her seat, and her two other Senate colleagues were predicted as likely to win since election night.
There's a lot to pick over about Roberts' record, but a lot of the focus has been on the fact that he received only 77 primary votes – less than any other successful candidate.
I actually think there is a real problem with our Senate voting system which is exposed by Roberts' tiny primary vote, but it's not the one that most media has focused on. This problem isn't unique to Malcolm Roberts. The reality is most senators, from major and minor parties, receive very few personal votes, and rely almost entirely on voters preferencing according to their party's ticket to win a seat.
It is remarkable that someone won a seat off only 77 personal primary votes, but I would argue that it isn't significantly different to the many major party candidates elected on a few thousand votes in large states.
The phenomenon of unpopular candidates winning seats with no public profile is not limited to One Nation – the major parties have a history of gifting Senate seats to party hacks who couldn't win a seat in the House of Representatives. It doesn't have to be this way.
In this article, I'll explain the broader issue, and what I think can solve it.
This isn't a criticism of the recent Senate reforms. Despite some outlandish claims, the Senate reforms had a modest goal, and that goal was achieved.
The Senate reforms aimed to ensure that preferences between political parties flowed according to the wishes of the voter, not according to difficult-to-understand and hidden preference instructions, which were difficult for voters to opt out of. This goal has been well and truly achieved, and has been done while still ensuring that preferences matter in deciding Senate elections.
The recent Senate reforms was not intended to break the power of the political party in controlling who within their party receives votes or wins election, although it was made easier for voters to vote below the line in a way which gave them the option to buck their party's preference order. While group voting tickets were difficult to understand, it was easy to understand that a vote above the line for a party would flow to the candidates printed on the ballot paper in the order they appeared.
Since 1940, Senate candidates have appeared on the ballot grouped by party, with the candidates of each party appearing in the order agreed to by the candidates. Since then, candidates ranked first on their party's ticket have always received the lion's share of their party's votes. This was the case even before the introduction of above-the-line voting in 1984 formalised this practice as the preferred voting method.
Malcolm Roberts may be the most extreme example, but a majority of his new Senate colleagues are in the same boat. Only 34 out of 76 senators in the new parliament polled over 0.2% of the total vote in their state or territory as below-the-line primary votes. Apart from Tasmania, all of the candidates who polled above this threshold were candidates who were ranked first on their party ticket.
The following chart shows the personal below-the-line vote for elected candidates and their position on the ballot. Lisa Singh polled the most personal votes as a proportion of her state's total vote, and was also the only #6 candidate to win a seat.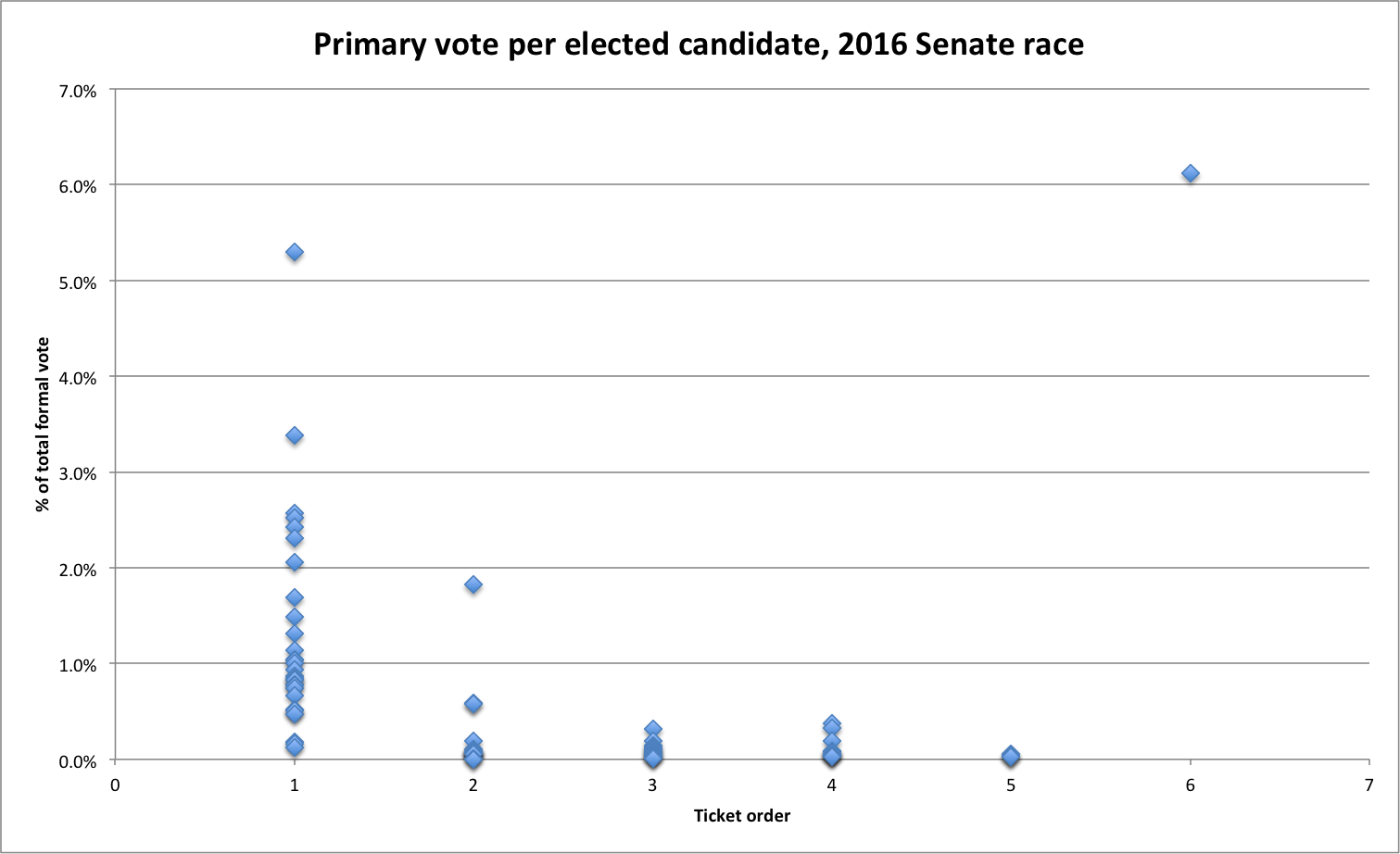 Only 16 candidates polled over 1% of their state's total vote, and the table below lists them all.
While below-the-line voting has become more popular, it still makes up a relatively small proportion of the total vote outside of Tasmania, and most of those who avail themselves of this option still follow their party's ticket, voting for the candidate ranked first. While there was a clear trend of people voting for Lisa Singh and Richard Colbeck in Tasmania, a majority of Tasmanian below-the-line voters still chose to vote for their party's lead candidate.
So how do we solve this problem? If we aren't happy with candidates getting elected to the Senate simply by virtue of securing a high enough ranking on their party's ticket, the only solution is Hare-Clark.
Hare-Clark is used in Tasmania and the Australian Capital Territory. The counting system is similar to the Senate – each electorate elects five MPs, parties run multiple candidates, and candidates are elected when they reach a quota.
Unlike the Senate voting system, there is no above-the-line voting. In addition, Hare-Clark randomises the ballot order within each party's ticket, so candidates appear in different orders on different ballots. Many people still choose to simply number their party's candidates in ballot order, but since this order is randomised these votes are scattered amongst all of the party's candidates, not concentrated on one candidate.
To win a seat, a candidate needs to run their own campaign and convince voters to give them their primary vote. No seat is safe – even if your party wins a lot of seats, you could still be vulnerable to losing your seat to one of your party's other candidates.
If we implemented Hare-Clark in the Senate, all Senate candidates would need to have their own profile to win a seat, and we would see the end of anonymous candidates winning seats with no scrutiny.
I'm not saying Australia is ready to use Hare-Clark for the Senate. Australian voters have been trained for thirty years to just vote for their party above the line. The new Senate voting system has meant that all Australians get to choose and mark their own preferences in the Senate, many of them doing so for the first time.
The next step would be abolishing above-the-line voting, so that voters can get used to marking preferences between individual candidates. Now that the Senate voting system doesn't incentivise the creation of splinter parties, I suspect we will see a consolidation of minor parties, which will make it easier for voters to vote below the line, and also make it easier for the media to scrutinise all of the minor party candidates with a chance of election (which has other benefits).
This won't happen overnight, but if we are serious about a Senate made up of senators elected by voters who understand who they are voting for, we should be focusing on solutions, not just pointing the finger at one particularly odd One Nation candidate.