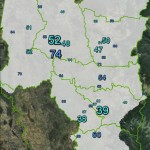 Last week, Richard Torbay's political career came to an end. He's been a state independent MP for Northern Tablelands since 1999, and served as Speaker of the Legislative Assembly from 2007 to 2011.
He was preselected to run for the Nationals in New England against Tony Windsor later this year, which would have caused a Northern Tablelands state by-election.
Torbay was deselected by the Nationals last Tuesday, and resigned from state Parliament last Wednesday.
The by-election is likely to be an easy win for the Nationals. While Torbay won a large majority in the lower house, the Coalition easily defeated other parties in the Legislative Council. The guide focuses on results from the Legislative Council, including a series of maps.