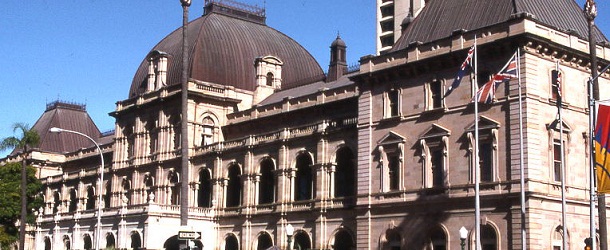 Welcome to the Tally Room's guide to the 2015 Queensland state election. This guide includes comprehensive coverage of each seat's history, geography, political situation and results of the 2012 election, as well as maps and tables showing those results.
Table of contents:
Legislative Assembly seat profiles
Seat profiles have been produced for all 89 Legislative Assembly electoral districts. You can use the following navigation to click through to each seat's profile.
Political history
Queensland politics for the last century can be divided into three decades-long eras. Labor 1915-1957, National 1957-1989, and Labor 1989-2012.
The ALP dominated Queensland politics from 1915 to 1957, barring a single term of conservative rule from 1929 to 1932. The ALP's domination of Queensland politics collapsed in 1957 when Premier Vince Gair was expelled from the ALP after ongoing conflict with unions, and he took half of Labor's MPs out of the party to form the Queensland Labor Party.
Following 1957,  Queensland was governed by the Country Party/National Party for the next 32 years, with the government led for most of that period by one of two men: Frank Nicklin (1957-1968) and Joh Bjelke-Petersen (1968-1987).
While this government was in coalition with the Liberal Party for most of this period, the Country Party took steps to ensure it dominated government through manipulation of the electoral system in ways that disadvantaged the Liberal Party, and a break with the Liberal Party in 1983 saw the Liberals lose over two thirds of their seats and left the Liberal Party in opposition to a National majority government.
By the end of this period, Queensland's government was known for widespread corruption and an authoritarian state government, and in the late 1980s this regime began to lose its grip.
In 1989, Wayne Goss led the ALP back to power, and the ALP has governed for all but two years over the last two decades. Goss governed until 1996, and after two years of National-Liberal rule, Labor governed continuously under Peter Beattie and Anna Bligh for fourteen years.
In 2012, Labor lost power after governing for fourteen straight years and 21 out of the previous 23 years. The merged Liberal National Party swept to power in a landslide led by former Lord Mayor of Brisbane, Campbell Newman.
Recent events
The LNP took power in 2012 after fourteen continuous years of Labor rule.
Over the last term, the LNP has lost five of its MPs. One defected to Katter's Australian Party and is now the party's leader. Two others became independents, then joined Palmer United Party, and are now both independents once again. In addition, two LNP seats were lost to Labor in by-elections.
Key seats
The result of the last election make it very hard to predict which seats will be the key battlegrounds in 2015. The LNP needs to lose 32 seats to lose their majority (counting those seats where the LNP member has left the party without a by-election as LNP seats), and Labor needs to gain 36 seats to win a majority in their own right.
Because of this, the range of possible 'battleground' seats ranges widely depending on how large of a swing back to Labor is expected. And even when you pick a particular range, there will be a wide variety in swings, meaning some seats with smaller margins may be more fiercely contested while others will be conceded with little contest.
In this analysis, I focus on the fourteen LNP seats held by margins of 10-15% against Labor.
Frequently asked questions
This guide includes a lot of content and I regularly get asked questions about how it is structured and why I make decisions about what information is included.
Please also post here any questions about the structure of the guide or suggestions about improvements.
Contact
If you have a correction or an update for a single electorate page, feel free to post a comment. You can also send an email by using this form.