October 31, 2015
Cause of by-election
Former minister Terry Mulder resigned on 31 August 2015.
Margin – LIB 10.6%
Geography
Southwestern Victoria. Polwarth covers regional areas between Geelong and Warrnambool including the towns of Anglesea, Lorne, Lismore, Colac, Camperdown, Terang and Mortlake. Polwarth covers the entirety of Colac Otway and Corangamite shires, and parts of Golden Plains, Moyne and Surf Coast shires and small parst of the City of Greater Geelong and Ararat Shire.
History
Polwarth has existed as an electoral district in the Legislative Assembly since 1889. In that time it has never been held by the Labor Party. Except for the 1940s, when it was held by the Country Party, the Liberal Party and its predecessors have held the seat ever since the seat first elected party-aligned members in 1911.
Nationalist Party member James McDonald won Polwarth at a 1917 by-election. He served as a minister from 1924 to 1927, and held Polwarth until his death in 1933.
Allan McDonald, nephew of the former member, won the seat for the United Australia Party in 1933. He held the seat until 1940, when he stepped down to run for the federal seat of Corangamite. He held Corangamite until his death in 1953, serving as a prominent member of the conservative Opposition through the 1940s.
Edward Guye of the Country Party won Polwarth in 1940. He joined the Liberal Country Party in 1949, and served as a minister from 1949 to 1950. Guye held the seat until 1958, when he was succeeded by Thomas Darcy, also of the Liberal Country Party, which later was renamed the Liberal Party. Darcy served as a minister from 1964 to 1967, and then retired in 1970.
Darcy was succeeded in 1970 by Liberal candidate Cecil Burgin. He held Polwarth until 1985.
Polwarth was won in 1985 by Ian Smith. He had served as Member for Warrnambool from 1967 to 1983, serving as a minister in the Liberal state government from 1970 to 1982. He had resigned from Parliament following the defeat of the Liberal Party in 1982, but returned at the next election in Polwarth.
He returned as Minister for Finance from 1992 to 1995, and retired from Parliament in 1999.
The Liberal Party preselected Terry Mulder to run in Polwarth in 1999. He was challenged by retired footballer Paul Couch, who ran for the Nationals. He was considered to be a threat to the Liberal hold on Polwarth, but he failed to overtake the ALP, and his preferences helped Mulder easily win the seat.
Mulder was easily re-elected in 2002, and became a member of the shadow cabinet. He was considered to be a leadership contender prior to the 2006 state election.
Terry Mulder was re-elected again in 2006 and 2010. Mulder served as Minister for Public Transport and Roads throughout the entire Baillieu/Napthine government from 2010 to 2014, and was re-elected as Member for Polwarth when the Coalition lost power in 2014.
Candidates
Joe Miles (Greens)
Carmel Kavanagh (Democratic Labour Party)
Melinda Cass (Country Party)
David O'Brien (Nationals)
Brendan Eckel
Meredith Doig (Sex Party)
Richard Riordan (Liberal)
Geoff Rogers (Australian Christians)
Assessment
Mulder's margin of 10.6% is reasonably solid, and the Liberal Party would be expected to win.
2014 result
| | | | | |
| --- | --- | --- | --- | --- |
| Candidate | Party | Votes | % | Swing |
| Terry Mulder | Liberal | 21,861 | 55.4 | -0.5 |
| Libby Coker | Labor | 11,045 | 28.0 | +1.1 |
| Simon Northeast | Greens | 4,352 | 11.0 | +2.8 |
| Philip Edge | Country Alliance | 2,206 | 5.6 | +1.7 |
2014 two-party-preferred result
| | | | | |
| --- | --- | --- | --- | --- |
| Candidate | Party | Votes | % | Swing |
| Terry Mulder | Liberal | 23,944 | 60.6 | -3.2 |
| Libby Coker | Labor | 15,541 | 39.4 | +3.2 |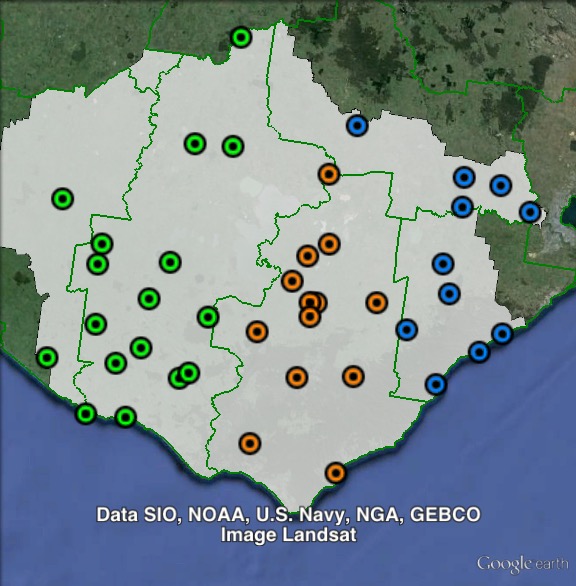 Booth breakdown
Booths in Polwarth have been divided into three parts: east, west and central. The 'Central' area covers those polling places in Colac Otway Shire. The 'East' area covers those in Golden Plains and Surf Coast council areas. The 'West' area covers those in Corangamite and Moyne council areas.
The Liberal Party's two-party-preferred vote ranged widely between different parts of the seat. The Liberal two-party-preferred was over 70% in the west and over 60% in the centre, but the ALP won 52% of the two-party-preferred vote in the east.
The Greens vote ranged from 7.8% in the west to 13.7% in the east.
| | | | | |
| --- | --- | --- | --- | --- |
| Voter group | GRN % | LIB 2PP % | Total votes | % of votes |
| West | 7.8 | 71.3 | 9,677 | 24.5 |
| East | 13.7 | 48.1 | 8,550 | 21.7 |
| Central | 11.9 | 61.5 | 8,137 | 20.6 |
| Other votes | 11.1 | 60.4 | 13,100 | 33.2 |