NAT 36.74% vs LAB
Incumbent MP
Phil Heatley, since 1999.
Geography
Northern parts of the North Island. Whangarei covers the Whangarei urban area and surrounding areas. Whangarei lies entirely within the Whangarei council area, with some western parts of the council area contained in the neighbouring seat of Northland.
Redistribution
No change.
History
Whangarei has existed since the 1972 election. The seat was won by Labour in 1972, but has been held by the National Party since 1975.
The Labour Party's Murray Smith won the seat in 1972, and was defeated in 1975 by the National Party's John Gordon Elliott.
In 1981, Elliott lost National preselection to John Banks.
Banks held Whangarei for six terms from 1981 to 1999. Banks served as a cabinet minister from 1990 to 1996.
Banks retired in 1999. He went on to serve as Mayor of Auckland City, and returned to Parliament in 2011 as the ACT Member for Epsom. He served as a minister in the latest National-led government, but recently resigned from Parliament after being convicted over the filing of a false electoral return in his unsuccessful campaign for Mayor of the newly-merged Auckland Council in 2010.
In 1996, two other candidates were elected to Parliament as list MPs after running in Whangarei. Brian Donnelly was elected as a New Zealand First MP, and Muriel Newman was elected as an ACT MP.
Donnelly was elected four times, and retired in early 2008 to take up a position as High Commissioner to the Cook Islands. Newman was elected three times, and lost her seat in 2005.
In 1999, Whangarei was won by National candidate Phil Heatley. Heatley has been re-elected in 2002, 2005, 2008 and 2011. He joined the ministry when National won power in 2008. He briefly stepped down from the ministry in early 2010 over questions regarding his expenses claims, but then resumed a ministerial role, and continued to serve until early 2013.
Candidates
Sitting National Member for Whangarei Phil Heatley is not running for re-election.
David Currin (Internet #8)
Paul Doherty (Green #41)
Kelly Ellis (Labour #52)
Robin Grieve (ACT #3)
Anaru Kaipo (Maori #9)
Les King (Focus #2)
Chris Leitch (Democrats #2)
Don Nightingale (Conservative)
Pita Paraone (New Zealand First #8)
Shane Reti (National #60)
Assessment
Whangarei is a very safe National seat.
2011 election results
Electorate Votes
Party Votes
Candidate
Party
Votes
%
Swing
Votes
%
Swing
Phil Heatley

National

20,049
59.18
-4.98
17,486
50.67
+0.63
Pat Newman

Labour

7,602
22.44
-0.92
7,017
20.33
-8.27
Rick Bazeley

Green

2,993
8.83
+1.23
3,673
10.64
+4.65
Rita Paraone
New Zealand First
1,512
4.46
+4.46
3,340
9.68
+3.52
Ross Craig
Conservative
1,146
3.38
+3.38
1,457
4.22
+4.22
Robin Grieve
ACT
338
1.00
+0.15
596
1.73
-2.07
Edgar Goodhue
Democrats
142
0.42
-0.08
84
0.24
+0.06
Helen Hughes
Libertarianz
97
0.29
+0.12
31
0.09
+0.04
Mana
238
0.69
+0.69
Māori
212
0.61
-0.30
Legalise Cannabis
184
0.53
+0.07
United Future
180
0.52
-0.19
Alliance
14
0.04
-0.01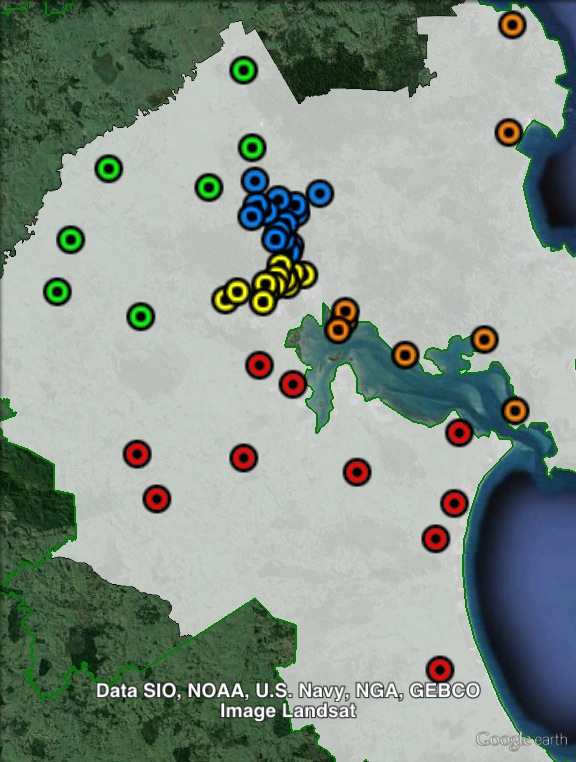 Booth breakdown
Booths in Whangarei have been divided into five areas. Those polling places in the Whangarei urban area have been split into northern and southern parts.
The rural parts of the seat have been split between those to the east of Whangarei, those to the west, and those to the south.
The National Party won a majority of the electorate in all five areas. The Nationals won a majority of the party vote in Whangarei North, South and West, and a large plurality in Whangarei South and East.
The Green Party came third on the party vote in Whangarei South and East. New Zealand First came third in Whangarei North, South and West.
Voter group
Electorate votes
Party votes
Total
% of votes
NAT
LAB
GRN
NAT
LAB
GRN
NZF
Whangarei North
58.64
24.32
7.67
51.04
22.13
9.16
10.09
9,758
28.80
Whangarei South
56.64
25.12
8.48
47.80
22.79
10.73
9.64
6,098
18.00
East
56.34
22.48
12.10
48.08
19.31
14.50
8.90
5,337
15.75
South
62.22
18.00
9.03
53.40
16.78
10.17
10.39
3,944
11.64
West
66.67
17.03
7.10
57.90
14.30
8.29
9.34
2,649
7.82
Other votes
59.84
21.93
8.83
50.33
20.76
10.88
9.42
6,093
17.98