NAT 2.50% vs LAB
Incumbent MP
Ruth Dyson (Labour), since 2008. Previously Member for Lyttelton 1993-1996, list MP 1996-1999, Member for Banks Peninsula 1999-2008.
Other local MPs
Two sitting list MPs contested Port Hills at the 2011 election:
David Carter (

National

), list MP since 1999. Previously Member for Selwyn 1994-1996, Member for Banks Peninsula 1996-1999.
Denis O'Rourke (New Zealand First), list MP since 2011.
Geography
Port Hills covers the southern suburbs of Christchurch, including Woolston, Mount Pleasant, Heathcote Valley, Lyttelton, Sumner, Cashmere and Halswell.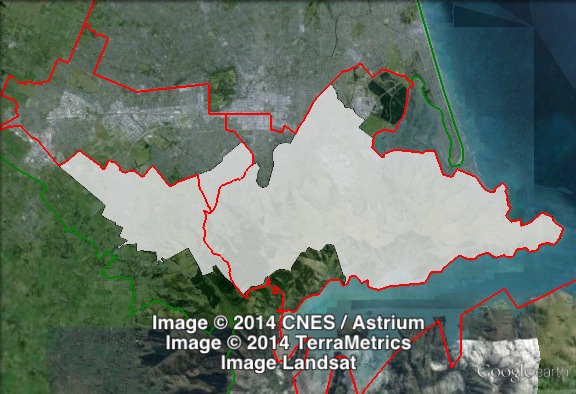 Redistribution
Port Hills expanded westward, gaining Halswell, Oaklands and Westmorland from Selwyn, and lost Rapaki to Selwyn. It also expanded northward, gaining Somerfield and parts of Cashmere from Wigram. This changed the seat from having a 9.5% margin for the Labour Party to having a 2.5% margin for the National Party.
History
The electorate of Port Hills has existed since 2008. It mostly replaced the previous electorate of Banks Peninsula, that existed from 1996 to 2008. Prior to the dramatic redistribution of 1996, the eastern parts of Port Hills were contained in the seat of Lyttelton, which had elected an MP at all but one election since 1853.
Lyttelton was dominated by Labour for most of the period 1913-1996, with opponents winning the seat on five occasions. The seat was held from 1957 to 1969 by Norman Kirk, who went on to serve as Prime Minister.
In 1990, the National Party's Gail McIntosh won the seat off Labour, before losing it to Ruth Dyson in 1993.
In 1996, Lyttelton was largely replaced by the Banks Peninsula electorate, which covered similar areas to the current seat of Port Hills, as well as the peninsula itself.
In 1996, Dyson was defeated in Port Hills by the National Party's David Carter. Carter had won the safe National seat of Selwyn in a 1994 by-election, but the seat was abolished in the 1996 redistribution. Dyson was returned to Parliament as a list MP. Carter served as a minister in the final year of the National government from 1998 to 1999.
In 1999, their roles were reversed, with Dyson winning Banks Peninsula and Carter being returned as a list MP. David Carter has run in Banks Peninsula/Port Hills at every election since, while being returned to Parliament as a list MP. In 2008, Carter sought preselection for the restored seat of Selwyn, but was not chosen, and again stood as the National candidate for Port Hills and was elected as a list MP.
Carter served as a minister in the National government from 2008 until early 2013, when he was elected Speaker.
In addition to Carter and Dyson, Greens co-leader Rod Donald stood in Banks Peninsula at every election from 1996 to 2005 (in 1995 for the Alliance). Donald died shortly after the 2005 election.
Dyson served as a minister in the Labour government from 2001 to 2008, and has remained on the Labour frontbench ever since losing power in 2008.
In 2008, the electorate of Banks Peninsula was renamed 'Port Hills' after losing the peninsula to the newly-restored seat of Selwyn. Dyson retained the renamed electorate, again facing off against Carter.
In 2011, Dyson was re-elected. In addition to Carter, New Zealand First's candidate, Denis O'Rourke, was also elected as a list MP.
Candidates
Sitting National list MP David Carter has decided to run for re-election as a list-only candidate. No information on whether New Zealand First list MP Denis O'Rourke will run in Port Hills.
Chris Brosnan (Conservative)
Ruth Dyson (

Labour

), Member for Port Hills.
Gary Gribben (Democrats #27)
Nuk Korako (

National #50

)
Denis O'Rourke (New Zealand First #7)
Geoff Russell (ACT #39)
Eugenie Sage (

Green #4

), list MP. Sage stood in Selwyn at the 2011 election.
Assessment
Port Hills is a notional National seat following the redistribution, but has been held by Labour in recent years and has a sitting Labour MP. Labour will be hoping to hold on to the seat, and will be working hard in the seat. A loss in this seat would suggest Labour is not in a position to win the election, and this may have motivated sitting MP Ruth Dyson to focus all of her energy on the seat, and remove herself from the party list. If Dyson does not win in Port Hills, she will be out of Parliament after 21 years. Despite this seat being very marginal, the result will not have an influence on the overall number of seats each major party holds in the next Parliament.
The Nationals dominate the party vote in Port Hills, polling 3% higher than on the candidate vote. Labour and Green, who are both running sitting MPs, will be hoping that a strong ground campaign will improve their vote in the area. Port Hills is a relatively strong seat for the Green Party, with 17% of the party vote.
2011 election results
Electorate Votes
Party Votes
Candidate
Party
Votes
%
Swing
Redist
Votes
%
Swing
Redist
Ruth Dyson

Labour

15,737
48.41
+1.69
42.44
9,199
27.64
-10.04
25.49
David Carter

National

12,640
38.89
+1.74
44.94
14,532
43.66
+6.53
48.14
Joseph Burston

Green

3,252
10.00
+0.39
9.29
6,522
19.60
+5.82
17.16
Denis O'Rourke
New Zealand First
697
2.14
+2.14
1.90
1,609
4.83
+2.08
4.78
Geoff Russell
ACT
179
0.55
-0.84
0.37
246
0.74
-1.63
0.74
Conservative
0.66
549
1.65
+1.65
1.87
Legalise Cannabis
0.10
164
0.49
+0.07
0.38
United Future
0.05
157
0.47
-0.42
0.53
Māori
135
0.41
-0.28
0.43
Mana
102
0.31
+0.31
0.25
Alliance
0.25
24
0.07
-0.07
0.13
Democrats
22
0.07
+0.02
0.05
Libertarianz
21
0.06
+0.02
0.05
Others
0.01
21
0.06
+0.02
0.08
Booth breakdown
Booths in Port Hills have been divided into four areas:
Central East – Beckenham, Cashmere, Somerfield and St Martins
Central West – Linwood, Opawa and Woolston
East – Aidanfield, Halswell, Westmorland
West – Cass Bay, Ferrymead, Heathcote Valley, Lyttelton, Mt Pleasant, Redcliffs, Sumner
Most of Port Hills is concentrated in the centre of the electorate, closest to the Christchurch urban centre.
On the candidate vote, the National Party won a huge 67% vote in the east, and a 44.8% plurality in the eastern parts of the centre. Labour won a 48.6% plurality in the west of the seat, and a huge 59% in the central west area.
Similar patterns are seen in the party vote, with National's vote topping out at 62% in the east, and with just short of a majority in the central east and west, while Labour won a 40.8% plurality in the central west. The Green party vote ranges widely from 9.8% in the east to 21.8% in the west.
Voter group
Electorate votes
Party votes
Total
% of votes
NAT
LAB
GRN
NAT
LAB
GRN
NZF
Central East
44.75
41.85
9.69
48.47
22.69
19.36
4.61
10,833
25.65
West
40.44
48.55
9.15
49.48
20.85
21.81
4.34
7,035
16.66
Central West
28.49
59.03
8.96
32.92
40.84
14.40
6.81
6,604
15.64
East
67.35
19.89
8.18
62.14
18.99
9.82
4.26
6,028
14.27
Other votes
45.62
41.50
9.77
48.40
25.55
17.68
4.34
11,732
27.78