NAT 20.51% vs LAB
Incumbent MP
Nick Smith, since 1996. Previously Member for Tasman 1990-1996.
Other local MPs
Maryan Street (Labour), list MP since 2008.
Geography
Northern parts of South Island. The electorate of Nelson covers the City of Nelson and the town of Richmond across the border in the Tasman local council area.
Redistribution
No change.
History
The electorate of Nelson has existed continuously since the first Parliament in 1853. The seat was held by Labour continuously from 1957 to 1996, and by National since 1996.
John Blincoe won Nelson for Labour in 1990, while Nick Smith won Tasman for National in the same year.
In 1996, Tasman was abolished, and Smith ran against Blincoe in Nelson. Smith won with a massive 35.9% margin. This dropped to 13% in 1999 and 12.7% in 2002. Smith's margin bounced back to 28.1% in 2005, and 24.4% in 2008, and dropped to 20.5% in 2011.
Smith served as deputy leader of the National Party for a short period in 2003. He served as a minister for the final months of the National government in 1999, and returned to the ministry when National returned to power in 2008. He was forced to resign as a minister in early 2012 after it was revealed that he had lobbied the head of the Accident Compensation Commission on behalf of a former National activist while serving as the Minister for the ACC. Smith returned to the ministry in January 2013.
Over the last decade, two list MPs have been elected after running in Nelson.
Green candidate Mike Ward was elected on the party list in 2002, after running in Nelson on a number of previous occasions. He lost his seat in 2005.
Labour list MP Maryan Street ran in Nelson in 2008 and 2011, after first winning a list seat after running in Taranaki-King Country in 2005. She has been elected on the party list three times: in 2005, 2008 and 2011. She served as a minister from 2007 to 2008.
Candidates
Adrian Bayly (Democrats #28)
John Green (Conservative)
Paul Hufflett (ACT #31)
Richard Osmaston (Money Free)
Colin Robertson (Green #52)
Nick Smith (National), Member for Nelson.
Maryan Street (Labour #15), list MP.
Assessment
Nelson is a safe National seat.
2011 election results
Electorate Votes
Party Votes
Candidate
Party
Votes
%
Swing
Votes
%
Swing
Nick Smith

National

18,360
53.14
-3.99
16,016
45.41
+2.96
Maryan Street

Labour

11,272
32.62
-0.87
9,639
27.33
-10.46
Aaryn Barlow

Green

3,276
9.48
+2.21
5,660
16.05
+6.61
Kevin Gardener
New Zealand First
669
1.94
+1.94
1,913
5.42
+2.38
Oliver Vitali
Conservative
601
1.74
+1.74
954
2.71
+2.71
Doug Stevens
United Future
204
0.59
+0.21
348
0.99
-0.08
Paul Hufflett
ACT
171
0.49
-0.36
259
0.73
-1.75
Legalise Cannabis
180
0.51
+0.11
Māori
161
0.46
-0.05
Mana
66
0.19
+0.19
Democrats
37
0.10
+0.04
Libertarianz
20
0.06
+0.02
Alliance
14
0.04
-0.08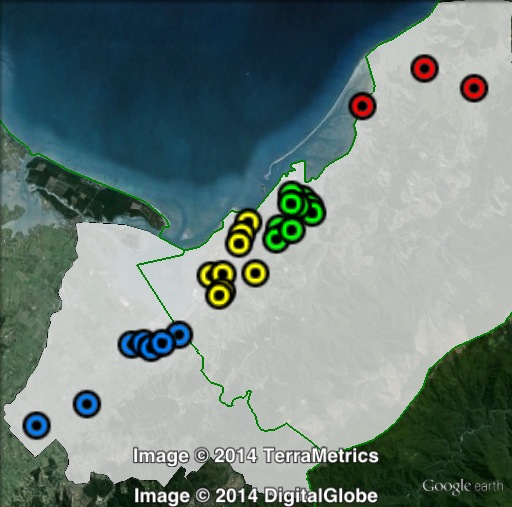 Booth breakdown
Booths in Nelson have been divided into four areas. Most of the population is split roughly evenly between three urban areas. Richmond covers the areas in the Tasman council area. Those in the Nelson urban area have been split between Nelson and Stoke-Tahunanui. The remaining three booths have been grouped as 'north'.
National won a majority of the electorate vote in three out of four areas, ranging from 51.9% in the north to 63% in Richmond. National won a plurality of the vote in Nelson with 42.2%. Labour's vote peaked at 40% in Nelson, and dropped to under 25% in Richmond.
A similar pattern was seen in the party vote. National won a majority in Richmond, and pluralities in the other areas, with a vote ranging from 35.8% in Nelson to 54.7% in Richmond.
The Green Party came third in Nelson with a party vote ranging from 10.9% in Richmond to 23% in Nelson.
Voter group
Electorate votes
Party votes
Total
% of votes
NAT
LAB
GRN
NAT
LAB
GRN
NZF
Stoke-Tahunanui
54.34
33.15
7.58
45.35
30.15
12.07
6.49
9,060
26.22
Nelson
42.22
40.35
13.00
35.84
30.65
23.06
5.14
8,754
25.33
Richmond
63.09
24.91
6.67
54.67
22.47
10.92
5.52
7,014
20.30
North
51.90
32.79
11.34
44.82
24.26
20.78
4.54
1,763
5.10
Other votes
55.28
30.29
9.83
47.86
25.51
16.35
4.66
7,962
23.04