ALP 1.1%
Incumbent MP
Graham Perrett, since 2007.
Geography
Southern Brisbane. Moreton covers suburbs on the southern side of the Brisbane River to the south of the centre of Brisbane, including Sunnybank, Runcorn, Eight Mile Plains, Acacia Ridge, Coopers Plains, Rocklea, Salisbury, Moorooka, Oxley, Corinda, Graceville and Fairfield.
History
Moreton is an original federation electorate. For most of its history it has been held by the Liberal Party and its predecessors, who held the seat from 1906 until 1990, but since 1990 it has become a bellwether seat, being won by the party that won the election nationally.
Moreton was won in 1901 by independent labour candidate James Wilkinson, a former member of the colonial Legislative Assembly. Wilkinson was re-elected as an independent in 1903, and rejoined the ALP in 1904.
Wilkinson lost Moreton in 1906 to Anti-Socialist candidate Hugh Sinclair. Sinclair held the seat for over a decade, representing the Commonwealth Liberal Party and the Nationalist Party until his retirement in 1919.
Sinclair was succeeded in Moreton by former state MP Arnold Wienholt, also a Nationalist. Wienholt only held the seat for one term, retiring in 1922.
The seat was won in 1922 by Nationalist candidate Joseph Francis. Francis held the seat for over three decades. He served as a minister in the first term of the Lyons government from 1932 to 1934, and again served as a minister from the election of the Menzies government in 1949 until his retirement in 1955.
Moreton was won in 1955 by Liberal candidate James Killen. Killen was on the right wing of the Liberal Party, and held the seat for the next 29 years. At the 1961 election the Menzies government barely held on, and Killen's seat of Moreton was the closest result. Indeed, Killen only held on due to Communist Party preferences leaking away from the Labor candidate. Killen served as a minister in the Gorton government from 1969 until 1971 but was dropped by William McMahon when he became Prime Minister.
Killen served as Minister for Defence in the Fraser government from 1975 until 1982, when a reshuffle saw him moved into a more junior role for the final year of the Fraser government. He retired in 1983 after the defeat of the Fraser government, triggering a by-election.
The ensuing by-election was won by Liberal candidate Donald Cameron. Cameron had previously held the seat of Griffith from 1966 to 1977, and then the seat of Fadden until the 1983 election, when he was defeated. He returned to Parliament as Member for Moreton and held it until the 1990 election, when he was defeated by Labor candidate Garrie Gibson, ending 84 years of Moreton being held by conservative parties.
Gibson held the seat until the 1996 election, when he lost to Liberal candidate Gary Hardgrave. Hardgrave served as a junior minister from 2001 until January 2007, when he was removed from the ministry in a reshuffle. Hardgrave lost the 2007 election to Labor candidate Graham Perrett.
Perrett's 6% margin was cut to just over 1% in 2010.
Candidates
Graham Perrett 

(Labor)

Wayne Grunert (Citizens Electoral Council)
Chris Mallcott (Katter's Australian Party)
Hayden Muscat (Future Party)
Carolyn Ferrando (Family First)
Malcolm Cole 

(Liberal National)

Jeremy Davey (Palmer United Party)
Bruce Fry (Rise Up Australia)
Elissa Jenkins

(Greens)
Assessment
Moreton is very marginal and in recent decades has swung as a bellwether. A uniform swing that gave Moreton to the LNP would give the Coalition 78 seats in the House.
2010 result
| | | | | |
| --- | --- | --- | --- | --- |
| Candidate | Party | Votes | % | Swing |
| Malcolm Cole | LNP | 35,182 | 43.40 | +2.56 |
| Graham Perrett | ALP | 29,190 | 36.01 | -12.12 |
| Elissa Jenkins | GRN | 12,882 | 15.89 | +8.74 |
| Steve Christian | FF | 2,787 | 3.44 | +1.97 |
| Lee Nightingale | DLP | 1,018 | 1.26 | +1.26 |
2010 two-candidate-preferred result
| | | | | |
| --- | --- | --- | --- | --- |
| Candidate | Party | Votes | % | Swing |
| Graham Perrett | ALP | 41,447 | 51.13 | -4.88 |
| Malcolm Cole | LNP | 39,612 | 48.87 | +4.88 |
Booth breakdown
Booths have been divided into three areas:
North-East – Annerley, Fairfield, Moorooka, Moorvale, Rocklea, Tarragindi, Tennyson, Wellers Hill, Yeronga.
South – Acacia Ridge, Coopers Plains, Eight Mile Plains, Kuraby, Macgregor, Robertson, Runcorn, Salisbury, Sunnybank, Warrigal.
West – Chelmer, Corinda, Graceville, Oxley, Sherwood.
The south makes up a majority of votes cast. The ALP won a 56% majority in the north-east, and the LNP narrowly won in the south and west.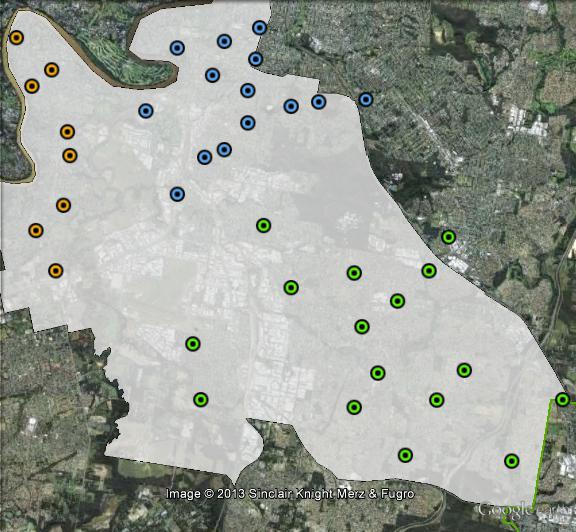 | | | | | |
| --- | --- | --- | --- | --- |
| Voter group | GRN % | ALP 2CP % | Total votes | % of votes |
| South | 12.75 | 49.73 | 34,244 | 42.22 |
| North-East | 20.86 | 56.43 | 16,618 | 20.50 |
| West | 17.75 | 48.44 | 11,463 | 14.14 |
| Other votes | 16.09 | 50.65 | 18,754 | 23.14 |