This is the first of two blog posts I will write tonight on the Legislative Council result. The second will focus on the spin and analysis around the count.
Today's result in the legislative Council count couldn't have been any closer. The final two seats went to the Greens' Jeremy Buckingham and the Nationals' Sarah Johnston by the smallest of margins, edging out independent Pauline Hanson, despite Hanson's substantial lead on primary votes.
The count began by electing seventeen candidates from the parties that had polled over a quota: 10 Coalition candidates, 5 Labor candidates and 2 Greens candidates. Following this, 278 candidates who were either ungrouped or a candidate in an unwinnable position were excluded without a significant shift in the count.
After count 296, only one candidate remained from each of the 16 groups with candidates above the line. The key preference distributions that decided the result happened after that point.
The following chart shows the vote for the three candidates in the race for the final two seat. It ignores the CDP's Paul Green and the Shooters and Fishers' Robert Brown, who had not polled a quota but were polling well above Hanson, Buckingham and Johnston.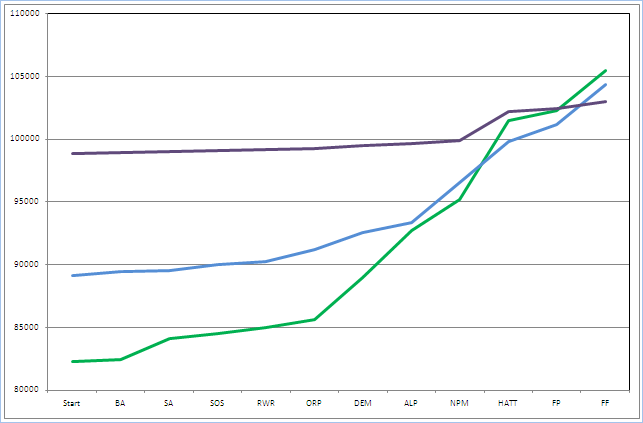 At count 296, Hanson was 9720 votes ahead of Johnston, and 16592 votes ahead of Buckingham. At every point of the count Buckingham and Johnston gained more preferences than Hanson, with a few candidates playing a key role.
The Greens gained boosts from the exclusion of Socialist Alliance candidate Peter Boyle (1609 vote net gain on Hanson), Democrats' Arthur Chesterfield-Evans (3074 votes) the ALP's Andrew Ferguson (3580) and independent John Hatton (3983). Johnston particularly gained votes from the Democrats, No Parking Meters and the Fishing Party, but were gaining votes slower than Hanson.
When John Hatton was excluded, Buckingham overtook Johnston. When Gordon Moyes of Family First was the only candidate remaining, the vote was:
Hanson – 102,466 votes
Buckingham – 102,276
Johnston – 101,183
Moyes – 64,738
While a vast majority of Moyes' votes exhausted (52,101 votes) and over 4000 went to the Christian Democratic Party, Moyes' preferences allowed both Buckingham and Johnston to jump over Hanson, leaving the final figures:
Buckingham – 105,472
Johnston – 104,341
Hanson – 103,035
At this point Hanson was excluded, leaving four candidates for the four remaining seats.
Attached is the table of the preference distribution, beginning with the exclusion of "Restore the Workers' Rights Party".
| | | | | | | | | | |
| --- | --- | --- | --- | --- | --- | --- | --- | --- | --- |
| Candidate | Party | RWR | ORP | DEM | ALP | NPM | HATT | FP | FF |
| Brown | SFP | 151,878 | 153,106 | 153,355 | 153,576 | 154,886 | 155,309 | 164,719 | 166,112 |
| Green | CDP | 127,682 | 127,953 | 128,234 | 128,482 | 128,997 | 130,322 | 130,483 | 134,804 |
| Buckingham | GRN | 84,996 | 85,648 | 88,960 | 92,698 | 95,188 | 101,454 | 102,276 | 105,472 |
| Johnston | NAT | 90,215 | 91,213 | 92,542 | 93,374 | 96,570 | 99,838 | 101,183 | 104,341 |
| Hanson | IND | 99,172 | 99,290 | 99,528 | 99,686 | 99,916 | 102,199 | 102,466 | 103,035 |
| Moyes | FF | 60,729 | 61,227 | 61,521 | 61,924 | 63,458 | 64,267 | 64,738 | |
| Smith | FP | 55,228 | 56,374 | 56,723 | 56,968 | 58,751 | 59,150 | | |
| Hatton | IND | 53,415 | 53,631 | 54,165 | 54,428 | 55,276 | | | |
| Matthews | NPM | 50,544 | 51,931 | 52,234 | 52,602 | | | | |
| Ferguson | ALP | 41,444 | 41,926 | 43,358 | | | | | |
| Chesterfield-Evans | DEM | 35,140 | 35,271 | | | | | | |
| Leyonhjelm | ORP | 31,818 | | | | | | | |