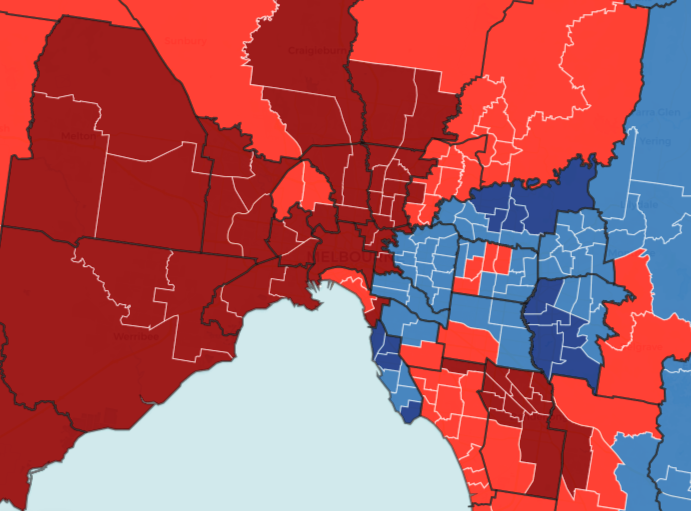 I haven't seriously attempted to wrap my head around who is running in the Victorian council elections, which councils are dominated by one faction or the other, and which seats are in play.This is primarily because the VEC does not publish party affiliations for candidates, and until this year Labor has been sitting out of contesting the elections.
I don't believe the Liberal Party has ever formally contested Victorian council elections, which mostly just leaves the Greens running formally. The use of postal voting also reduces my ability to use mapping to tell the result of the elections.
Still that doesn't mean there's nothing that can be done to map out the political balance of each council.
In this post, I have matched the election results at the 2016 and 2019 federal elections to the new 2020 ward boundaries. I'll focus in on one council (Darebin) which I think is interesting, and I'll post a statewide map and a spreadsheet so you can do your own analysis.
You can view the dataset here. I've included estimates of the two-party-preferred vote and the two-candidate-preferred vote, as well as primary votes for Labor, the Greens, the Liberals, Nationals and (in 2019) United Australia.
This map is zoomed in on Melbourne but shows the two-party-preferred vote across the whole state in 2019, and can be toggled to show 2016.
Darker shades indicate a two-party-preferred vote of over 60%. You can clearly see which areas are solid for one major party or the other in federal politics.
There's far too much data here for me to try to summarise, but feel free to dive into an area you know well and comment below with how you interpret this information.
I thought I would just pause and look at Darebin, in Melbourne's inner north.
This council largely covers the same area as Cooper (formerly Batman), which was a very close seat between Labor and the Greens in 2016, but had swung hard to Labor in 2019 after Ged Kearney won the seat at a by-election.
It's also a council divided between Greens councillors and those aligned with the ALP, and it's a council which had its voting system forcibly changed from three wards of three to nine single-member wards. This table shows the two-candidate-preferred vote for Labor and the primary vote for the Greens in 2016 and 2019.
| | | | | |
| --- | --- | --- | --- | --- |
| Ward | ALP 2CP '16 | ALP 2CP '19 | GRN prim '16 | GRN prim '19 |
| Central | 53.8 | 66.6 | 33.8 | 19.3 |
| North Central | 58.1 | 68.0 | 28.4 | 17.4 |
| North East | 61.4 | 67.9 | 24.3 | 15.8 |
| North West | 62.1 | 69.4 | 24.9 | 14.8 |
| South | 40.4 | 60.4 | 47.7 | 26.8 |
| South Central | 45.3 | 63.1 | 42.8 | 23.7 |
| South East | 45.8 | 63.4 | 41.8 | 23.3 |
| South West | 42.5 | 61.5 | 45.6 | 25.1 |
| West | 53.5 | 65.6 | 33.8 | 19.8 |
At the 2016 election (mapped out in my 2018 by-election guide), Batman was split down the middle along Bell Street, with the Greens dominating the south and Labor dominating the north. You can see that in these wards. The four southern wards were won by the Greens, while Labor won the other five, only winning narrowly in Central and West wards which effectively straddle the middle of the council.
This divide narrowed at the 2018 by-election, with Labor gaining big swings in the south and the Greens gaining small swings in the north. You can then see Ged Kearney's consolidation of her vote in 2019 in the table. The Greens primary vote in their southern heartland collapsed in 2019, dropping from votes in the 40% range down to votes in the mid-20s.
So what does this tell us about 2019? Firstly, it seems very likely to me that all nine wards on Darebin will be won by either Labor or Greens. Compare that to the current council elected under proportional representation. The Greens won four seats in 2016 compared to two for Labor, along with three independents (one of whom was a former ALP member, and one was a former Greens member). It is possible some independents could be strong enough to win, but it will tend to favour a strong binary.
But the high vote for Kearney isn't likely to translate into the vote for Labor in the local council. It seems likely to me that the Greens will retain the four wards with the word "south" in their name, with Labor winning the North East and North West wards, and likely North Central as well, and the balance of the council will be decided by what happens in the Central and West wards. It will be an interesting council to watch.
Finally, I have made this map showing the Labor vs Greens 2CP at the 2016 and 2019 elections for the wards of Darebin and Moreland councils, which are the only wards where that 2CP was used across the ward.