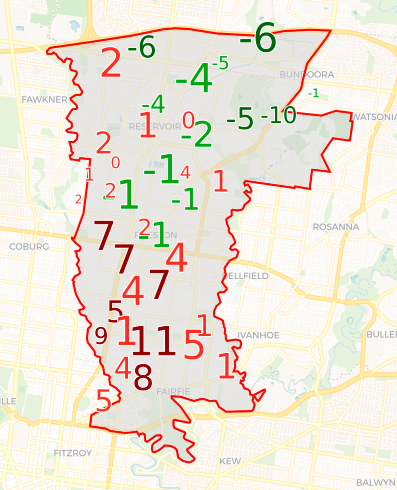 I love a good electoral map, that can tell a story about how a seat's population votes in different ways and how the balance of those communities decides who wins an election. Batman has produced a fascinating map at recent elections, with the Greens dominating south of Bell Street while Labor rules the roost to the north.
The question at this election was whether the Greens could breach Bell Street and take more of the vote north of the road. The answer is: yes, they can. But they did so while losing support in their heartland, and the swing to Labor in the south was stronger than the Greens swing in the north.
The Greens gained swings in a majority of booths north of Bell Street, but most of the swings were small. The biggest swings took place at the northern fringe of the electorate in suburbs like Bundoora and Reservoir.
But they were dwarfed by Labor swings in the south – swings of 7% in the Thornbury area, and swings of 8% and 11% in Northcote.
This map shows the swings to Labor or the Greens across Batman:
I feel like this swing map is one of the most illuminating electoral maps I have ever made, and can be interpreted in many ways to tell the story of this by-election: Labor's shift to the left from Feeney to Kearney, the Greens' concerted push into the north and efforts to court more conservative voters with their last-minute message on dividend imputation, and a more equalised vote, with less difference between the strongest Labor and Greens areas.
Labor defeated the Greens by just 1% in 2016, so this differential swing was enough to make a big difference at this by-election.
This by-election hasn't erased the gap between the north and the south. The Greens still won most booths south of Bell Street, and Labor won all but one booth north of this line.
To finish this post, here is the map showing the two-candidate-preferred vote for the winning party at each booth. You can compare this to the 2016 result here.