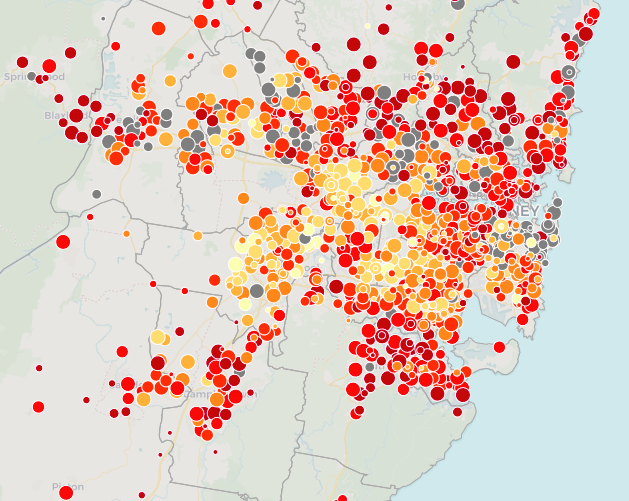 Jim Molan grabbed a lot of attention in the election for his quixotic attempt to be re-elected from the fourth spot on the NSW Liberal/National ticket, despite New South Wales having a relatively low rate of below-the-line voting.
He never came close to winning, but has polled over 100,000 votes, equalling about 2.6% of the vote, with a small number of votes yet to be allocated to individual candidates. It's an impressive result (although the raw numbers are helped by him running in Australia's largest state).
His result also appears to have led to a spike in below-the-line voting generally in New South Wales while the rate of voting below-the-line appears to have declined in most other jurisdictions.
I've mapped out where he got his votes below the fold.
It became clear early on that Molan had no chance of winning, but he is on track for one of the highest results for a candidate who isn't ranked first in their party group, particularly for a candidate running in a big state.
Almost all votes in New South Wales have been apportioned out as either above- or below-the-line votes. Only 4.5% of the total vote is yet to be apportioned. Molan is currently sitting on 119,827 votes, or 2.6% of the statewide formal vote. This translates to just 0.18 of a quota.
It's wrong to talk about Molan having the highest ever Senate vote for a candidate: New South Wales is much larger than Tasmania, so a candidate can record a larger raw vote despite having a much smaller percentage. Still, the relatively low rates of below-the-line voting in New South Wales in the past does make it more impressive.
You can see the Molan effect in the proportion of below-the-line votes recorded in New South Wales, compared to other states and compared to 2016.
We don't know the final below the line rate in any state, since there's still a lot of votes yet to be apportioned (the final column below shows how many are left to be unapportioned) but we have enough data to get a rough sense. The BTL rate is currently down in six out of eight jurisdictions. It is up very sharply in the ACT (which I'll return to another day) and is slightly up in New South Wales.
New South Wales had a lower BTL rate than every other state except for Victoria in 2016. This time New South Wales is on track to overtaken Queensland and Western Australia.
| | | | |
| --- | --- | --- | --- |
| State | 2016 BTL rate | 2019 BTL rate | Votes unapportioned |
| NSW | 5.40 | 6.34 | 4.50 |
| VIC | 5.31 | 5.13 | 19.21 |
| QLD | 6.14 | 4.98 | 17.95 |
| WA | 5.51 | 4.48 | 11.50 |
| SA | 8.50 | 7.56 | 2.25 |
| TAS | 28.12 | 27.07 | 1.22 |
| ACT | 15.18 | 22.18 | 0.00 |
| NT | 8.58 | 8.31 | 0.00 |
So where did Molan get his votes?
I've analysed the booth results in New South Wales, separating out booths based on whether the Liberal/National group's votes have been apportioned at each booth. The below map shows what proportion of the total Liberal/National vote was cast for Molan at booths where the votes have been apportioned (booths in grey are yet to be apportioned).
You can toggle the map to see Molan's vote as a proportion of the total electorate vote.
Molan did best in the Liberal heartlands of Sydney, specifically the north shore and the Sutherland Shire.
He polled over 10% of the total LNP vote in Berowra, Mackellar, Bradfield and Warringah on the north shore, as well as Cook and Hughes in the Shire.
But there were two other surprising seats which were ranked first and third when you look at his vote as a proportion of the LNP total: Eden-Monaro and Hume. 12.9% of Liberal/National votes in Eden-Monaro were cast for Molan, and the figure in Hume was 11.2%. Only Berowra (12.6%) came close to Eden-Monaro. Eden-Monaro's total Coalition vote was smaller than most of the other seats on this list, so his total vote in that seat doesn't rank quite so high.
Looking quickly at the map, it appears Molan pulled in more than 10% of all Coalition votes in every booth in the Queanbeyan area, and did remarkably well in Merimbula, with over a quarter of the Coalition vote.
Molan's worst areas were in traditional Nationals seats, the Hunter and Western Sydney. He only pulled in 3.2% of the Coalition vote in Page, and also pulled in less than 5% of the Coalition vote in Werriwa, Lyne, Fowler, Shortland, Hunter, Newcastle, Richmond, Farrer, New England, Chifley, Parkes, Paterson and Page.